Labour rights litigation
Since 2003, CLB has provided legal advice and assistance to thousands of workers with legitimate grievances against their employers or local governments. Our aim is to not only help individual workers but also highlight the key issues that give rise to these disputes: in particular; illegal dismissals, discrimination, work-related injury and illness.
An introduction to CLB's labour rights litigation program
China has a comprehensive legal framework that, on paper at least, protects workers from exploitation by their employer. Unfortunately, local governments which are supposed to enforce labour laws and regulations rarely do so, and it is often up to the workers themselves to take action when their rights are violated. Although workers are increasingly willing and able to stand up for their legal rights, the process is rarely straightforward and employers, government officials and even the law itself can throw up seemingly insurmountable obstacles, particularly for those with few resources at their disposal.
The purpose of CLB's Labour Rights Litigation (LRL) program is to level the playing field by providing workers who have a legitimate grievance but who cannot afford a lawyer with the help they need to navigate China's legal system and arrive at a just settlement. The program is managed at CLB's office in Hong Kong but relies on a well-established network of law firms, non-governmental organizations, activists and individual lawyers to represent the worker plaintiffs.
The LRL program can best be seen as a public interest litigation initiative. In selecting cases to adopt, we take into account not only the merits of the case itself but also its potential to highlight problems in China's labour relations and labour law. The LRL program was, for example, instrumental in supporting the campaign to counter the widespread discrimination faced by employees and job seekers with HBV, the virus that causes Hepatitis B. In the late 2000s, we adopted more than 50 cases in which job seekers were denied employment after they failed a HBV test. The publicity surrounding these cases eventually led to the banning in 2010 of HBV tests in the job recruitment process.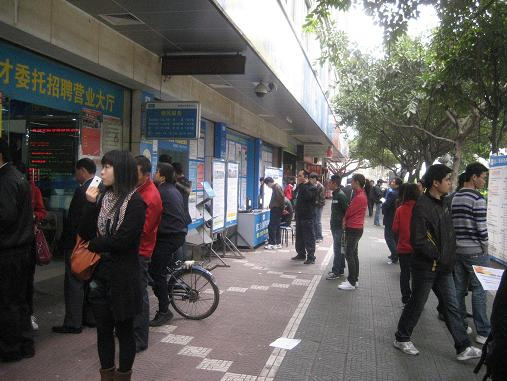 Job seekers outside a recruitment centre in the southern city of Dongguan in 2011
The LRL program has in addition supported several other landmark employment discrimination cases including China's first gender discrimination lawsuit in December 2013 when the plaintiff was awarded 30,000 yuan and obtained a formal apology after she was refused employment as an administrative assistant at the Junren Academy in Beijing. The case was highlighted in the Chinese media as one of the ten most important public interest cases of 2013.
One of the most pressing problems holding back the development of the workers' movement in China is the widespread targeting of workers' leaders and representatives by employers and local authorities. Worker representatives in strikes and protests are often sacked by their employer and some are even arrested by local police for public order offences. The LRL program has provided steadfast support to workers who have been sacked for organizing collective action in defence of their legal rights and economic interests. A key aim in these cases has been not merely to get compensation for illegal dismissal but to demand reinstatement, as was the case with the 70 workers from the Nokia factory in Dongguan who were dismissed after going out on strike in November 2013. The workers went to arbitration and three court hearings in a bid to get reinstatement but, reportedly under pressure from the provincial government which wanted to protect Guangdong's investment environment, the courts rejected the workers' demands.
When Shenzhen labour activist Wu Guijun was detained in May 2013, the LRL program supported his yearlong legal defence after which Wu was released without charge (see photo below) and eventually awarded more than 70,000 yuan in compensation for his time in detention. The LRL program also supported the 12 Guangzhou hospital security guards arrested in August 2013 after staging a rooftop demonstration in protest at the hospital's refusal to discuss their long-standing grievances over employment contracts and social insurance.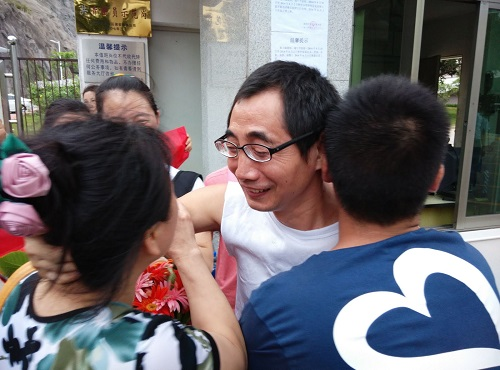 Wu Guijun is greeted by family and supporters on his release from detention
Some of the most difficult and convoluted legal cases handled by the LRL program are those involving demands for occupational illness compensation. Migrant workers suffering from China's most prevalent occupational disease pneumoconiosis are particularly disadvantaged because they usually cannot prove an employment relationship or their employer no longer exists. The LRL program has continually supported workers with pneumoconiosis since 2003 when we first helped jewellery workers in Guangdong win compensation from factory bosses who had placed thousands of employees at risk in poorly ventilated, silica dust-filled workshops.
In 2009, the LRL program helped a group of about 180 construction workers from Leiyang in Hunan obtain compensation from the local government and former employers in Shenzhen, where they had worked during the boom years of the 1990s. The program also supported the long-standing battle of 60 former lead and zinc miners in Sichuan to win compensation from the local government. Their struggle is now the subject of a documentary feature film Dust, directed by Zhu Rikun, which premiered at the Florence Film Festival in December 2014.
Many of the pneumoconiosis cases handled by the LRL program are documented in our three research reports on occupational disease in China.
Labour rights litigation case summaries
Some of the important cases adopted by the LRL program are listed below in reverse chronological order. Most of the summaries provide basic case details, including the court ruling if any, and quotes from the plaintiff and or lawyer on the significance of the case.