A pregnant woman in the western city of Xi'an is taking her former employer to arbitration for unfair dismissal. In early February Wu Jie (a pseudonym) informed her employer, Xi'an Giant Biogene, of her pregnancy, only to be repeatedly asked by her supervisors to quit.
According NGOCN, a Chinese non-profit organisation, after 7 meetings with her direct supervisor and the deputy director, persuasion tactics gave way to direct threats of dismissal. Wu was asked to leave her administrative duties and take on a more physically demanding production line job, with a pay cut, or leave the company.
Article 27 of the Law of the People's Republic of China on the Protection of Women's Rights and Interests (2005 Amendment) stipulates that "No entity may, for the reason of matrimony, pregnancy, maternity leave or breast-feeding, decrease a female employee's wage, dismiss her or unilaterally terminate the labour (employment) contract or service agreement, with the exception that the female employee requests to terminate the labour (employment) contract or service agreement."
In addition, Article 29 of China's Labour Law clearly states that an employer may not rescind a labour contract of female employees "during pregnancy, childbirth or while nursing."
Apparently this is not the first time Giant Biogene uses pressure tactics to force expecting mothers out of a job. Former employee Zhao Jing (also a pseudonym) told Beijing Times she was also sacked after informing her employer that she was pregnant.
"When I was hired, I was told I could not get pregnant within two years and if I did, I should tender my resignation," Zhao told the paper. When she got pregnant in her third year at the company she informed her employers; not long after she was asked to hand over her job duties.
Zhao, who like Wu also worked in administration at Giant Biogene, stressed that the company is again forcing expecting mothers to quit. "Transferring administrative staff to a production position, where workload is far more physically demanding, is unacceptable for a pregnant woman."
Company representatives denied having dismissed Wu. A manager surnamed Ye told the Beijing Times in March that "it's impossible for the company to sack a pregnant women."
This case is far from unique, let alone rare. A recent survey reveals that 63.4% of women in the workplace believe that childbearing would have a large impact on their career development, compared with only 48.6% of men. At the same time 52.5% of the women surveyed responded that their biggest concern about childbearing is difficulty in returning to their jobs after giving birth, while 48.9% expressed fear of being replaced by someone else.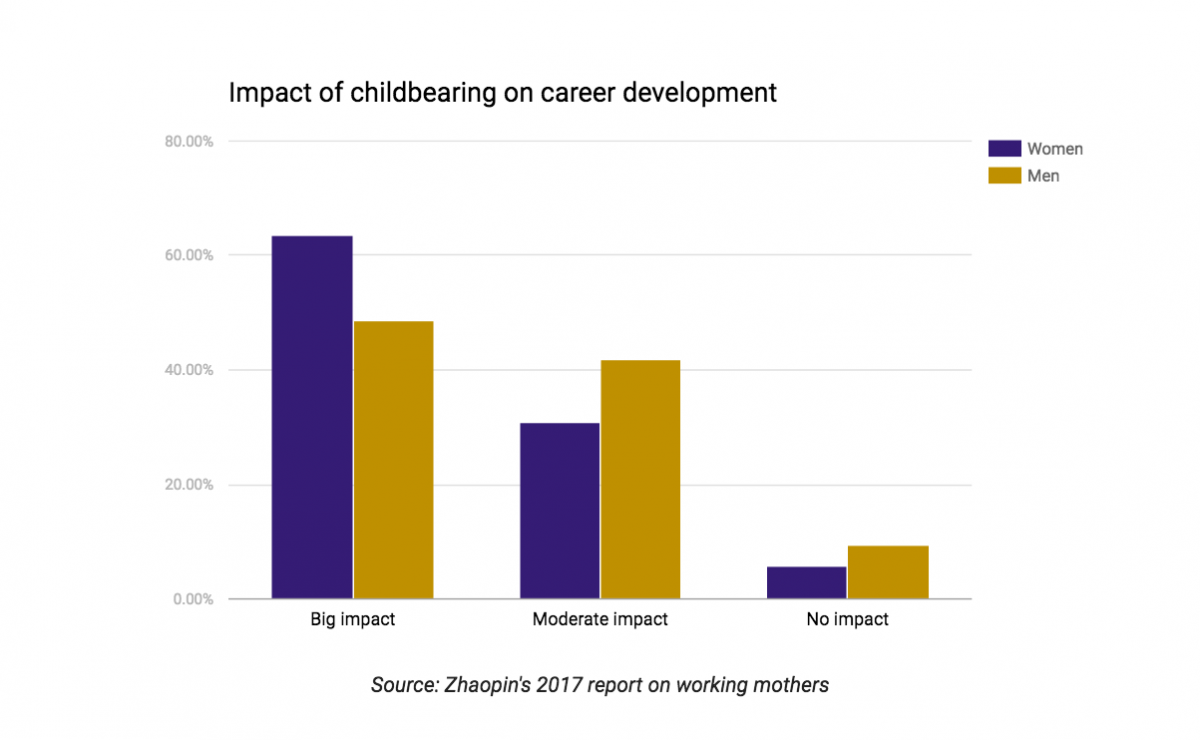 The survey shows that workplace gender discrimination in China is on the rise. Around 32.5% of female respondents saw that their salaries decline after having a child this year, compared with 24.2% in 2016. Meanwhile, 36.1% of women found that their positions were lowered after giving birth in 2017, up from 26.6% in 2016.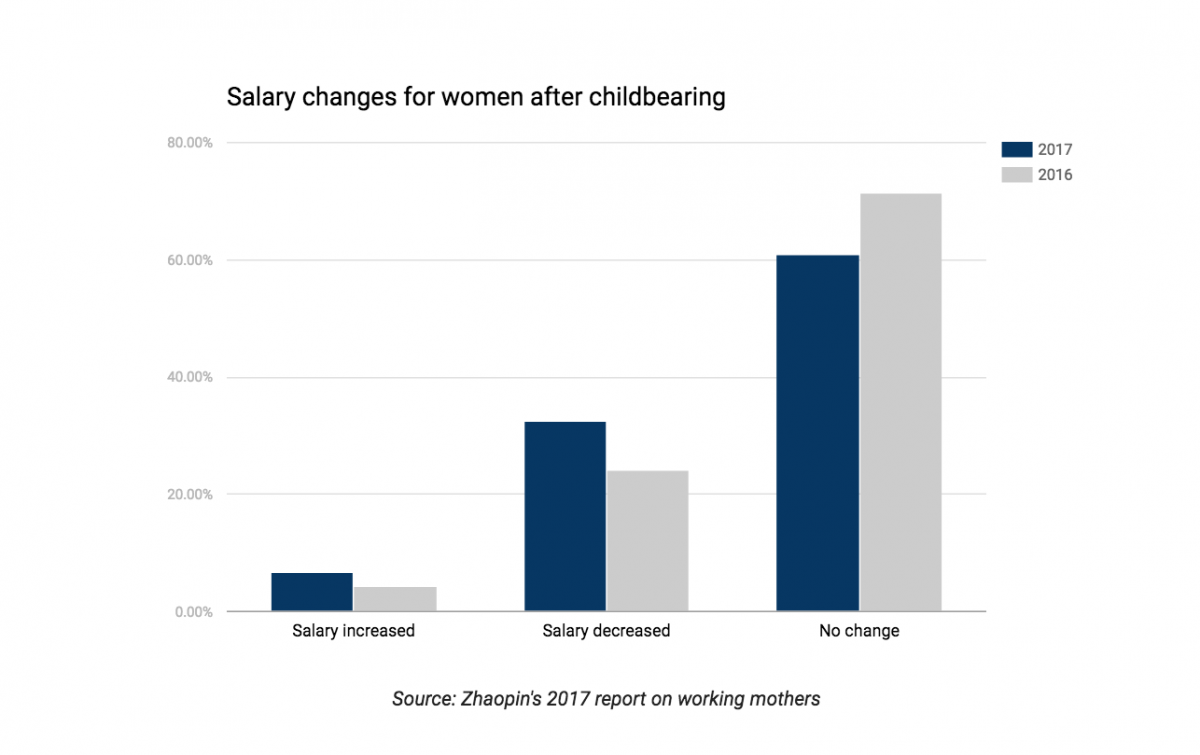 Zhaopin, a Chinese job-seeking platform, collected the survey data from over 40,000 respondents and released the results on 11 May.
Meanwhile in Xi'an, Wu Jie took her case to arbitration on 17 March, demanding payment of wage arrears starting from the time of her unfair dismissal, as well as overtime compensation, back payment of social insurance and damages of 30,000 yuan. On 16 May her case was accepted by Xi'an's Yanta District Labour Arbitration Committee and on 12 June the committee ruled partly in her favour, requiring Xi'an Giant Biogene to pay her wages in arrears for February, all outstanding social insurance contributions and compensation for illegal dismissal. Wu Jie accepted the ruling and agreed to not pursue the matter any further.