Sacked Walmart workers in Shenzhen are joining forces to put pressure on the world's largest retailer to curtail its harassment of labour activists and genuine trade unionists.
Yu Zhiming, a democratically elected member of the union committee at Walmart Store No. 5722 in Shenzhen's Nanshan district, took the company to arbitration court for illegal dismissal earlier this year and won. He has now teamed up with veteran Walmart worker activist, Wang Shishu, who is also suing the company after being dismissed for a second time earlier this year.
Yu, 43, from the central province of Hubei, had worked in the seafood department at the No. 5722 store since 2002. He was elected to the store union committee in 2013:
"All of the six committee members and the union president were democratically elected, and we were doing a good job," Yu said. "I am very proud to say that our union was the only one in Shenzhen that was functioning as it should and was not controlled by management."
The store union committee tried to bargain for better working conditions and, in September 2013, refused to endorse a new company rule that allowed managers to fire any employee who disobeyed three orders. The management-controlled unions in the city's 25 other stores all approved the new rule.
Walmart management soon began to target the No.5722 store union committee members and, in March 2015, sacked Yu and his fellow committee member Song Cailiang on the grounds of "severely violating company regulations."
"The manager said I was a slacker who hid inside the locker room during work hours. Everybody knows that is not true. For over a decade, I kept a work log for the shift, and made entries in the locker room," Yu said.
Yu and Song got no support from the local district trade union but their cases were taken up by the Laowei Law Firm. In August, the arbitration court ruled in Yu's favour although Walmart is now appealing the decision.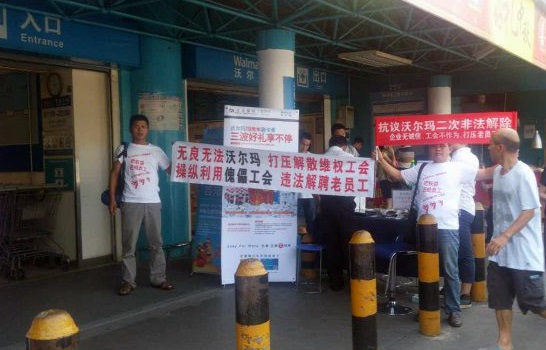 Worker activists protest illegal dismissals outside a Walmart store in Shenzhen
During the appeals process, Yu has joined a solidarity campaign organized by veteran labour activist Wang Shishu, who has staged demonstrations outside several Walmart stores across Shenzhen protesting the company's union busting policies and unlawful dismissals. Wang explained: "I fought this battle once before and I am ready to fight it again. I am excited that Yu Zhiming and the others are joining the effort."