In the first of several planned legal challenges to Walmart's new comprehensive working hours system, veteran employee Zhou Xianzhong took the American retail giant to arbitration court in Shenzhen on 22 August.
Zhou, 51, has worked in various Walmart stores in China for 18 years. He is demanding that the Shenzhen store where is currently employed stops imposing the new working hours system on its employees, that his original employment contract be honoured, and that he be compensated for the loses he has already incurred.
"The comprehensive working hours system changed the composition of wages and in reality cut our pay. More importantly, many think that the management will use it to punish worker activists," Zhou said. "The company needs to put the system on the table for discussion by all the workers."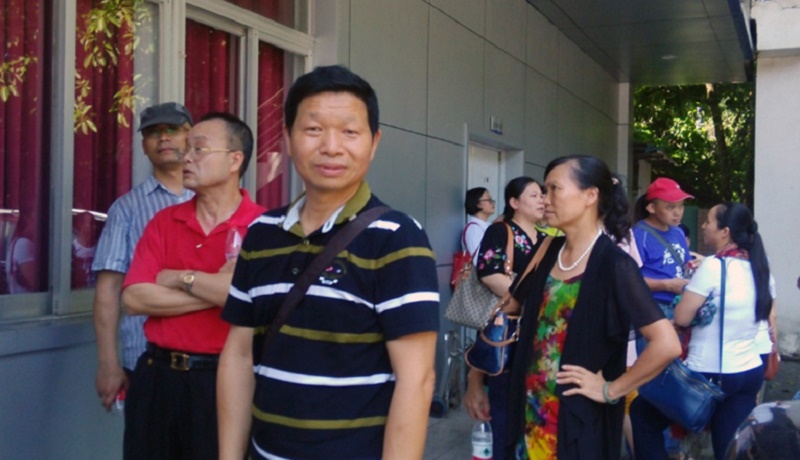 Zhou Xianzhong (centre) outside the labour dispute arbitration committee in Shenzhen on 22 August
Zhou's wife and daughter attended the hearing on Monday, along with dozens of worker representatives from stores across Shenzhen, including Zhang Liya, a founding member of the Walmart Workers' Network and a long-time activist fighting for trade union rights.
One of the supporters, named Zou, said that the pay and benefits of Walmart employees had steadily dwindled over the last few years and that he too had got into trouble with his boss when he refused to sign up for the new working hours system.
Zhou's arbitration hearing is just the latest chapter in the Walmart workers campaign against the comprehensive working hours system. Around 10,000 employees have joined the online Walmart Workers' Network and, in early July, around 200 workers at three stores in central China staged strikes in protest against the implementation of the new system.
Zhou's lawyer, the director of the Shenzhen-based Laowei Law Firm, Duan Yi, was confident that: "The case presents itself very clearly in court, (we) will win."
However, the hearing immediately ran into problems when Walmart's lawyers claimed that staff pay is classified as a business secret and cannot be discussed in open court. Duan disagreed saying Walmart makes up its own rules about confidentiality and that the arbitration committee should not have to abide by such rules.
The hearing was adjourned with no date set for a continuance.