18 August 2023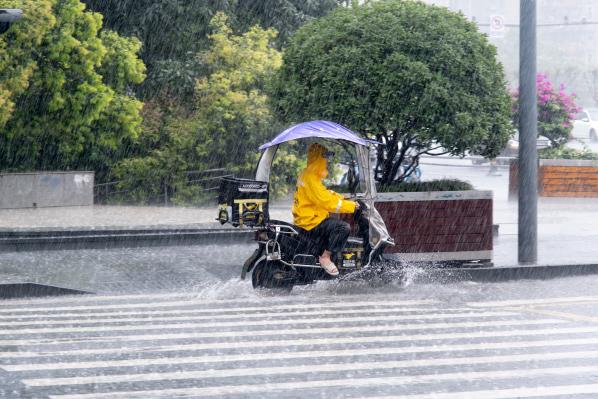 Photograph: B.Zhou / Shutterstock.com
Letter from the Editors
Our researchers analysed CLB Strike Map data, industry by industry, for the first half of 2023. We found that the volume of incidents collected indicates the potential to meet pre-pandemic levels by the end of this year. After three years of global economic and social disruptions that have resulted in high unemployment and lack of job security in China, workers are back on strike to demand their legal rights. 
China's manufacturing sector has been especially affected by economic changes, with many brands moving production overseas. One of the countries seeing an increase in orders is Indonesia. Last month, CLB staff made a visit to Jakarta to meet with union leaders there. With the leadership of the unions we met with, workers at some factories have successfully negotiated sophisticated collective bargaining agreements with management. Leveraging those contracts with stakeholders beyond the factory gates is the next step and can be a model to workers and unions - including China's ACFTU - across the region. 
Thanks for reading! 
CLB Editors
---
What We're Focusing On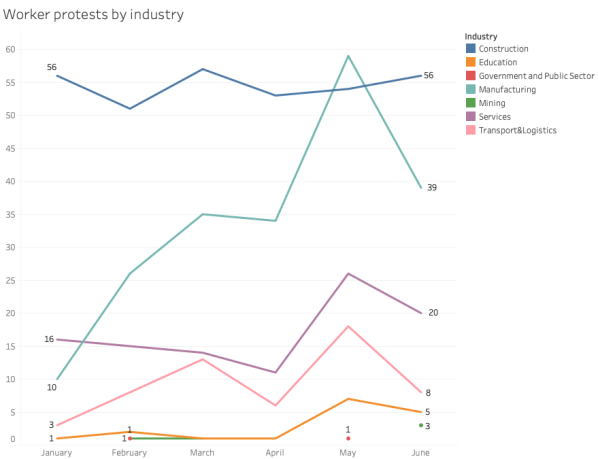 Strike trends. In the first half of 2023, CLB's Strike Map recorded 741 incidents, catching up with the 2022 annual total of 830. If this trend continues, the annual total could reach a post-pandemic high, coming near to the 2019 figure of 1,384 incidents collected. In this special analysis, we look at the strike trends in different sectors, focusing on manufacturing, construction, services, and transport and logistics. Read more: After years of pandemic anomalies, worker strikes and protests are on the rise across industries in China. 
Precarious labour. On 30 June, CLB's Strike Map recorded a protest of over a thousand workers against a flexible labour intermediary company, Yushibao (余时保), for not allowing them to withdraw their earnings from the platform. China's economic recovery after lifting pandemic restrictions has been slower than anticipated, and youth unemployment was at an all-time high of 20.8 percent in May 2023. Those from all kinds of backgrounds are relying on odd jobs to make ends meet, and they are turning to platforms like Yushibao. But these intermediary companies are not closely regulated, and workers have voiced grievances. Read more: Workers doing odd jobs in Shenzhen protest platform company for withholding their earnings. 
Climate change. Extreme weather events are on the rise due to climate change, and they affect almost everyone in a given region. But certain kinds of workers are often at greater risk of injury and death because their livelihoods depend on their labour, which is sometimes even linked to the weather conditions, as in the case of rescue workers, sanitation workers, and transport workers. CLB gathered incidents in our Accident Map related to the recent flooding in China's northwest and analysed the work-related risks posed by the weather. Read more: Extreme flooding in China's northeast leads to worker deaths, injuries. 
---
Worker Voices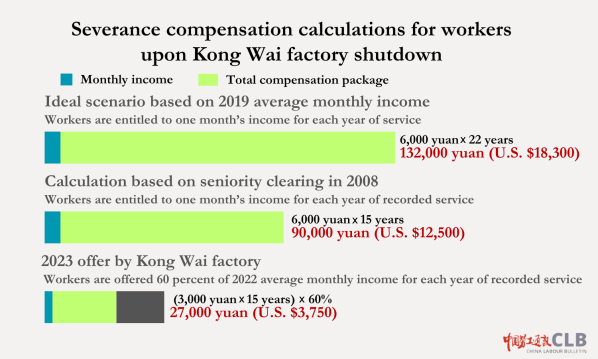 Silence will not resolve our problem.
While investigating the worker protests in May and June at a garment factory in Huizhou, Guangdong province, CLB's researchers followed in real time the online updates from an outspoken employee. Worker Zhang started her career at the Kong Wai factory in 2001, when she was just a teenager. 
Throughout the past three years of pandemic work stoppages and periods of low wages, Zhang and about 200 others stuck it out instead of seeking more stable employment, because senior workers are entitled a significant payout upon factory closure. According to China's Labour Contract Law, a worker like Zhang could receive over 100,000 yuan based on a calculation of average monthly wage times years of service at the factory. 
But because the economic conditions of the past three years resulted in a low average wage, and because the factory is facing bankruptcy, workers were offered a much lower sum. 
Zhang began organizing her colleagues to fight back - first against a low April 2023 wage and then against the severance compensation plan once the shutdown was abruptly announced. She said online: 
Right now, there is an undercurrent brewing among the workers in the factory, and we are becoming unified. A good show is about to be staged!
Zhang and her fellow garment workers indeed put up a good fight, trying all peaceful means to make their voices heard. They protested, wrote letters, confronted managers, and went to local administrative departments, all to no avail. 
Zhang was selected as a worker representative when the factory initiated a round of negotiations in early July, involving the local authorities and the trade union, but she was dissatisfied with the imbalance of power, saying:
A dead pig is not afraid of boiling water.
About 30 workers refused the company's severance offer and will seek legal redress. 
The Kong Wai factory is an indirect subsidiary of Fang Brothers Knitting in Hong Kong, which produces for international brands including Ralph Lauren, Burberry, Brooks Brothers, J. Crew, Lululemon, Cabi, Calvin Klein, and Winser London. 
---
CLB in Action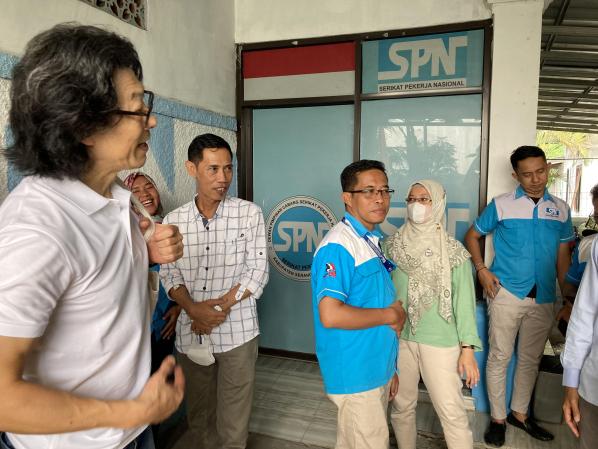 Workers' rights in Indonesia. CLB staff members travelled to Jakarta, Indonesia, and met with union leaders to discuss how workers and factory unions are using collective bargaining agreements to hold the line on workers' rights as the 2020 Omnibus Job Creation Act has dramatically changed the labour landscape in Indonesia over the past three years. 
And beyond. In Indonesia, where domestic laws no longer adequately protect workers, and in China, where lack of enforcement of strong labour laws leaves workers with little recourse, we are seeking strategies for how workers and unions everywhere can find solutions for systemic issues like changing supply chain patterns and low purchase prices. 
---
Strike Action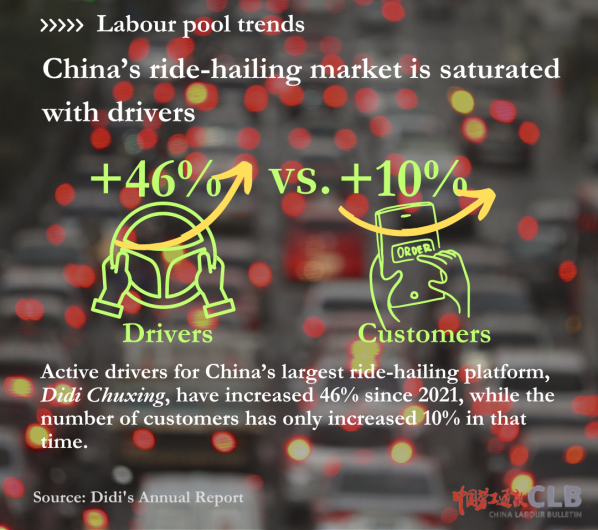 Peak manufacturing season is about to arrive. The total number of worker protests recorded in the CLB Strike Map in July dropped to 91, with the sectoral proportion remaining roughly the same as the previous month. Construction again accounted for the largest share (45 percent), followed by manufacturing (26 percent) and services (16 percent). With the arrival of the peak manufacturing season, factory orders and demand for labour are both likely to increase. CLB will keep an eye on our map data to see whether the rate of manufacturing strikes and protests drops due to this change.
Drivers protest shutdown of ride-hailing platform in Guangzhou. At the beginning of July, a car rental company affiliated with the Guangzhou Tuotuo e-travel platform ran away with workers' money, and hundreds of drivers protested on 14 July. The workers were owed wages and security deposits, and some of their leased vehicles were taken back by the company. The contract terms posted online by drivers are one-sided, with workers only making less than 4,000 yuan per month after deducting the platform's high fees and commission. Notably, the ride-hailing industry is becoming saturated. The transportation bureaus in Wenzhou, Dongguan, and Zhuhai earlier this summer warned drivers against entering the industry because of low order volumes. In Sanya and Changsha, driver signups were temporarily suspended. 
---
Worker Representation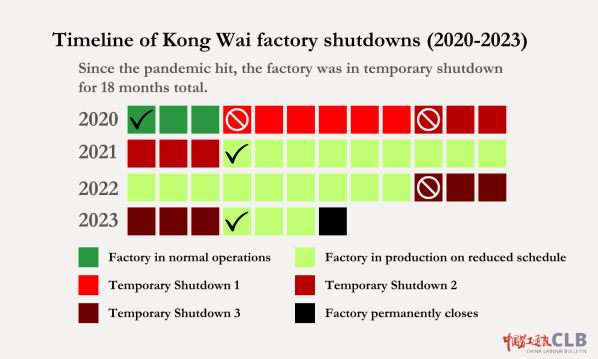 What can we workers do after resorting to all available channels? We want to cry, but we have cried all our tears by now. With such bad company, where can we find justice?
The case of the Kong Wai garment factory shutdown, also detailed above under Worker Voices, is a case study in the lack of  representation when workers need it most. China's domestic laws may not be enough to ensure workers' rights are protected, and even the loudest and most unified voices from workers unfortunately do not have enough leverage to change the outcomes in their favour. 
But new supply chain due diligence legislation like that being enacted in the European Union, and already in place in France and Germany, has the potential to be useful for China's workers and the interests of local economies alike during this period of struggling for survival. But workers need advocates to represent them beyond the workplace. To start, China's official trade union could involve more stakeholders in conversations about workers' rights. 
The local union could suggest including the Hong Kong parent company and international brands in dialogues affecting the fate of Kong Wai workers who produce their goods. We know that the Huidong county federation of trade unions was aware of the Kong Wai factory's deteriorating situation and the resulting effect on workers because the union was involved in shutdown negotiations. 
However, the county-level union was quite busy with propaganda activities during relevant periods. In fact, in June 2023 - during the same week that the Kong Wai factory called the police to intervene in the workers' protest - Huidong union officials were attending a week-long leadership training in Shandong province, which included a session on "How to handle emergent incidents and manage public opinion in a complete media era." 
The role of a real union is to represent workers, and China's official union has the leverage to involve local government actors, regional suppliers, and international brands in finding a common solution that upholds workers' rights. 
---
Safety First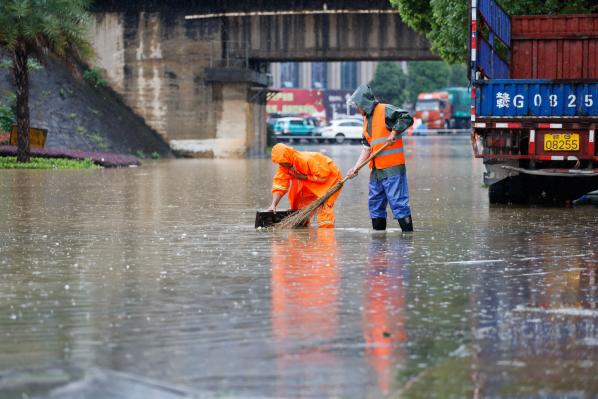 When Typhoon Doksuri hit China in late July, the sudden and heavy rainfall led to flooding in the northeast, and our Accident Map recorded notable cases of worker deaths and injuries. In Beijing, five civil servants lost their lives while making rescues. Transport workers were affected when bridges gave out, and when flood waters rose so high they could no longer drive. Other workers became trapped in warehouses or construction sites and needed rescue. 
Sanitation workers tasked with clearing the debris fainted on the job, and others got trapped and swept away by the floodwaters. The son of a sanitation worker who drowned told domestic media: 
I hope that my mother's incident will be a lesson, and relevant departments can learn from experience to further improve timely rescue measures and emergency plans.
CLB recommends stronger protections for workers, such as mandatory work stoppages related to weather conditions. China's official trade union, which is responsible under the Work Safety Law for monitoring safety at the workplace level, could advocate for such policy change and support workers making claims against non-compliant employers.
---
Global Solidarity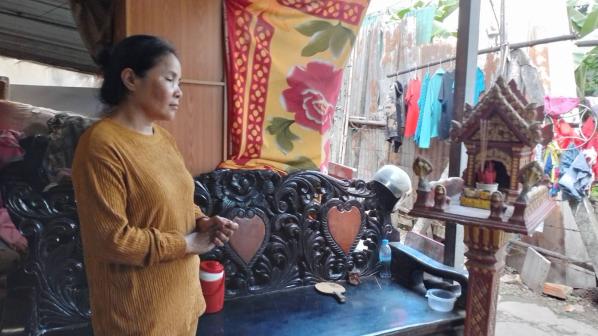 In a feature story CLB commissioned from independent journalists Danielle Keeton-Olsen and Ouch Sony in Phnom Penh, Cambodia, we take a look at the determination of workers to stand up for their ousted independent union at all costs. Workers inside and out of the Nagaworld hotel and casino complex still show support to the Labor Rights Supported Union of Khmer Employees of Nagaworld (LRSU), which lost its registration in the spring of 2022 - despite ILO objections - and was replaced with a management-friendly union. 
In December 2021, Nagaworld workers went on strike over union-busting mass layoffs in April of that year. The strike was determined to be illegal, and LRSU leaders were jailed. When the court ruled on the strikers' case on 25 May 2023, LRSU president Chhim Sithar and eight other current or former union members were sentenced to between one and two years of prison each.
But some supporters have not stopped striking in over 600 days. Sok Dalin is one Nagaworld worker who was not laid off in 2021, but she gave up her job on principle: 
The important thing is to have the presence of an independent union inside the company. So, I am willing to protest outside… No matter how long it will take, I will stay outside to help our members to succeed.
A worker still employed by Nagaworld takes to more private acts of resistance, holding out hope that LRSU can return to represent him and other workers one day soon. Going by the pseudonym David, he described how the company has set up a management-friendly union, and workers' dues are paid to the company. That union doesn't protect workers' interests, David said. 
For workers like Dalin who aren't willing to make that compromise, the financial burden is heavy. But Dalin said: 
Everyone feels regretful for the [loss of] salary but what is the most regretful is the loss of the LRSU union's presence.
---
CLB in the News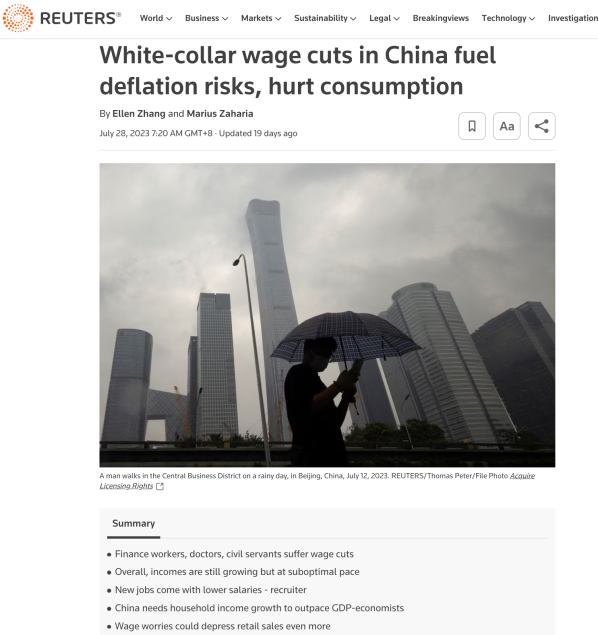 CLB was quoted in this Reuters article about widespread wage cuts in China and the effect on the economy: 
"Workers are pressed not only by the company, but also by the labour market. Their bargaining power ... is weakened so they tend to accept wage cuts," said Aidan Chau, researcher at Hong Kong-based rights group China Labour Bulletin.
Such unilateral pay cuts violate workers' contracts. In meetings with management over employment changes, workers often have no choice but to take the pay cut and keep their jobs. But if workers had union representation, the pattern could be different.