On 30 June, CLB's Strike Map recorded a protest of over a thousand workers against a flexible labour intermediary company, Yushibao (余时保), for not allowing them to withdraw their earnings from the platform.
​​At the end of June, messages circulated online that workers were having trouble withdrawing their earnings from Yushibao. On 1 July, a video shows workers occupying Yushibao's office. On 2 July, over a thousand workers gathered in front of the company's headquarters in Shenzhen demanding payment, and one worker held a banner that read, "Yushibao, give back my hard-earned money!"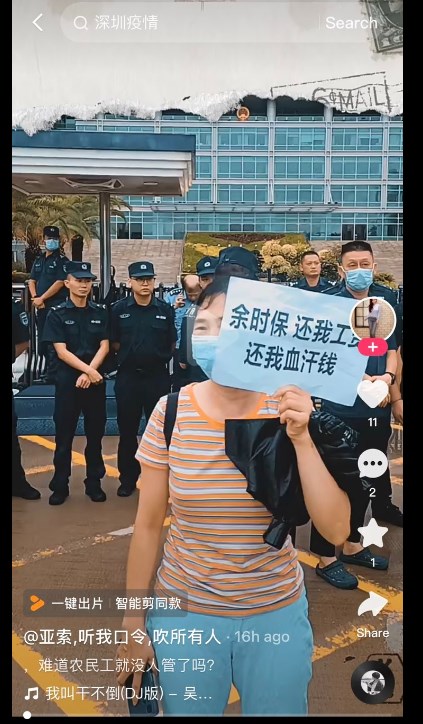 A worker holds a sign outside the Yushibao office in Shenzhen, reading: "Yushibao, give back my hard-earned money!" Source: CLB Strike Map
An individual posted online stating that on 3 July the government had advanced payment to workers: "There are now nearly 1,000 people in the queue [to receive compensation], and there are still many people who have not arrived yet."
Online instant job matching platforms have recently become popular, and dozens exist in China. The traditional method of seeking temporary jobs is for migrant workers to gather at an in-person labour market, like Shenzhen's Sanhe job market or Beijing's Majuqiao. Now, instead of waking up early to beat competition for manual jobs, workers can seek jobs instantaneously online through platforms like Yushibao, and the opportunities listed there are quite diverse. 
Shenzhen Yushibao Technology Co. was established in 2019 in Shenzhen, Guangdong province, and mainly operates there. It has a small registered capital of 2 million yuan, and the platform has different interfaces for employers to post jobs, workers to seek jobs, and for labour dispatch agencies to recruit workers. 
Searching for work in China's post-pandemic economy
China's economic recovery after lifting pandemic restrictions has been slower than anticipated. Youth unemployment is at an all-time high of 20.8 percent in May 2023, and a new cohort of over 11 million university graduates is about to enter the job market this month. In addition, China's coastal factories have recently been shutting down or relocating, many construction projects have stalled, and the job market for food delivery riders is becoming saturated.
In this situation, unemployed workers from all kinds of backgrounds are relying on odd jobs to make ends meet, and they are turning to platforms like Yushibao. The digital nature of these platforms at first glance seems more reliable, with payment transactions occurring separately with each job. But the reality is that these platforms charge high intermediary fees, and agency work is not as readily available in this economy. These intermediary companies are not closely regulated, and workers have voiced grievances.
Photograph: Blue Planet Studio / Shutterstock.com
CLB's Strike Map has recorded six incidents of workers asking for wages from labour agencies since March 2023. They were all over unpaid wages and occurred in China's coastal areas. Three occurred in Guangdong province, with one each in Zhejiang and Shandong provinces, and one in Tianjin. 
Temporary and flexible workers do not have employment relationships with those they perform their labour for, or with the intermediary companies that match them to jobs. This means they are unprotected by China's labour laws, including the Labour Contract Law. When workers are owed pay, they are not eligible to seek assistance from local labour departments or take their case to labour dispute arbitration committees. Instead, civil dispute resolution is their only judicial recourse, and filing a lawsuit takes time, energy, and money that many workers do not have. 
Workers and enterprises sounded the alarm early against Yushibao's practices
As early as November 2022, Yushibao's withdrawal system had problems. One worker reported on the People's Daily "Leadership Message Board" to the Shenzhen authorities, saying that they could not withdraw their pay from Yushibao. The worker wrote:  
The platform restricts workers from withdrawing cash for various reasons, and there is a practice of misappropriating workers' wages and not paying them.
The Human Resources Bureau of Bao'an district in Shenzhen publicly replied to the post, saying that the worker who posted the complaint had already withdrawn their remuneration three days after leaving the message. The bureau added: 
If you encounter similar problems again in the future, I suggest you resolve the dispute through the civil courts. 
In March of this year, a worker posted online saying that they could not withdraw funds from the platform, and even that they could not log in to their account. They called for other workers to avoid the platform. 
Even companies have complained against the platform. In May 2023, a company posted about the enterprise interface, saying: 
Our withdrawal has been pending review for more than half a month. It's better to not deal with a small platform like this. They don't even have a customer service complaint line.  
Although the authorities had suggested workers go through civil court, the large-scale protest in Shenzhen was enough to attract attention and bring about another solution. The Yushibao user who reported that the local authorities had advanced payment to over a thousand workers compared the Yushibao situation to the 2018 Ofo bicycle sharing scandal, in which users' deposits were never returned. 
Vulnerable workers need enforcement action to protect their rights
Sina's consumer service platform, Black Cat Complaints, contains over 1,600 complaints about Yushibao. The individual amounts involved vary greatly, but some are for just a few hundred yuan, which might only be a couple days' work. For such a small sum, it is unrealistic for workers to seek formal legal channels, as the cost to defend their rights is higher than the sums they seek to recover. Therefore, collectively taking to the streets to try to pressure the company or local authorities to take some action is a means to protect workers' basic rights. 
These types of day labourers working odd jobs face low wages, unstable and unpredictable work, and often have precarious living situations. They may rely on each day's work for the next day's food and accommodation. When they are unable to withdraw their funds from the platforms that have come to dominate job recruitment, these vulnerable workers are pushed to their limit and demand accountability. 
---
Further CLB reading: