Workers inside and out support the Labor Rights Supported Union of Khmer Employees of Nagaworld (LRSU), which lost its registration despite ILO objections and was replaced by a management-friendly union in the Nagaworld casino and hotel complex.
Danielle Keeton-Olsen
 and
Ouch Sony
 report from Phnom Penh.
During her 20 years of employment at Phnom Penh's popular - and sole - casino, Nagaworld, Sok Dalin never asked for help from its independent union, although she was a paying member.
Dalin, 44, didn't lose her job in a 2021 mass layoff of more than 1,300 employees including key union leaders and organizers, but she went on strike in solidarity after union leaders were prevented from negotiating with Nagaworld managers, and she has kept striking for 19 months since then. Dalin told China Labour Bulletin (CLB) why she strikes:
I came out for the common benefit, and the important thing is to have the presence of an independent union inside the company. So, I am willing to protest outside in order to have the Naga[world] owner solve this labour dispute. No matter how long it will take, I will stay outside to help our members to succeed.
After more than a year of striking, the leaders of the independent union at Phnom Penh's Nagaworld Casino are serving up to multiple-year sentences for sustaining protest activities that the Cambodian government labelled as "incitement." Though the union has reportedly been replaced inside the casino and hotel complex with a company union, workers outside and within say they haven't given up hope for the independent union to thrive.
Former and current employees have been on strike since December 2021, after the Labor Rights Supported Union of Khmer Employees of Nagaworld (LRSU) was no longer able to negotiate with the company or government to rehire union employees, fairly compensate laid off workers, or solve other issues with the company. With a speedy court order, the government deemed the strike illegal, and within three weeks of the strike's start, LRSU president Chhim Sithar and other strike leaders were arrested and charged with "incitement to commit a felony or disturb social security."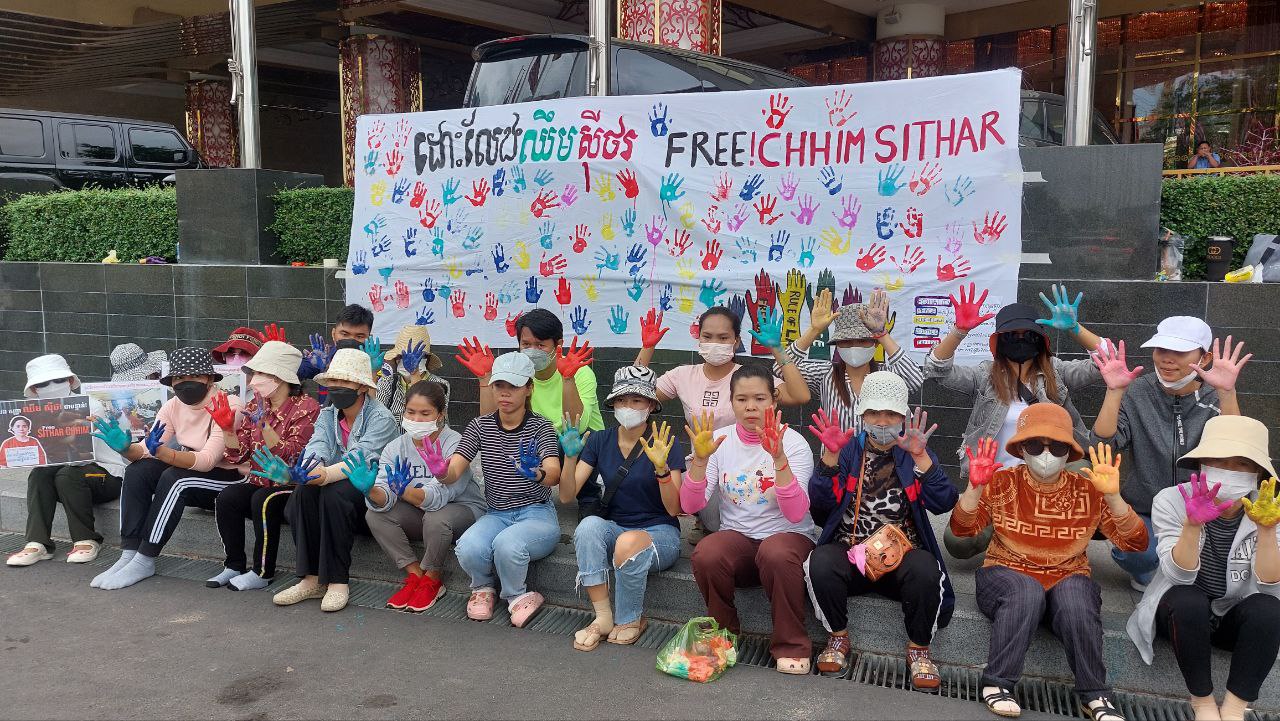 Protesters sit in front of a sign they painted during a protest at Nagaworld 2 Casino and Hotel in Phnom Penh on 20 July 2023. Photo: Danielle Keeton-Olsen
When the court finally ruled on the strikers' case on 25 May 2023, Sithar and eight other current or former union members were sentenced to between one and two years of prison each.
Since the sentence was announced, strikers have been met with violence from Phnom Penh law enforcement, while the casino's Hong Kong-listed parent company, Nagacorp, has moved from net losses in 2021 to a net profit of U.S. $107.3 million. Nagacorp did not respond to a request for comment.
Still on strike, 19 months and counting
In a livestream video from 17 July 2023, a few dozen protesters stand solemnly in rows in front of the decorative flower bed at Nagaworld 2, holding paper posters depicting the LRSU logo as one striker bangs a march on a traditional drum. On cue from a protester emceeing the demonstration with a megaphone, they put on paper masks of Nagacorp CEO Chen Lip Keong and chairman Tim McNally. One by one, they tear their union's logo in half.
The sounds and crowds are a quiet echo of the protests led by the LRSU starting on 18 December 2021 and continuing into January 2022. An estimated 2,000 recently unemployed and striking workers joined together to call on Nagaworld parent company Nagacorp to fairly compensate more than 1,300 workers who were laid off in 2021 and reinstate LRSU leaders and organizers, all of whom had been among the terminated employees.
The workers' current demands are now focused on reinstating around 100 workers who did not settle their 2021 layoffs with the company, including LRSU leaders. The goal is to re-establish the union within the company, said Mam Sovathin, one of the remaining protesters and somewhat of a leader among those who are still free of charges. Sovathin told CLB:
The investors who come to invest in Cambodia must respect the law. We are workers, we want investors to respect the labour [rights] in Cambodia for sure.
Sovathin said that she and other protesters have been photographed and followed by strangers, in addition to being harassed online, in what she believes are attempts to deter the protests, which occur every few days.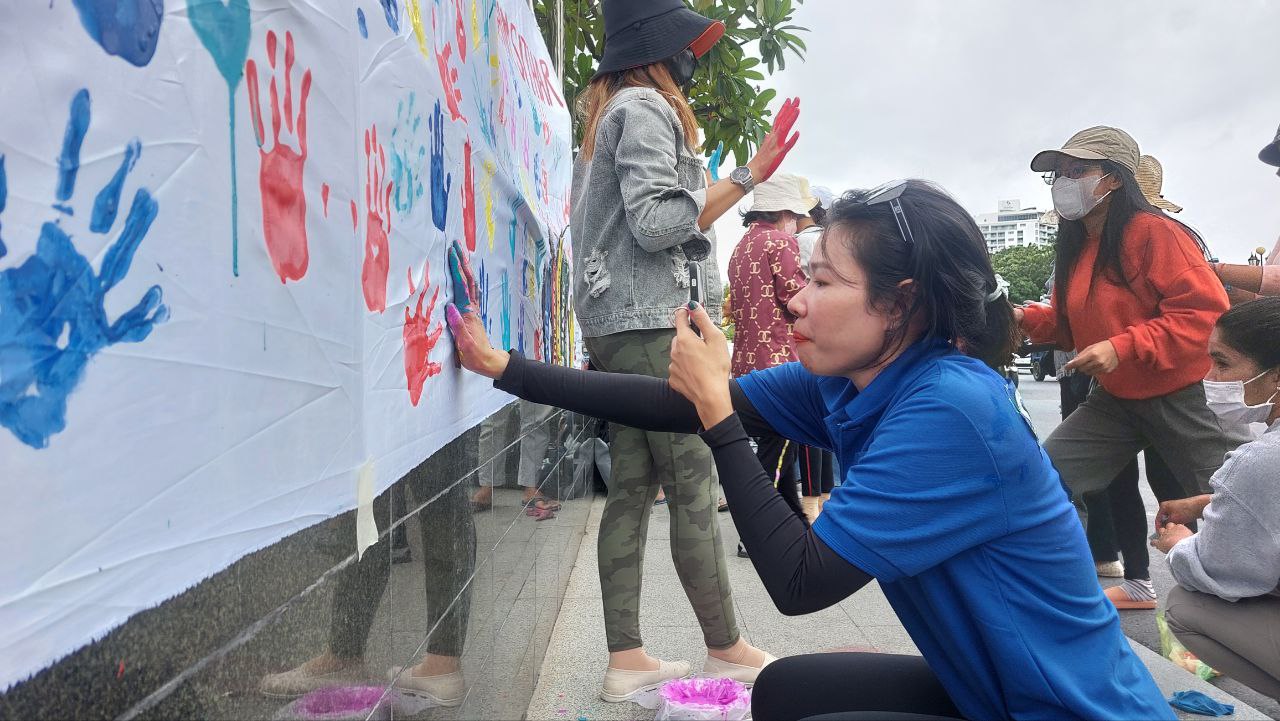 Mam Sovathin, a striker of the LRSU protest movement, presses handprints onto a paper sign during a protest at Nagaworld 2 Casino and Hotel in Phnom Penh on 20 July 2023. Photo: Danielle Keeton-Olsen
Bon Sina, another former Nagaworld worker on strike, said it's a challenge to remain protesting, namely because she has lost significant income without a job. Now that she no longer works as a card dealer at Nagaworld, Sina, 40, works only a few hours per day, cleaning houses for families in some of Phnom Penh's wealthy neighbourhoods. She said she tries to spend as little money as possible, and people, including her husband, consistently question her decision to quit her job.
But whenever she thinks of stopping her strike, she remembers that her leaders are in jail. "I can [continue] because [I] have seen the injustice so openly," she said before pausing to cry. "I saw them [law enforcement] violently arrest my president. That image was so cruel, like [they] were arresting a robber who had killed a person or kidnapped [someone], but she did nothing wrong."
The stakes of the strike are higher than just this one union, Sovathin added. She questioned why the government took over negotiations with LRSU, while it still recognized the union, rather than with the company. The way this labour dispute unfolds could affect other unions' ability to negotiate with employers, she said.
Truly it's going to have a lot of impacts, and, if it's left to be like this, it will become more and more messy. At a workplace, if there is no union, it means the owner can violate, exploit or abuse the workers. [The employer] will set whatever [working] time or add up whatever [benefits] as they want…the workers will not be human any more; they will be like slaves.
Independent union replaced by management-friendly "union"
Conditions inside the company have changed since the independent union was effectively kicked out of Nagaworld, said a current employee who asked to go by his nickname, David, to avoid repercussions.
David said that workers have been assigned shifts much more frequently before they're given a day off, and - where workers under LRSU had their night shifts capped at six in a row - now the company increased its limits on night shifts.
David told CLB that workers also lost their "thirteenth month salary," a bonus payment that's commonly distributed during Cambodian New Year in April or at the end of the calendar year. He also claimed that newly-hired workers were told they should not become pregnant within the first three years of their employment.
Workers still employed by the casino have also been warned by the company, via its human resources app, not to fraternise with former employees, especially former LRSU members, David added. He went on: 
I think it is totally a kind of rights violation, because the company has a right to control workers within only 8 hours [of their job]. It is a kind of pressure on workers, and they keep creating regulations to tie up the workers' legs.
Prior to the mass layoffs in 2021, 47.5 percent of Nagaworld's 8,371 employees were members of LRSU. The corporation's most recent annual report noted that only 23 percent of employees are members of an unnamed union that is registered with Cambodia's Labor Ministry.
That union is what former and current staff interviewed by CLB say is a company-run "yellow union."
The Union for Rights and Common Interests of Nagaworld Employees (URIE) was registered in March 2022, two months after LRSU president Chhim Sithar and other union leaders were arrested.
Simultaneously, the government refused to recognize LRSU. According to a complaint filed to the International Labour Organization's Freedom of Association Committee, the government failed to renew the LRSU's registration with the Ministry of Labor after it expired in April 2022, on the grounds that LRSU included members who were no longer employees of Nagaworld. The government stuck to this argument when questioned by the international agency, but the ILO urged the government - via a nonbinding list of recommendations - to reinstate LRSU's registration.
Meanwhile, the new union's Facebook page suggests that the union primarily offers small incentives to individual workers. For example, union leaders presented 150,000 riel payments (approximately U.S. $36) to workers who had given birth or required hospitalisation, according to posts on the page. In between those types of posts, URIE frequently shares posts from Keut Chhe, the Phnom Penh deputy governor who regularly ordered strikers to halt their protests.
URIE union president Heng Sopheany could not be reached for comment.
David, the current employee, said that workers who wish to be members of URIE now pay dues directly to the company, and as such the union follows management's orders. Though they offer some handouts to members, the union doesn't protect workers' interests, he said.
To stay and resist, or strike without pay?
David remains in his role in the casino and hotel complex, but he hopes that LRSU might be able to re-establish its presence in the casino.
A lot of his co-workers gave up hope, he said, saying they are scared to stand up for their rights inside the casino and that they need to keep their jobs to pay off debts or protect their families.
For David, he said those burdens are lesser than finding another independent union that works for the workers and the company. That's "hard to find," he said, and this mindset lends him courage to continue posting about LRSU on his personal Facebook. He told CLB:
If there is a second layoff, I am sure that my name will be on the list, but I will not back down. Even if time resets itself, I still will not change [my mind].
Meanwhile, Dalin, the striking worker who wasn't included in the layoff, does not know whether she will be able to regain her job at Nagaworld. She holds off from taking a different fulltime job, despite how much she struggles to cover her and her daughter's expenses on the 10,000 to 20,000 riel (U.S. $2.5 to $5) she earns daily from cleaning houses.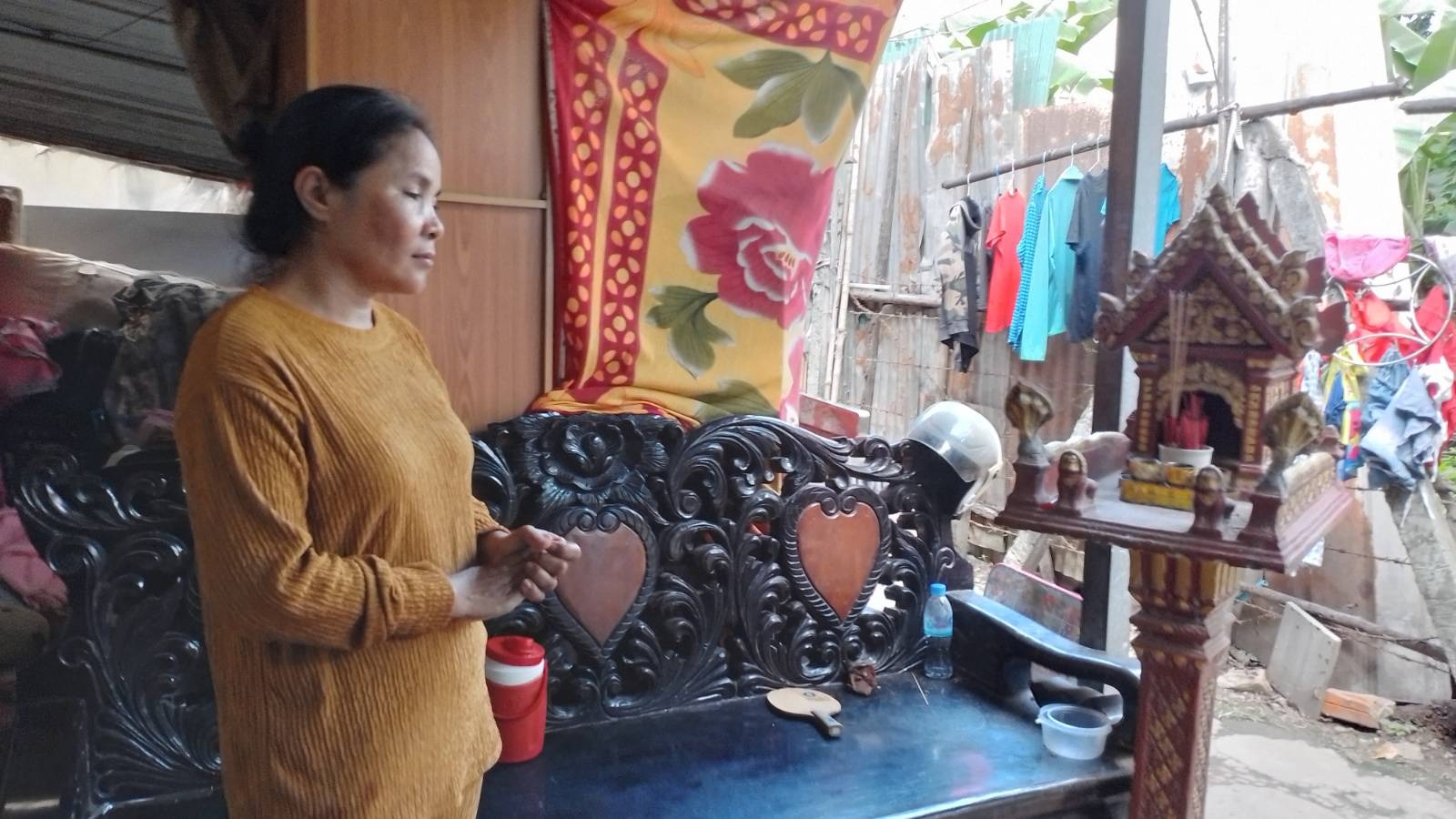 Nagaworld striker Sok Dalin at her home on the outskirts of Phnom Penh on 18 June 2023. Photo: Ouch Sony
That's because each time LRSU organizes another afternoon strike, Dalin drops off her daughter with a neighbour and drives her motorbike 11 kilometres to Nagaworld 2.
Dalin said she struggles to get by when her motorbike breaks down or her daughter gets sick, but her union colleagues have supported her now more than ever.
Her former co-workers - mostly outside the company, but including one current member - sometimes contribute money to her when she struggles, and she tries to do the same for other members when she can. She said: 
Some asked me whether I regret the loss of the [Nagaworld] salary, and I said who wouldn't feel regretful. Everyone feels regretful for the [loss of] salary but what is the most regretful is the loss of the LRSU union's presence.
Dalin said that even if she feels weak in the body, she feels strong in the heart. She said LRSU, similarly, is still strong even if its protests have shrunk and its members have lost income.

 
Danielle Keeton-Olsen is a journalist based in Phnom Penh, focused on environmental issues, labour rights and the economy.
Ouch Sony is a freelance journalist based in Cambodia. He covers politics, cultures, court hearings, human rights and sports.
---
Further CLB Reading: