CLB sits down with Siu Sin-Man of the Association for the Rights of Industrial Accident Victims to talk about the changing landscape for labour rights in Hong Kong, through the case studies of three major incidents in 2022: 
The Sau Mau Ping construction site accident;

The Mirror concert accident;

Foodpanda delivery riders' strikes.
Siu urges for greater government transparency in accident investigations, tougher laws against employers who violate workers' rights, and a stronger voice in Hong Kong's Legislative Council to represent workers' interests. 
This English-language version is based on the original Chinese article available here. We also have a Chinese-language podcast episode featuring our full interview with Siu Sin-Man. The interview was conducted in late December 2022. 
---
As a result of the changing social and political environment in Hong Kong, a large number of trade unions have announced their dissolution since 2020. This includes the Hong Kong Confederation of Trade Unions (HKCTU), which had long assisted workers in fighting for their rights and leading several workers' movements. CTU was established in 1990 and had over 60 affiliate members and representation in Hong Kong's Legislative Council. 
Hong Kong's Association for the Rights of Industrial Accident Victims (ARIAV), which had cooperated with HKCTU in the past, has been left to shoulder a huge burden on behalf of workers. China Labour Bulletin interviewed ARIAV's Chief Executive, Siu Sin-Man, who said that without the collective power of trade unions in Hong Kong today, her association's capacity to push for policy changes has weakened, and it is now difficult to reach out to workers and provide them assistance when they are facing labour challenges.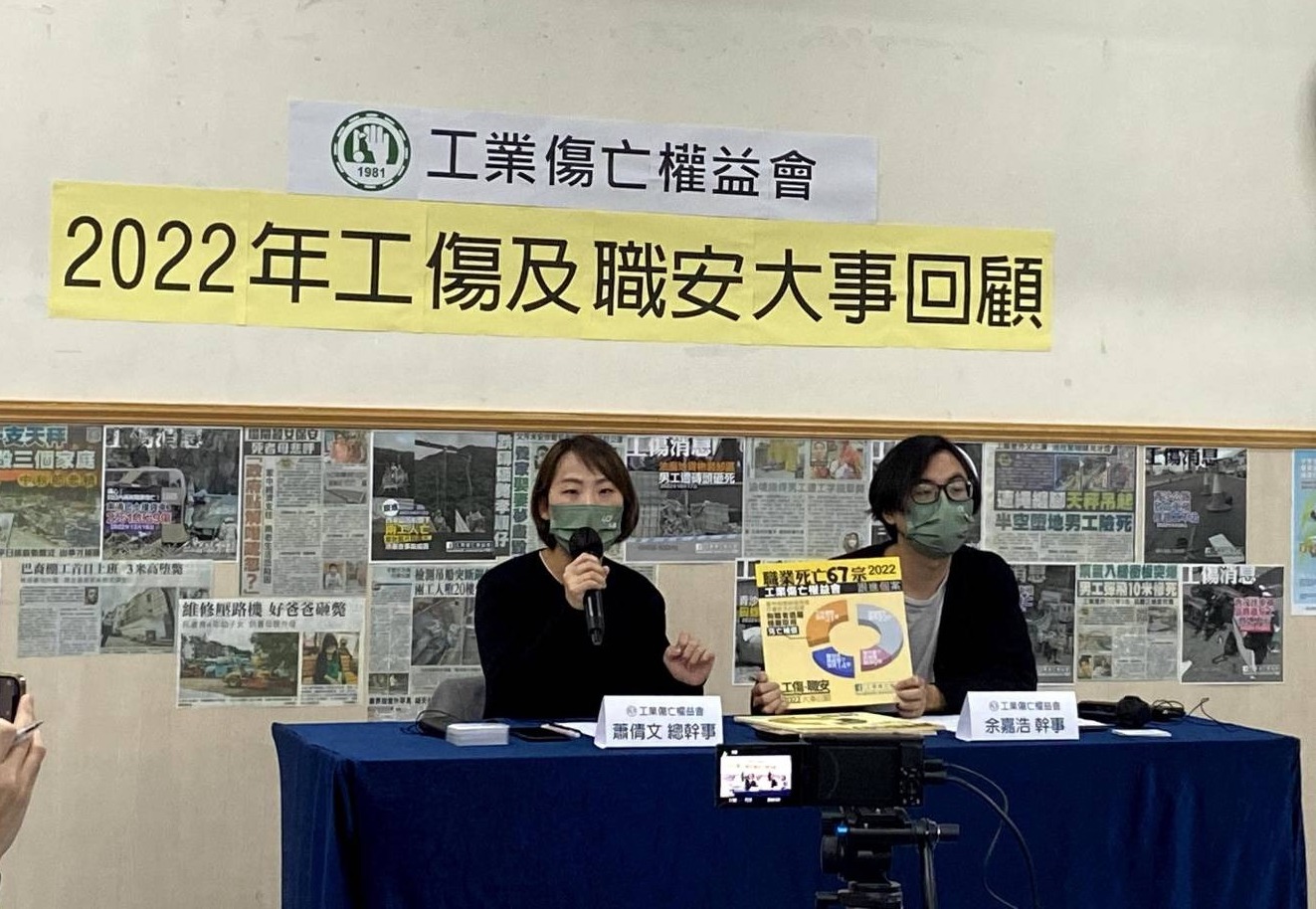 ​​Chief Executive of ARIAV, Siu Sin-Man speaks at a December 2022 press conference in Hong Kong. Photo: CLB
Siu has been with ARIAV for over ten years and has been the chief executive for the past three years. According to ARIAV's and the government's data, over 200 people die in Hong Kong due to work-related accidents each year, and ARIAV follows up on about one-third of these cases. When an accident occurs, Siu herself often goes to the scene of the accident or to the hospital to assist with workers' compensation procedures, and to help families claim remains and handle burial procedures.
According to figures cited by ARIAV at their 23 December 2022 press conference, which reviewed occupational injuries and occupational safety incidents in the first half of 2022, a total of 123 workers died on the job in Hong Kong. As of 20 December, the Hong Kong Labour Department recorded 26 fatal industrial accidents, including 17 in the construction industry.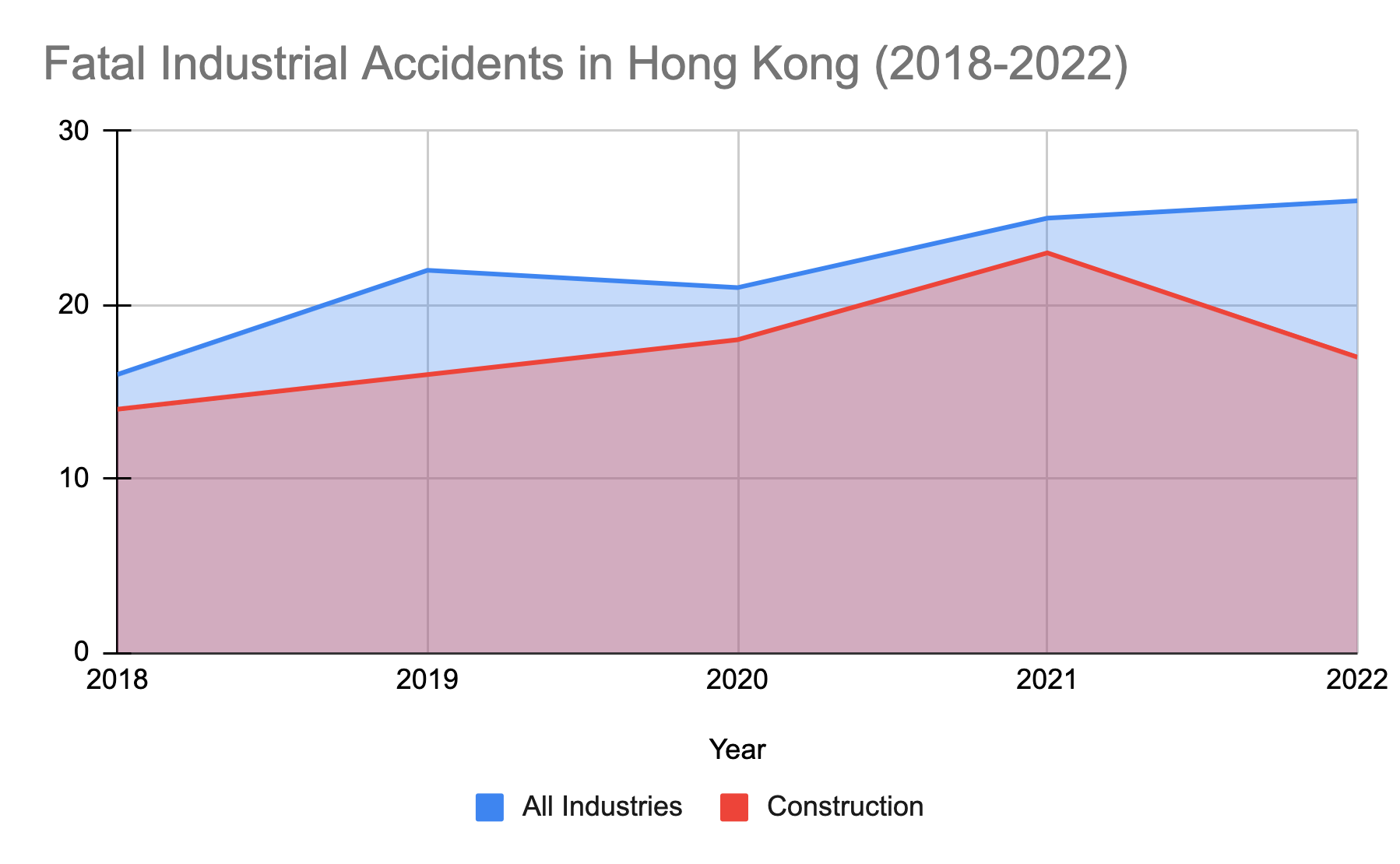 ​NOTE: Data for 2022 is as of 20 December 2022. Industrial accidents regulated by Hong Kong's Factories and Industrial Undertakings Ordinance - including those in the non-industrial category, such as death by electric shock; or non-accidental deaths, such as sudden death - are not included in the tabulation.
Siu is constantly busy, and at the time we spoke with her, she was handling five accidents that had occurred in that week alone. But she says that fatigue is not the problem; feeling powerless is: 
What is profound is that the workers' family members are also at a loss as to how we can accompany them out of their pain. When some family members receive the news and go to the hospital, they still do not know that their family member has died. They ask us if the injury is serious, and that is when they learn of the passing. That kind of breakdown scenario is when we most need to be with them.
This year marks the 41st anniversary of ARIAV's founding. The organisation's primary mission is to assist injured workers and their families after workplace injuries, occupational illnesses and workplace deaths. The association also promotes workplace safety, including through school visits and informational street booths. The organisation believes that safety awareness should be encouraged from an early age, rather than only after entering the workforce. This way, safety can truly come first, regardless of which industry people enter or what position they eventually have. 
In 2022, ARIAV compiled a map of workplace accidents in Hong Kong, recording more than 300 deaths in the past 35 years. The organisation hopes that the map will give the public a better sense of the sacrifices workers have made to create prosperity for the city, and that it will encourage greater public awareness of workplace safety issues.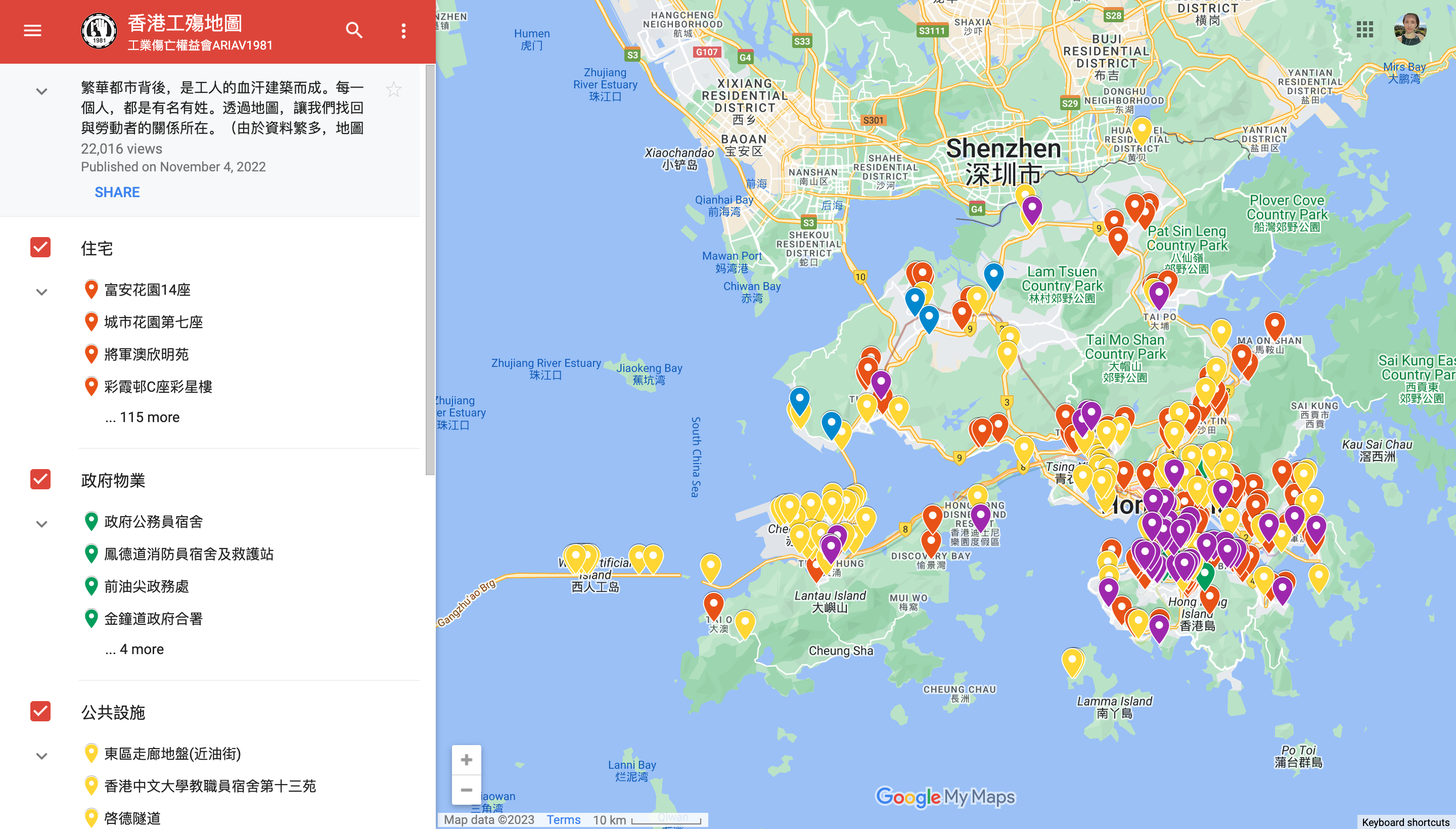 ​​A screenshot of ARIAV's map of workplace accidents in Hong Kong
Crane tower collapse in East Kowloon kills three, injures six; ARIAV responds and aids families 
Siu recalls one of the more severe accidents in Hong Kong in 2022, the crane tower collapse in Sau Mau Ping on Anderson Road. This accident occurred on a construction site in September 2022, and it caused three deaths and six injuries, much to the alarm of the public. After the accident, Siu arrived on the scene and waited with the workers' family members as the rescue was underway. One trapped worker died several hours after being rescued. 
Siu said that after helping with the funeral arrangements and assisting the family in getting compensation from the company, all that is left to do is wait. The investigation by the Hong Kong Labour Department typically takes about six months. The evidence collected will be submitted to the Department of Justice for advice before the company can be charged with violating safety regulations. The complexity of this particular accident is such that the wait for a court date could be longer than one year. 
Under Hong Kong law, the deceased's family can also take civil action, suing the company for work-related injuries and negligence, and demanding compensation in the individual case. Siu said that it is the government, however, that must raise broader violations of Hong Kong's safety regulations that lead to fines, injunctions, and other judicial remedies including criminal sentences for responsible individuals.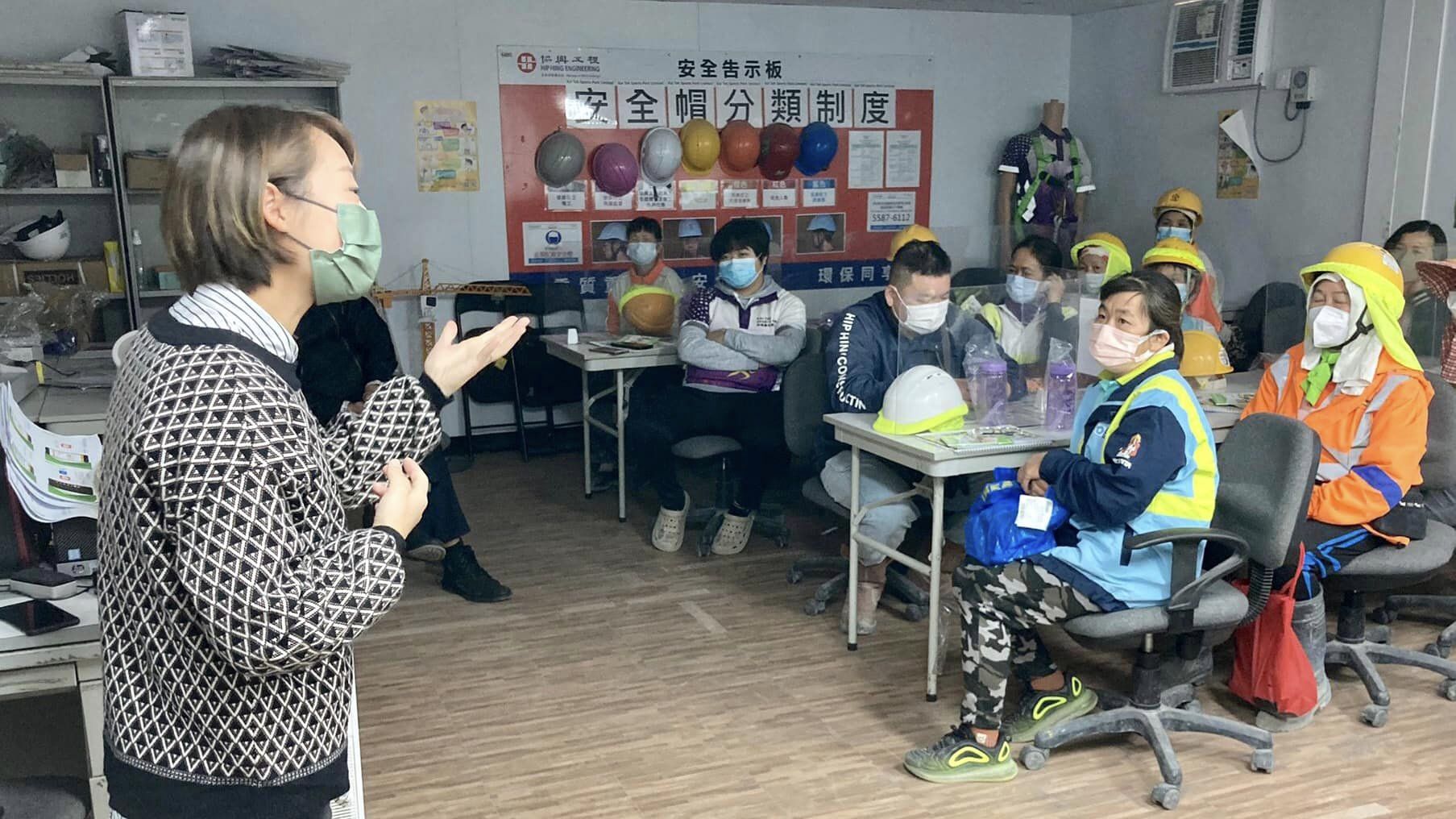 ​​The Association for the Rights of Industrial Accident Victims conducts safety training for workers. Photo: ARIAV website
Mirror concert accident investigation is example of government transparency and employer accountability 
The Mirror concert accident occurred in July 2022, when Mirror held a series of concerts at the Hong Kong Coliseum. On 28 July, one of the backup dance performers was struck by a giant LCD video screen as it came unhinged and crashed onto the stage. He was paralysed and is still recovering.
Given public opinion on this shocking incident, the Hong Kong government has been under pressure to deal with this matter in a just and timely manner. The authorities immediately established a working group which receives regular comments from experts and officials, showing that the government has been treating the incident as a priority. In January 2023, police charged three individuals for conspiring to make false statements, leading to the accident. The trial is upcoming. 
Siu believes that this level of transparency is a good model for all major accidents. The government provided regular public updates on the progress of the Mirror accident investigation and made the full report publicly available. This is different from the practice seen for other safety incidents in the past.
The government often gives a statement that the accident investigation is underway, and it's not convenient to comment because it may affect the investigation… I think this is the typical administrative attitude, not only for this [workplace accident] problem. They are always failing to act, as if it's better to do nothing than to do anything at all. It's not about administration, human resources, material resources, etc. There is no pressure to act. 
Legislation in Hong Kong, Siu said, has no prohibitions on the publication of accident investigation reports. So long as no trade secrets or private interests are at stake, the report should be fully accessible to the public. She believes it is crucial, especially for the industry, to know the cause of the accident to raise awareness and prevent future similar incidents. 
In addition to the Mirror concert accident, the government has been pressured to publicise the causes of fatal accidents on the construction of the Hong Kong-Zhuhai-Macau Bridge. Based on these precedents, Siu believes the government should make regular announcements of ongoing accident investigation reports. 
In fact, from China Labour Bulletin's observation of workplace accidents in mainland China, the central government tends to bring together several departments after major accidents to investigate and publish reasonably detailed reports. (See one of CLB's recent articles describing typical practice in China here.) Regardless of the final outcomes of the investigations, these reports are of great importance to those departments concerned about the causes of accidents and looking to draw insights from them.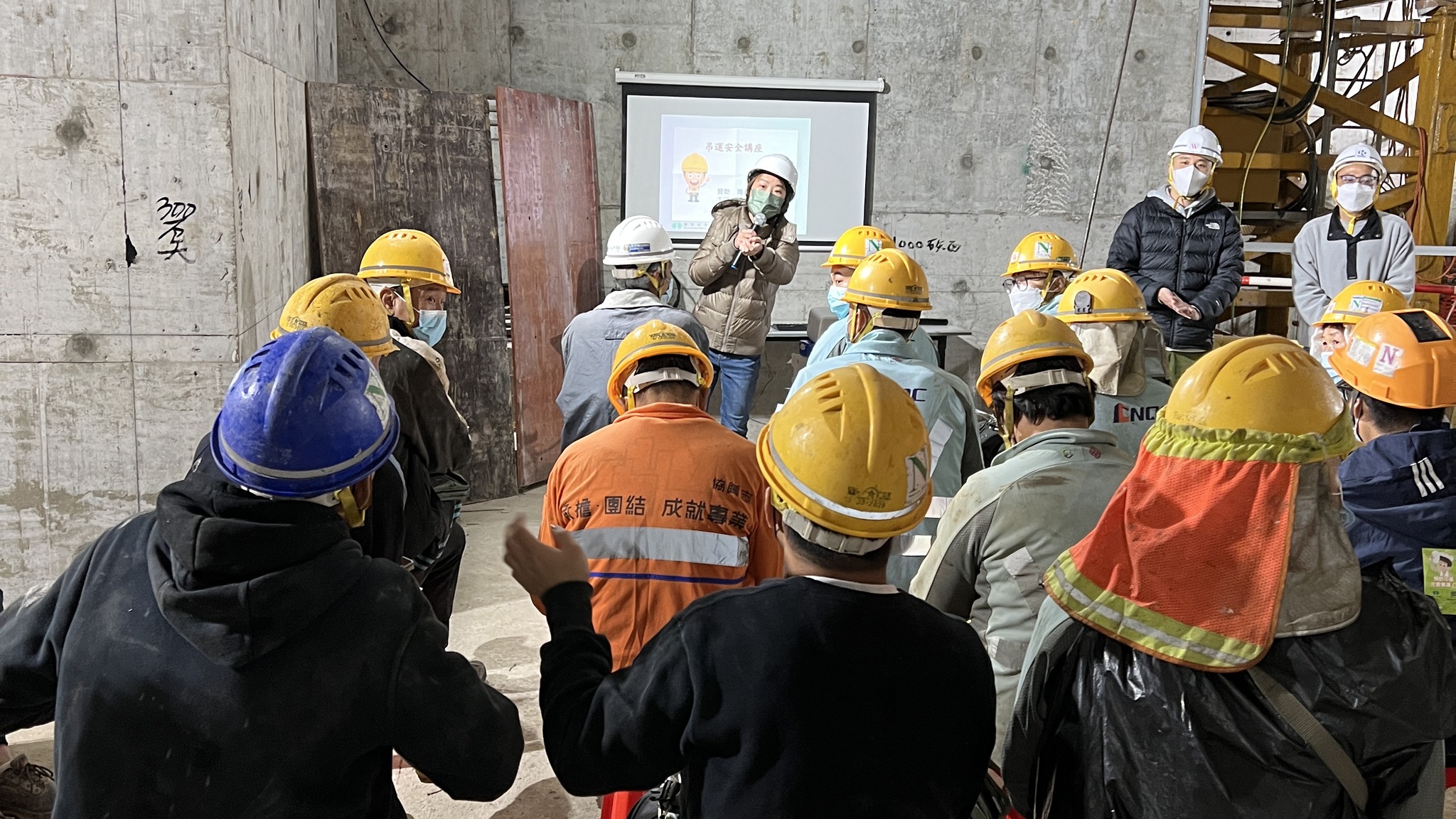 The Association for the Rights of Industrial Accident Victims conducts safety training for workers. Photo: ARIAV website
Hong Kong Foodpanda delivery riders strike reveals labour challenge of lack of employment relationships 
The popularity of food delivery has risen during the pandemic, and the territory now has tens of thousands food delivery riders. Beginning in 2021, Hong Kong food delivery riders launched several actions to advocate for their rights, and their actions have continued into 2022. These workers are frequently involved in traffic accidents and face other hazards on the job, and some have even died. 
Siu points out two labour aspects: Many of the delivery workers have private insurance, but the level of compensation coverage falls far below that available through workers' compensation insurance coverage; and the delivery company policies encourage delivery workers to drive fast, which increases their risks. 
How food delivery riders are classified in labour and employment terms is important to discussions over workplace accident compensation. After the Mirror concert accident, a Labour Department investigation determined that there was an employment relationship between the dancer and the company. Such a determination at a high level certainly offers some guarantees for those working in the performance industry. But in the food delivery industry, previous responses from the government suggest that workers will continue to be classified as independent contractors rather than employees.
Rather than waiting for a broad determination on the topic of employment relationships for delivery workers, ARIAV believes that government regulation of delivery platforms can be done more easily. This could mean establishing a licensing system that requires companies to meet certain requirements. However, recommendations like these have not been taken up by the government.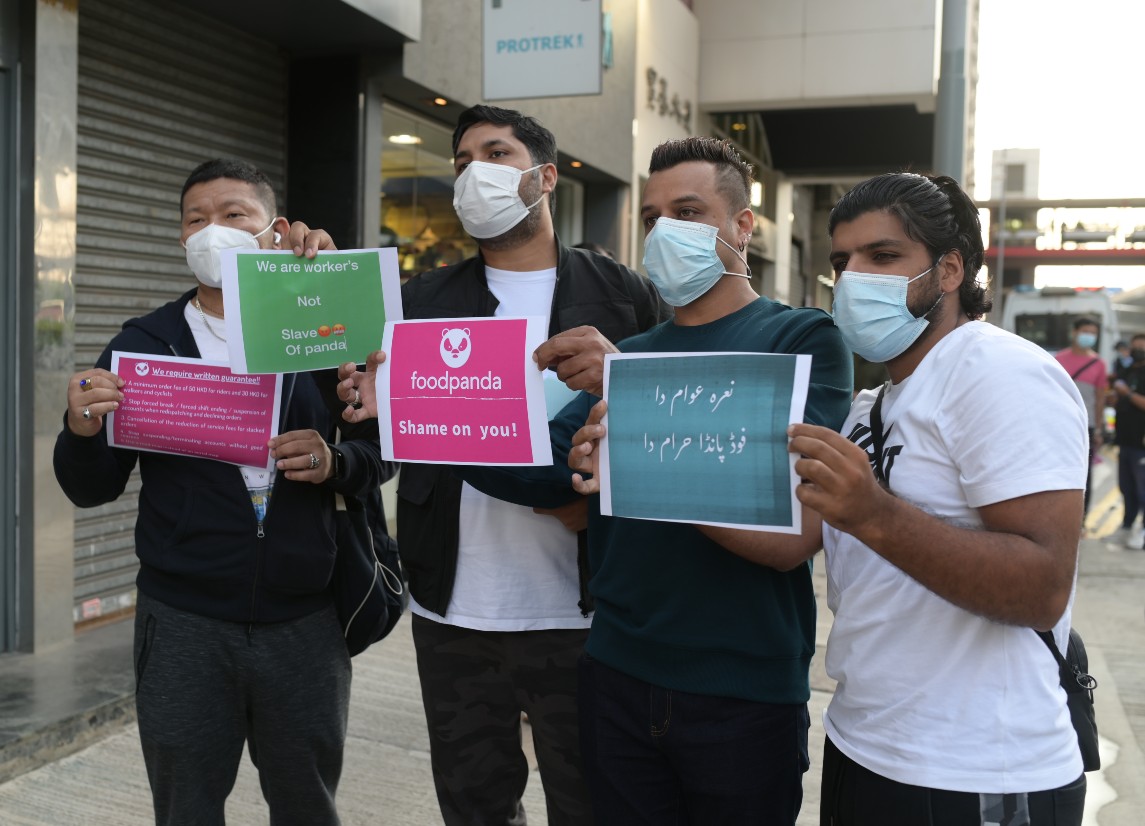 ​​Foodpanda workers stage a collective action in Hong Kong. Photo: CLB
Hong Kong's labour legislation should be improved, and Legislative Council should protect more than business interests 
The advancement of workers' rights in Hong Kong will require the coordinated involvement of organisations like ARIAV, workers, the private sector and the authorities. 
In the past, ARIAV worked closely with HKCTU to promote workplace safety policies and referred workers' cases to the union for assistance. Now that HKCTU has dissolved, Siu says that it is like fighting alone: 
We are mainly responsible for industrial accidents, but workers sometimes come to us for help with problems concerning things like unpaid wages, job benefits, and working conditions. It seems that aside from looking up some information on the internet, there's not a whole lot we can do.
Workers are also able to take matters into their own hands. Hong Kong is no stranger to workers' strike actions in the past, including at loading dock terminals and the airport, and some of these strikes resulted in regular communication mechanisms between workers and management that have been in operation for many years. Collective bargaining rights are still a dream for the labour community in Hong Kong, Siu said. And yet she asks, "(Now), if we have collective bargaining rights but do not have unions, what can we actually accomplish?" 
Siu says there is an urgent need to amend the Hong Kong Occupational Safety and Health Ordinance. The ordinance has been in force for about 30 years, and she says the level of compensation required is no longer a deterrent today. The current fine is only Hong Kong $500,000 (U.S. $63,760) if general liability provisions are violated, such as failure to provide and maintain work equipment and systems. 
Workers and their advocates hope to raise the penalty to $3 million, or up to $10 million in the case of severe safety incidents involving casualties or gross negligence. Initially, they had wanted to raise the level to $50 million, but a compromise was later reached between the labour and business sectors.
At the same time, Hong Kong's Employees' Compensation Ordinance specifies that employees can only seek compensation from an employer, and if the employer is an outsourced company, the company contracting their services may not have responsibility. Siu pointed out that according to this outdated legislation, many workplace injury cases now end with fines of only tens of thousands of dollars. She believes there must be stronger deterrents. 
Hong Kong's Legislative Council is composed of 40 representatives chosen by an Election Committee, 20 representatives of the territory's geographic areas, and 30 representatives from what are called "functional constituencies." Functional constituencies are professional or special interest groups, many of which are businesses. Therefore, many policies favour the business sector in Hong Kong, and Siu said legislators from the business sector are currently blocking changes to occupational safety and health legislation in the Legislative Council. 
These days, Siu said the voice of the labour sector is much weaker in Hong Kong than it was in the past. With the recent disbandment of several trade unions, labour has lost its voice and is being shouted over by the interests of capital. But at the same time, communication channels between the labour sector and the government under the new Hong Kong electoral system are now entirely in the hands of pro-establishment labour groups, and the power of labour at the Legislative Council level could be strong. 
The Hong Kong Federation of Trade Unions (HKFTU), Hong Kong's largest labour organisation, which purports to represent labour rights in the city, currently holds seven seats in the Legislative Council. The second largest labour organisation, the Federation of Hong Kong and Kowloon Labour Unions (HKFLU), has two seats. If these organisations wanted to push for more attention on labour issues, to pressure responsible officials in the legislature, or to push for legislative amendments, such actions should be possible, Siu said.
Now that China's leader Xi Jinping has declared that Hong Kong will move "from governance to greater prosperity," the improvement of workers' rights - which has long been a stated concern of China's leaders - should also be reflected in Hong Kong. Siu believes the Hong Kong government and the labour sector members of the Legislative Council should prioritise workers' health and safety. 
---
Listen to our Chinese-language podcast for recent discussions on workers' rights in Hong Kong: 
As Hong Kong unions dissolve one after another, how will the Association for the Rights of Industrial Accident Victims continue to move forward? 香港工会相继解散,工业伤亡权益会如何继续前行
Hong Kong delivery workers on strike: Is there a solution beyond a clear employment relationship? 香港外卖员罢工不断,明确雇佣关系之外有否其他出路?
Further CLB reading: 
What You Need to Know About Workers in China: Work safety