More than 300 workers at Hong Kong delivery service Foodpanda went on a two-day strike from 13 to 14 November. They demanded that the company reverse pay cuts and address longstanding issues like the lack of complaint channels for workers and unreasonable closure of driver accounts. Pandamart, Foodpanda's supermarket business, was forced to pause operations over that period, and some restaurants switched to competitors.   
This was the third strike initiated by Foodpanda workers this year. After the previous strike in July, management refused to agree to any worker demands, only making a vague promise to improve the system. 
Since then, pay rates have continued to fall. The rate for motorcycle deliveries dropped from HK$48 at the end of June to HK$42 in mid-November, and they dropped from HK$27 to HK$24 for deliveries made on foot. Those on strike demanded that base rates be no less than HK$50 for motorcycle deliveries and HK$30 for delivery on foot. 
"Foodpanda resorts to tricks when deliveries are slow," said Waqas, a worker representative. "It suspends delivery workers, claiming that the pictures they've taken [of completed orders] don't fit specifications."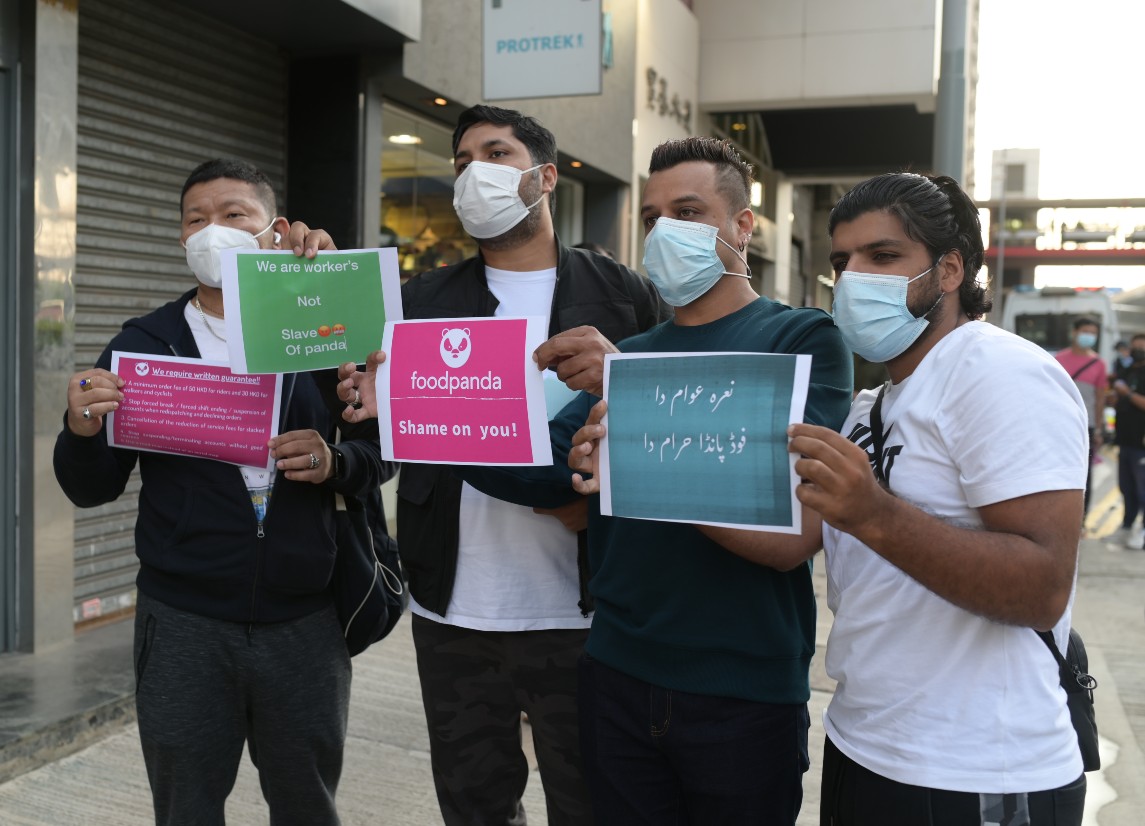 Though workers had planned in advance to strike, they had little idea of how strong they were in numbers. The company knows where delivery orders cluster, but workers have no concrete information for how many other workers are operating in their area. Striking workers predicted that others would gather in Kwun Tong, Tsing Yi and Kowloon Bay, but workers also joined in other areas, such as Hung Hom, To Kwa Wan and Tsim Sha Tsui. The hundreds of workers on strike far exceeded expectations. 
Delivery workers using motorcycles were the most committed to the strike, and, among them, South Asian workers were most united. Since most of them work full-time, falling rates hit them hardest. Workers making deliveries on foot tend to be part-time workers and are less affected by company policies. Many ethnically-Chinese riders also went on strike but they tended not to be at the forefront since they were afraid that the platform would be liquidated.
After two days of negotiations, Foodpanda agreed to make concrete changes in terms of complaint channels and account closures, but it did not concede to worker demands. Instead, it promised only a rate freeze until July next year and a bonus for deliveries made during peak hours on weekdays. 
The company attempted to refute media reports, claiming that the "average hourly service fee" it pays out to workers has increased. But its calculations neglect the shift in the proportion of full-time and part-time workers. 
The average hourly rate is calculated by total number of orders, and the price of those orders divided by total worked hours. The pandemic drove the expansion of the food delivery industry, and while delivery drivers could take on more orders, they also had to increase the speed at which they worked. When Foodpanda lowered rates per order, it did not  increase the average hourly rate. 
Foodpanda raised rates during peak hours, which means that workers who work part-time could earn more during those hours. This also had the effect of driving up the average hourly service fee. Though the income of some part-time workers has risen, full-time workers have felt compelled to increase their working hours to make up for lower income earned from work during non-peak hours. In this respect, the interests of full-time and part-time workers are at odds. 
The company has also claimed that its "cost per order" has risen over the past six months, without detailing what exactly this means. This could potentially include restaurant subsidies and promotional expenses, so, at most, the company has invested more capital in response to competition heating up. Stand News interviewed one Foodpanda worker who called it "bullshit" for the company to "cut order rates then give bonuses and claim that it had increased salaries." The worker also said that "90% of peak hour bonuses only appear on weekends."
Negotiation outcomes 
Workers had 15 requests for management, but the five they put forward in the previous strike remain their top concerns: raising the base rate for delivering orders, installing a complaint mechanism for order acceptance rates, a halt to unreasonable termination of staff contracts, ending the cash-on-delivery system, and increasing personal accident insurance coverage. Out of those five, the base price is most important. They reiterated to management that they were not asking for a bonus, and that any bonuses should be deducted from the company's own budget, not workers' earnings. They added that since restaurants take a longer time to prepare meals at peak hours and there is also more traffic and corresponding dangers, a bonus is not enough. 
Foodpanda said it would cancel certain pay arrangements made due to delivery drivers refusing orders and improve appeal procedures. It increased the compensation for orders that delivery drivers cancel due to reasons out of their control from the base rate to the actual rate of that order. It also agreed to use the actual delivery distance to calculate the rate for each order, rather than the straight-line distance, and will add a HK$5 service fee for orders with a travel distance over 1 km before those changes are implemented. 
Though the company has finally proposed solutions to issues that drivers have long faced, the core problem still stands. Platforms have full discretion in monitoring driver behaviour, calculating the distances they must travel, and arbitrarily changing their pay rates. These algorithms are under company control, limiting the knowledge that drivers have over their labour and also their own bargaining power. 
In the big data age, workers suffer from serious information asymmetry. Foodpanda can find data which corresponds to its interests, presenting it as fact without clear breakdowns of how its conclusions are generated. Drivers have no idea how many orders are being made in their districts, in which areas strikes would most affect business profits, and what proportion of workers are full-time versus part-time. 
Within their ranks, workers are also not unified, since the interests of part-time and full-time workers differ. What may be satisfactory for the occasional driver is not for the full-time one. These factors make coordinating wage and other demands on employment status and accident insurance more difficult. During the strike, for example, some workers simply switched to work for Deliveroo. Yet, there were other factors that brought workers together, like shared regional backgrounds, lived experiences, and common problems with the platform. 
Over the next six months, Foodpanda will likely examine how to cut costs. Workers will likely face more pay cuts in the future. Yet this strike has shown that collective action can bring results. Moreover, this strike has laid a foundation of worker networks and organising experience that can be built upon in the future.