Cambodia's once-booming construction industry depends largely on Chinese construction companies and a sizable migrant workforce. Danielle Keeton-Olsen and Yon Sineat examine the complex interplay between Chinese and local Cambodian workers and a rare moment of solidarity in Phnom Penh.
Just a month after giving birth to her first child, construction worker Soeub Sana had to pick up and start over. After five months without pay at a shopping mall construction project in Phnom Penh, known as Century Plaza, Sana and her partner, Jing, a Chinese national and labour contractor who employs her, moved to another construction project in the city in the hope of better conditions there.
"Over the last three or four years, I have often asked my parents to send money to us because we didn't have enough," she said. "My parents complained, 'you work all the time but you don't get money to even [afford] daily expenses.'"
As a local worker, Sana, 36, only gets paid by the day, so she has taken several weeks off unpaid to spend time with her infant, rocking her in a hammock and breastfeeding the baby, while her husband leads a small team of six workers at a Chinese-invested condominium development.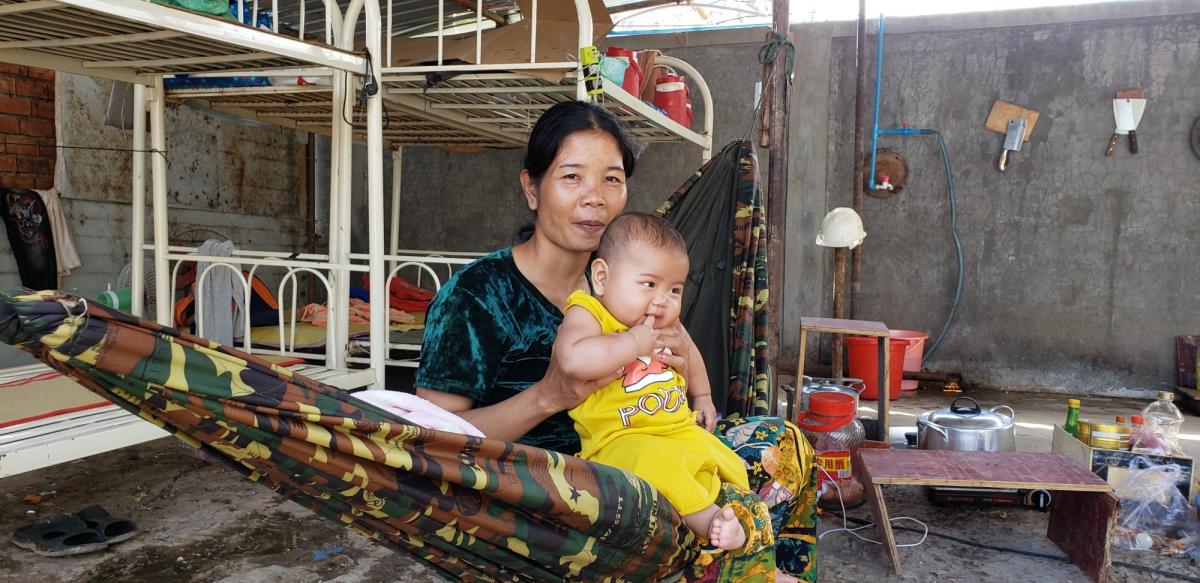 Photograph: Danielle Keeton-Olsen.
Typically, local construction workers are paid US$8 to US$15 per day while Chinese workers can earn several hundred dollars per month. Some Cambodian workers resent the higher salaries of Chinese workers but Sana said nowadays everyone in the industry needs to fight constantly just to get paid, regardless of nationality.
Sana feels a lot of sympathy for migrant workers in Cambodia who are usually paid less frequently than locals. "Sometimes I help [Chinese migrant workers] because I pity them when they don't get paid and they want to get back to their hometown," she said. "I help them collect recyclable goods including the steel and metal from construction projects to help them get money to buy the ticket back home."
Construction workers in Cambodia have long struggled to gain salaries from the network of subcontractors that manage the industry, but the pandemic-driven slowdown of construction, particularly foreign-invested projects, has made workers' journey to payday even more difficult. 
Construction workers interviewed in rapidly developing areas in Phnom Penh like Tuol Kork and Tonle Bassac, said they frequently experience delays in payment, adding that there is very little they can do except vote with their feet and leave.
One of most notorious wage arrears cases in Phnom Penh last year was Century Plaza, the vast shopping centre development near the airport on Russian Federation Boulevard where Sana and Jing used to work.
The project was stalled for four months during the second half of 2020, and Jing frequently demanded payment of wages in arrears but was told that the developer had no money. On 5 December, after several months without pay, a group of 20 local and Chinese workers staged a protest on Russian Federation Boulevard on behalf of their more than one hundred co-workers.
Eventually, the local authorities intervened but the workers still did not get paid straightaway, so Sana and Jing decided to find new employment. By then, the couple had gained the trust of some of their peers, and five local workers accompanied them to a new worksite.
"When we came to work here, we got paid [in advance], so we paid the previous salary that we owed to the [Century Plaza] workers. That is the reason that the workers now trust us and came here to work with us together," she said.
For Jing, it's difficult to tell workers they won't get paid regardless of nationality, but the language barrier makes it more complicated to explain to Cambodian workers. "When the payment got delayed, I asked a translator to explain the situation to the local workers," he said, adding that he prioritizes paying local workers, who are paid in shorter periods. "Chinese workers are more okay with that, because they're referred [to me] by other friends, [so they're] usually more friendly to me and easier to manage."
Before they took action at Century Plaza last year, Jing was beaten by Cambodian workers who erroneously believed he was getting paid while letting them go without compensation.
The latest Covid-19 outbreak in Phnom Penh, which began in February 2021 after four still-contagious Chinese nationals left quarantine, has made the situation worse. Jing explained it had become a "huge problem" for other Chinese nationals. He has warned his colleagues and employees not to go out alone, especially at night, in order to avoid problems with locals. "We all have families back home, so safety is the number one priority for us," he said.
There are undoubtedly serious tensions and misunderstandings between local and Chinese workers that hinder solidarity and effective collective action. Many of these problems are directly related to the way the construction industry uses numerous different sub-contractors for each project.
Khun Tharo, a coordinator for the Phnom Penh-based labour group Central, said he believes issues with wage arrears mostly involve Chinese subcontractors hiring Cambodian workers, although it is hard to map labour networks, as each project involves layers of local and foreign subcontractors hired and swapped in and out for different aspects of a building development.
Nearly 9,000 local construction workers are members of the Building and Woodworkers Trade Union of Cambodia, the sole advocacy group in the industry. But this group has very little interaction with Chinese and other foreign construction workers in Cambodia, Tharo said.
"We try to get access to Chinese workers, to talk to them… We see that they [developers] are exploiting Chinese workers as well. But to me, [Chinese workers] are more aggressive in terms of strategy. If they're being exploited, they have more will to stand up… They're brave."
However, Ivan Franceschini, a researcher at Australia National University's Australian Centre on China in the World who focuses on labour issues in Cambodia and China, suggested that the tension between Cambodian and Chinese migrant subcontractors is more nuanced.
When surveying Cambodian and Chinese construction workers at sites across the coastal city Sihanoukville in late 2019, Franceschini noted that the local workers have more mobility and options to voice discontent, simply due to their citizenship and language.
"Chinese workers are easier to control," he said. "It was a reversal from the perspective that [people] usually have because Cambodian workers are paid less, but I think Chinese workers are most vulnerable, because they have no legal redress, they're stuck here… It is the Chinese workforce that gets stuck in this situation while Cambodian workers are paid less but they are freer."
In his report, Franceschini noted that it was relatively rare for Cambodian and foreign workers to protest together, with both nationalities saying in surveys that they feel the other has fewer issues on the worksite. But he said he believes this divide is maintained intentionally.
"It's convenient for employers to have a mixed workforce to play against each other, and the difference in pay is somewhat natural... But it's played up by employers in a way that's good for them," he said.
That situation may begin to change, however, as more and more construction projects in the capital and Sihanoukville stall and wage arrears disputes become more acute. In a survey of projects under construction in Phnom Penh in the last quarter of 2020, the international real estate firm CBRE found that projects that started as far back as 2011 were still under construction, while more than a dozen projects that started between 2015 and 2019 were placed on hold at the end of last year.
Ben Nesbitt, associate director for CBRE Cambodia, said that the number of on-hold projects would "almost certainly" increase this year, especially among smaller, four- to six-storey construction projects.
Last year was particularly rough in Sihanoukville, as Chinese business operators and workers fled in droves after Cambodia banned online gambling. The construction projects and workers were both left abandoned, with migrant workers seeking assistance from local business associations. As of January, a group of five Chinese workers who had been employed in Sihanoukville claimed they still had not been paid for work dating back to May 2019, and they didn't have money to return to mainland China. By the middle of 2020, city governor Kuoch Chamroeun reported that only 15,000 Chinese nationals remained in the city – a steep decline from the 300,000 who reportedly inhabited Sihanoukville during the previous year.
More strikes and protests over wage arrears might be on the horizon simply because desperate workers have no other option. But the experience of Sana and Jing at Century Plaza suggests the impact of collective action might be limited.
The entrance to the Century Plaza construction site, which had resumed work in February 2021. Photograph: Danielle Keeton-Olsen.
Work on the mega mall appears to be underway again, but the Chinese workforce has largely been replaced by workers from South Asian countries. Jing says he was finally paid by the developer in March, but the experience has left him wary.
"I have become quite selective," he said. "You have to look into the property developer's background and always pick the company which has formed a joint company, just to make sure they won't have financial problems in the long run."
At their new worksite, Morgan Tower, being developed a Shanghai-based company, Sana said it was too early to tell if their employer could be trusted. "If this project has the same problems, I will give up on Phnom Penh and go to the provinces," she said.
Danielle Keeton-Olsen is a journalist based in Phnom Penh, focused on environmental issues, labour rights and the economy. She also works as an editor for the Phnom Penh news site, VOD English.
Yon Sineat a freelance journalist and researcher who focuses on labour issues in Cambodia. Her reporting has appeared in Licas News, South China Morning Post and the Telegraph, among others.
Additional reporting by Sheila Yuan.
This article is part of a series commissioned by CLB to examine the influence of Chinese capital around the world and foster worker solidarity in the Global South.