Cambodian trade union leaders are fighting back after more than 1,300 casino workers were laid off this year. Danielle Keeton-Olsen and Yon Sineat report from Phnom Penh.
When managers at Phnom Penh's exclusively-operating NagaWorld casino announced in April that about 15 percent of its 8,000-strong workforce would be laid off due to pandemic-related economic losses, it soon became apparent who the main targets of the layoffs would be.
Among the 1,329 workers being retrenched were all the complex's trade union leaders and organizers. The President, Vice President, and Secretary of the union all received layoff notices, as did 60 union organisers and recruiters, and a number of long-serving staff.
The union, which has long battled with NagaWorld management over pay and working conditions at the massive casino complex, did not take the news lying down. In early June, the union filed a petition with Cambodia's Labour Ministry, signed by more than 2,000 union members and supporters, seeking government intervention. In addition to protesting the layoffs, the petition highlighted the company's failure to pay seniority benefits and its miscalculation of layoff packages.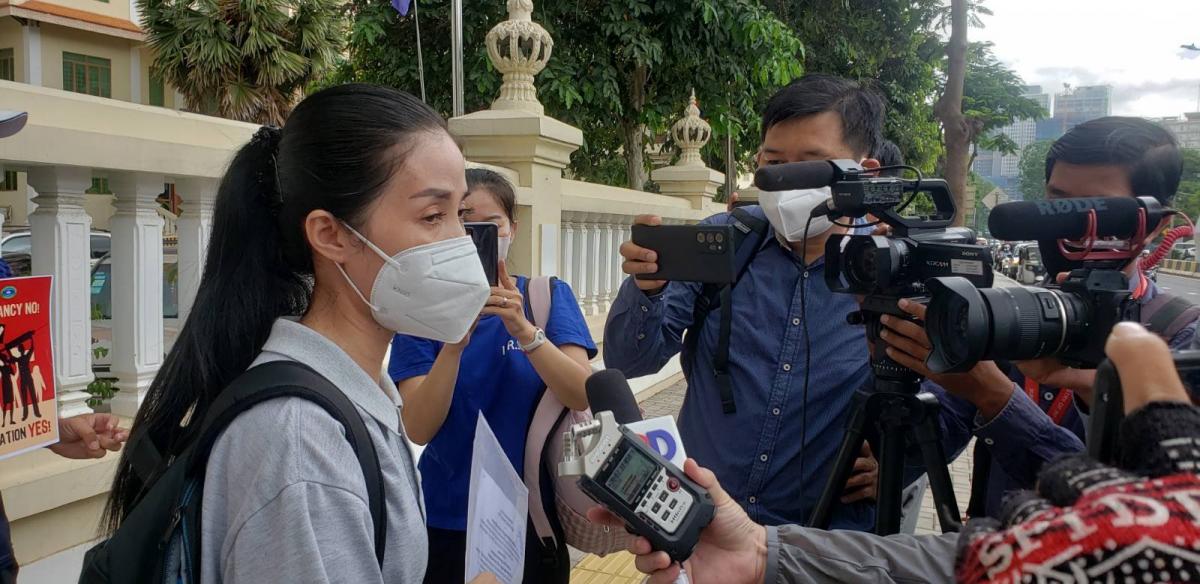 Union vice-president Chhun Sokha outside the Ministry of Labour, 8 June 2021. Photograph. Danielle Keeton-Olsen.
When contacted by China Labour Bulletin, Labour Ministry spokesperson Heng Sour said the case was still under review, and he could not comment further.
President of the Labor Rights Supported Union of Khmer Employees of Naga World, Chhim Sithar, believes the layoffs are much more than just pandemic-driven cost cutting. "This is a very helpful way" for Naga Corp to deal with the union, she said. "The company gets a lot of benefits from this idea… They reduce costs, get rid of union members, [and] weaken the union."
At one point, the union had just over 4,000 members, or nearly half of the workforce, which would have enabled the union to apply a collective bargaining agreement under Cambodian law. However, as the union's Vice President, Chhun Sokha, explained, it's been a constant battle to recruit more workers to the union.
"We've encountered several challenges organising new members. We need to spend a lot of time with them to build trust with the union. In addition, the old employees are afraid to join the union because they have seen intimidation from the company," she said. "They do everything to ensure that the union can't function at the company."
For example, after winning higher basic wages through strike action in 2019 and early 2020, the company started reducing workers hours due to Covid-19 business slowdown, but union members noticed they were working fewer hours than their non-union peers. At the same time, new short-term workers - who don't receive benefits like seniority pay and can't join the union - were hired by the company.
The latest layoffs came after a string of union actions designed to protect workers' rights and interests during the pandemic. Workers were initially disturbed by the company's slow response in late February after a client who visited the Naga 2 building tested positive and at least 11 workers subsequently contracted Covid-19. 
The staff on duty were held in the building for testing, and individuals who tested positive were silently shuffled to quarantine centres, while other workers were called into their regular shifts. The company finally ordered an indefinite closure and sanitation of the buildings on 2 March, four days after the outbreak. In March, the union mounted an online campaign urging Naga Corp to pay salaries and benefits during the suspension.
Sithar said the union has met with company representatives three times over Zoom since the complex temporarily closed in March, first to demand payment of salaries and then seeking a full explanation for the layoffs. In each meeting, she said, the company's response had been the same.
"In the meetings, basically they were just adamant on their plans," she told China Labour Bulletin. "They would proceed with the layoff plan to keep their business sustained. [Naga Corp management said] they could not pay workers when they have no business. They only stressed that point."
When union representatives pressed them for an explanation, Sithar said managers would say they had already paid out dividends to their shareholders in order to retain investors' loyalty. Sithar said she took issue with this during the meeting.
"I mentioned that we are also loyal shareholders here. The 8,000 [workers] here are loyal to you," she said. "We risk our lives to come to work during the pandemic and earn you almost US $900 million [in revenue]. Imagine that."
The International Union of Food, Agricultural, Hotel, Restaurant, Catering, Tobacco and Allied Workers' Associations, the global organisation the Cambodian union is affiliated with, noted that the layoffs followed the payment of dividends to shareholders, while workers were struggling on reduced salaries throughout 2020. Sithar said some workers earned less than US $100 per month throughout the second half of the year, which is not even enough to cover basic food and accommodation costs in Phnom Penh.
The company noted in its annual report that 94 percent of shares are controlled by Naga Corp CEO and founder Chen Lip Keong, a Malaysian businessman who obtained Cambodian citizenship and special tycoon status that offers connections to high-ranking officials. Forbes estimates that Chen is worth US $3.3 billion, and the tycoon has donated at least US $12.1 million to Cambodian government-led fundraising campaigns.
Chhim Sokhorn, the trade union's secretary and a 16-year employee who was also laid off in May, doesn't see how the company could argue it's losing money.
She noted that throughout the second half of last year, workers were coming in less frequently, between seven and 15 days each month. These lightly-staffed shifts mean that the company had already reduced its labour costs.
"[Workers] only get paid when they go to work… so the company did not lose income by paying workers the full amount of their salary," she said. "We believe that the company is just using this opportunity to kick out the union from NagaWorld."
President Sithar recalled the last time Naga Corp laid off workers in 2009, blaming the layoffs on recession-era losses. It fired 14 union leaders and organisers.
Sithar, then an ordinary union member who was hired in 2007 with a starting salary of about US $70 per month, felt the company's move was deeply unfair, and she noticed that workers were treated more harshly after the union leaders were removed. For example, she said, the casino floor inspectors were made to stand the entire shift, whereas they were allowed to sit before. Further, several workers were fired for a theft they didn't commit.
"I felt that we need to have a union," Sithar said. "We know this system, we know this government, so we need to stand up and fight for our rights, to protect our rights."
Now, after years of intimidation and fighting with the company, the union's vice president, Chhun Sokha, is frustrated to the point where she almost wants to quit. But even after being laid off, she feels committed to fight, especially after hearing that the company is now trying to pressure workers into accepting miniscule compensation. 
"Without the union, the employer will always want to exploit the workers, and my character is not to accept injustice, so I want to be a union leader to help other members when they need it," she said.
Sokha trumpeted the union's previous wins: a 13-day strike in 2014 that pushed the company to raise minimum wages and install benefits like maternity leave pay, and another strike for higher wages in 2019. Another action forced the company to rehire union president Chhim Sithar in early 2020, after she was suspended during a union campaign.
However, William Conklin, country director for Solidarity Center in Phnom Penh, said the union might struggle to win its current battle over layoffs. It will be difficult to demonstrate that union members were deliberately targeted in the layoffs, he said, because the company didn't release a full list of terminated workers.
He observed that a number of garment factories in the country also seemed to be taking advantage of the economic hardships from the pandemic, as Cambodia's Labour Law has loose dismissal obligations for force majeure events: "It allows them to clean their books of past seniority [obligations] without having to pay it."
But he noted that, taken as a whole, the workers' struggle to engage Naga Corp, the company's failure to pay wages and the low layoff compensation packages offered do not create a picture of corporate social responsibility.             
"If you're really trying to do the right thing when they know workers are at an incredibly difficult time, it seems pretty callous that they dangle some money, a package in front of people when people are hurting, [in order] to eliminate their jobs," he said.
For now, President Sithar said the union is waiting to see how the mediation process unfolds, but they're already preparing an online campaign if the mediation leads nowhere.
"I don't want to say [the Labour Ministry] should favour workers or favour the employer," she said. "We want them to be fair, not favour anyone, but to deliver justice that everyone can support."
Danielle Keeton-Olsen is a journalist based in Phnom Penh, focused on environmental issues, labour rights and the economy. She also works as an editor for the Phnom Penh news site, VOD English.
Yon Sineat is a freelance journalist based in Cambodia. She covers labour and migration, women's issues, politics and environment.