Hundreds of casino workers have been on strike since December, and more than two dozen of them have been arrested, including Chhim Sithar, the union president. Danielle Keeton-Olsen and Keat Soriththeavy report from Phnom Penh. 
Hundreds of active and recently laid-off workers at Cambodia's NagaWorld casino have been on strike since 18 December 2021. Their host of demands include payment of termination packages dating back to 2009.
Cambodian authorities arrested more than two dozen people in three separate attempts to crack down on the strike. On the 18th day of the strike, plainclothes officers mobbed union president Chhim Sithar when she arrived. Videos filmed on 3 and 4 January show authorities grabbing and shoving workers. One pregnant union member was among those arrested on 3 January, though she was released later that evening. Sithar was arrested on 4 January. 
Both Phnom Penh's Municipal Court and City Hall from the start deemed the strike to be in violation of Cambodia's laws. They initiated negotiations between the union and Hong Kong-listed employer, which stalled during the first week of the strike. 
NagaWorld management told workers on the tenth day of the strike that participants would face disciplinary action and even dismissal. 
The casino's parent company, Nagacorp, is listed in Hong Kong. It is chaired and majority-owned by Malaysian billionaire Chen Lip Keong. It reported losses of U.S. $77 million in the first half of 2021, after Phnom Penh went into lockdown and instituted quarantine for international arrivals. That was the first time the company reported losses. Before the pandemic, Nagacorp earned $102.3 million in profits in 2020 and more than $521.3 million in 2019.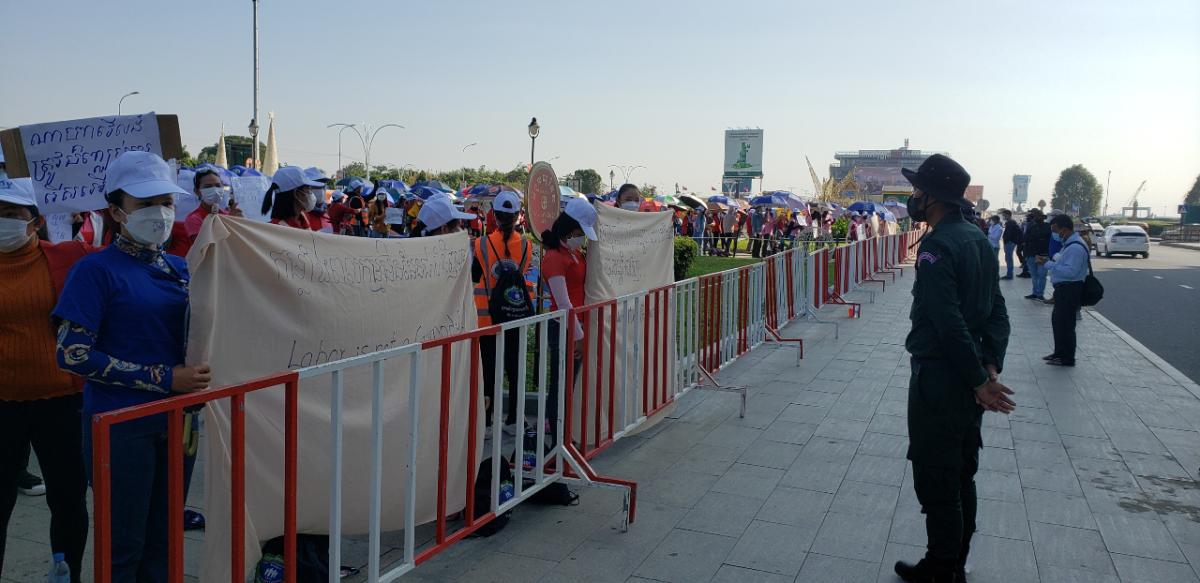 A district guard watches workers on the fourth day of their strike against labour rights violations by Phnom Penh casino company NagaWorld on 21 December 2021. Photo by Danielle Keeton-Olsen.
In April last year, the casino announced its plans to lay off 1,329 workers, a move it claimed was necessary due to the financial hit from the Covid-19 pandemic. 
Those laid off in May included all organisers and active members of the Labor Rights Supported Union of Khmer NagaWorld Employees (LRSU), which the union described as an attempt at union busting. 
Only 365 employees did not accept the compensation package, instead demanding their reinstatement and asking the company to recalculate termination packages in line with Cambodia's Labour Law. The union also noted that the company has continued plans to develop a $3.5 billion new casino complex, called Naga 3, despite claims of financial distress. Strikers have carried signs depicting Naga 3 and the company's CEO, Chen Lip Keong, and chairman, Timothy Patrick McNally. 
Union leaders went through Cambodia's Arbitration Council, a non-binding dispute resolution process, focusing on layoffs and miscalculation of compensation. The Arbitration Council did not rule on the legality of the layoff, but ruled that NagaWorld should recalculate termination packages to follow the Labour Law's specifications on compensation for tenure and benefits. 
But after the ruling, the company still did not change the compensation packages for all laid-off workers. 
On 22 November, the union announced that it would begin a strike on 18 December. It called for the company to extend full rights to short-term contract workers, handle a harassment case involving a floor executive, and reconsider past firings of union workers. 
Since 21 December, the company, union and government representatives have met to discuss the reinstatement of the 365 workers who want their jobs back. The negotiations focused on rehiring the 365 workers and calculating compensation for those who agreed to leave in May. 
On 26 December, before her arrest, union president Sithar voiced frustrations with the limited scope of these discussions, which did not encompass eight other worker demands.
Before the first arrests, Sithar said, "The workers don't get paid during the strike, and we don't want this strike to continue longer."  
The strikers changed the time at which they demonstrated to draw more attention in the evening when the company turns on holiday lights in the park facing the casino building. Workers intended to hold the strike until after midnight on New Year's Eve, but authorities arrested nine union members outside the union's office that evening. The prosecutor issued a summons on 3 January to nine LRSU leaders, including Sithar, though six of the named leaders had already been arrested. 
Government Intervention
In a last minute attempt to prevent the strike, Phnom Penh City Hall called LRSU leaders to meet on 17 December. However, union members voted to proceed with the action as NagaWorld management was not at the table, LRSU told local media.  
The Phnom Penh Municipal Court admonished the strikers, saying that employed workers participating in the strike could face repercussions, while those already laid off could face legal action.
Phnom Penh City Hall also said on 18 December that the strike violates Cambodia's Law on Peaceful Demonstrations. It also claimed strikers were not properly following Covid-19 health measures, although the premier had declared community transmission was over. 
"We are very clear that this is a strike, and we have complied with all the legal requirements," said Sithar on 26 December. 
She said that in meetings, officials tried to threaten the union, telling her that she was "stubborn." 
Anonymous Facebook accounts alleged that foreign forces organised the strike. Heng Sour, a Labour Ministry spokesperson, related movements to a "colour revolution." Police held a press conference before Sithar's arrest on 4 January at which they presented alleged evidence of foreign funding of the union's "chaos."  
Sithar called this framing of the strike a "very dirty tactic" before she was arrested on incitement charges. "If the authorities and the Ministry of Labour have no ability to settle this issue, do not make another issue. This is very unprofessional and very irresponsible for them as officials of the government." 
NagaWorld management have only attended two of the meetings with workers, which has frustrated workers. Though Labour Ministry officials say that their presence will help reconciliation, Sithar thinks that the company should come to the table and hear their demands, rather than the ministry. 
"We hear very little from the company, showing they have no desire to solve this issue," Sithar said before her arrest. 
Union to Workers 
Sithar says that the company has continually targeted union workers. In 2019 and 2020, workers on strike had to make the demand that she be reinstated as union president. 
Currently, no union leaders are among those employed and the company is not seriously considering rehiring those laid off. 
NagaWorld table dealer Noun Srey Net said she feels in the dark about her rights as a worker. She is now on a schedule where she works 15 days per month, earning less than before, while her workload has increased from managing two tables to eight. Despite her protests and the extra workload, she says that if she makes a mistake when managing a table, she could be put on leave or suspended. She's joined every day of the strike.
"The union can help us to solve problems," she says.  "They are acknowledged and know law or discipline much better." 
Before she was summoned by the prosecutor and arrested, Ry Sovandy, one of the 276 workers seeking to be reinstated, said that she had become a union organiser during her 15 years employed by NagaWorld, but more than anything, she wanted to return to work because her family relied on the income. 
"I don't want to go for any job," she said. "If I want to go to another place it's like starting from the beginning."
Sithar says that NagaWorld is clearly violating the Labour Law and targeting LRSU union organisers and leaders. Some union members are still employed, but NagaWorld has fired many in an attempt to weaken worker solidarity. 
Danielle Keeton-Olsen is a journalist based in Phnom Penh, focused on environmental issues, labour rights and the economy. She also works as an editor for the Phnom Penh news site, VOD English.
Keat Soriththeavy works as a reporter in Phnom Penh for VOD English and studies international relations at Pannasastra University.