While the number of workplace accidents in China has fallen significantly since the start of the coronavirus (Covid-19) epidemic, there have already been several cases of Covid-19 infections in enterprises that resumed production without taking the necessary precautions to protect workers.
As production gradually returns to normal in China, there is likely to be a commensurate rise in workplace accidents while the threat of a second wave of Covid-19 infection remains undiminished.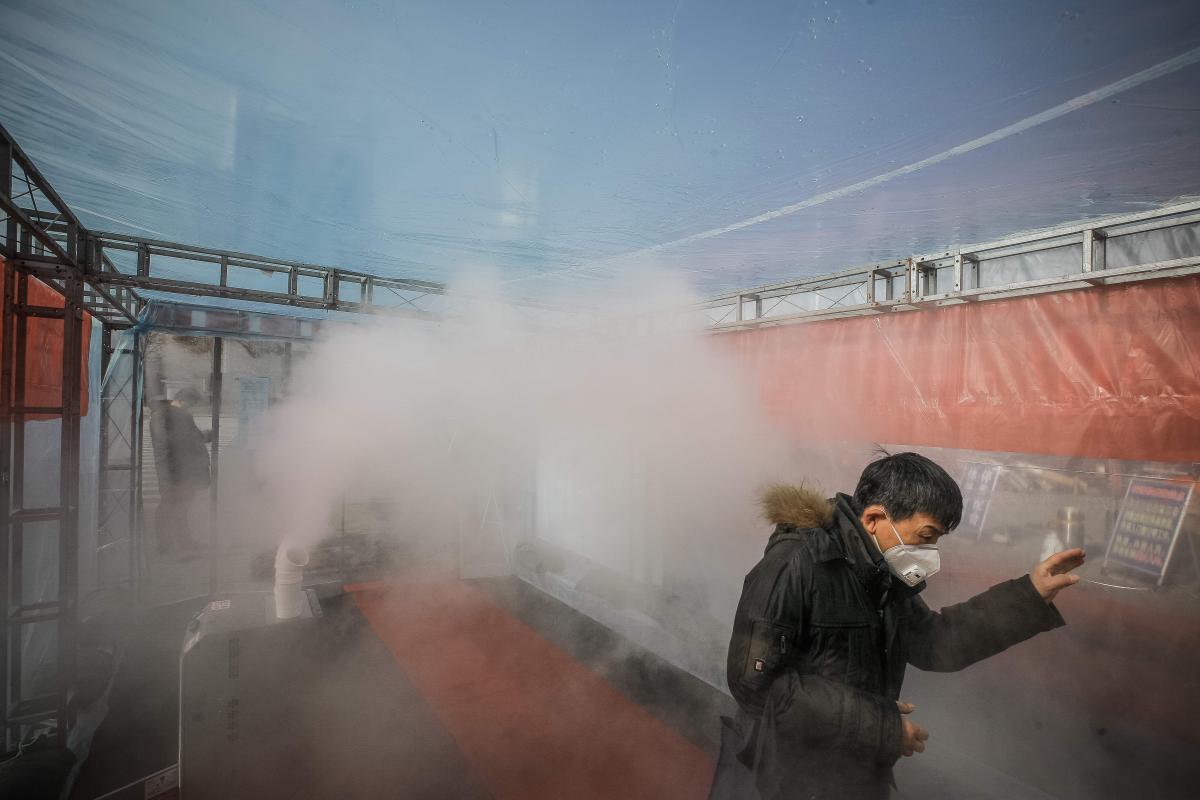 China Labour Bulletin's Work Accident Map has recorded just over 70 accidents so far this year compared with 145 in the first quarter of last year. The Accident Map is very far from a definitive record but it does offer some insights into the state of work safety in China. 
Construction has long been the most dangerous industry in China, with workers at constant risk of building collapses, structural and mechanical failures on site. However, with many construction projects put on hold, the danger has lessened for now. 
Nevertheless, there was one disastrous and entirely preventable construction accident this year, namely the collapse of a hotel being used to quarantine Covid-19 patients in the southeastern city of Quanzhou. A total of 29 people died and more than 40 were injured. An investigation later uncovered serious irregularities in the construction process.
The transport industry is also a high-risk profession especially for couriers and food delivery workers. With hardly any traffic on the roads in cities under lockdown, however, accident rates noticeably dropped. 
Despite temporarily improved road safety, many delivery workers are still at risk of Covid-19 infection because their employer failed to provide them with adequate protective gear. Sanitation workers face similar risks even as the likelihood of being injured in a traffic accident decreases. 
There was an alarming surge in coal mine accidents at the end of last year but demand for coal slumped when the Covid-19 epidemic hit. Coal mine accidents declined as a result with just three recorded so far this year. The most recent accident occurred on 17 March when four miners were killed with five injured in an explosion at a mine in Yunnan. Demand for coal is now increasing again so it is likely that the accident rate will also rise in the next few months.
In contrast, there have been relatively more accidents, fires, and explosions in industrial and manufacturing facilities as enterprises resumed production from mid-February onwards. On 8 March, for example, a major fire broke out at a factory in a Hebei industrial estate, thankfully with no casualties.
Several cases of Covid-19 infections were also recorded in factories and industrial plants. One of the best-known cases was at Panzhihua Chongqing Titanium Industry, located not far from the centre of the Covid-19 outbreak in Hubei, which potentially exposed 131 workers when it hastily reopened in mid-February.
Following the Panzhihua incident, the Chongqing Municipal Federation of Trade Unions helped draft a "working guide" that advocated the use of a tripartite negotiation system involving the municipal union, employers and the government, that would not only help ensure work safety in enterprises but also mitigate labour disputes related to layoffs, remuneration, social insurance, working hours etc. resulting from the Covid-19 crisis.
While the working guide should in principle help prevent a second wave of infections as business resumes in Chongqing, CLB Director Han Dongfang, urged municipal union officials to go the extra mile and ensure that all enterprise trade unions in the city are fully equipped to play a positive role in the process and protect their members' rights. 
China recorded a big drop in the total number of workplace accidents and deaths last year, with the death toll falling by about 5,000 in 2019 to stand at 29,519 for the year, or about 81 deaths per day on average, according to official figures. 
This year's figures will almost certainly be even lower. However, the full impact of the covid-19 epidemic on work safety will be very difficult to quantify. Many cases will not be classified as work-related, and the full physical, mental and emotional toll on workers on the frontlines preventing the spread of Covid-19 can never be fully measured.