More than 1,000 workers employed at waste recycling company Little Yellow Dog have staged numerous protests in at least four major cities over the last week demanding the payment of wages in arrears.
Little Yellow Dog Environmental Protection Technology Co Ltd. issued a statement on 15 April informing all staff that they would not be paid their March salary because the company accounts had been frozen. Wages would only be paid once the financial situation improved, it said.
Protests by staff at the company's headquarters in Dongguan on 16 April were soon followed by similar protests in Shanghai, Chongqing and Xi'an.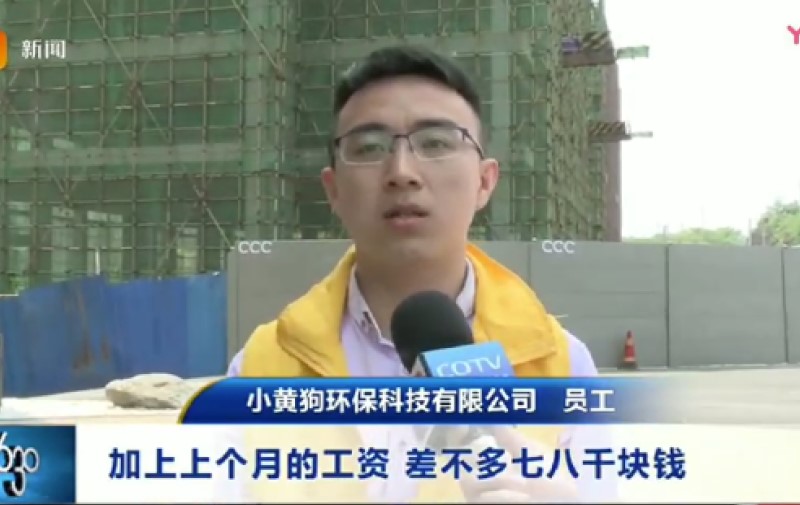 Staff in Chongqing, mainly repair and maintenance technicians and those collecting recycled materials, told a local television reporter that they were already owed about 7,000 to 8,000 yuan in backpay and had no idea when or if the next payment was coming (see above photo). Management in Chongqing said they were also in the dark and were waiting for more information from headquarters in Dongguan.
Staff in Dongguan meanwhile attempted to file an arbitration case against Little Yellow Dog with the local labour bureau today, 23 April, but were reportedly rebuffed.
Little Yellow Dog was founded in August 2017 with a registered capital of 100 million yuan. It claims that its business model is based in successfully linking the recycling industry with the internet of things, and that it currently employs 4,800 staff, operates in 34 cities, and serves 20 million residents.
The company places automated recycling stations in commercial and residential areas in major cities. These colour-coded stations collect metals, plastics, textiles, paper, glass and hazardous waste and refund customers via the Little Yellow Dog App at the prevailing market rate. The waste material is collected daily by company staff and taken for reprocessing.
However, company growth and development has reportedly been hampered by recycling stations being vandalised or damaged through incorrect usage, and higher than expected land use fees and electricity charges.
Little Yellow Dog is just the latest example of new tech companies expanding rapidly and trying to corner the market in cities across China but then experiencing financial problems and breaks in the capital chain which results in employees going without pay for months on end.
In February this year, the second-hand car sales platform RenRenChe, which was established in 2014, suddenly laid off more than 1,000 staff without any prior notice. It was widely reported on social media that the company was facing bankruptcy but management claimed the layoffs were simply part of a "restructuring plan," and that staff could in future become partners in the business by buying cars from the company.
Last year, two major home renovation and interior design service companies, the Apple Group and Yihao Jiaju (一号家居), suddenly closed at the end of April leading to a wave of protests by laid-off workers, angry customers and suppliers. At least 22 of the 150 incidents recorded on CLB's Strike Map in May 2018 were directly related to the bankruptcy of these two companies.