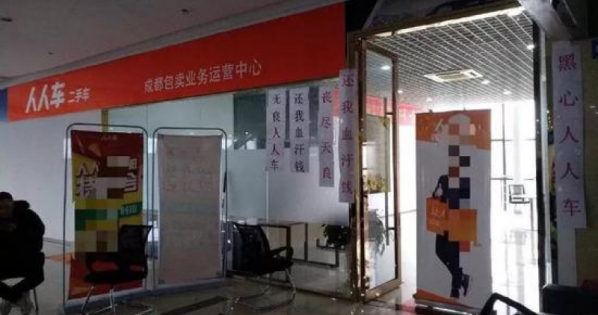 The online platform-based economy is emerging as a new focus of worker protests in China. In the latest incident, the sudden sacking of staff at second-hand car sales platform, RenRenChe, after the Lunar New Year holiday led to protests in at least six cities across the country. The above photograph shows the RenRenChe office in Chengdu plastered with workers' demands for compensation.
The company, set up in 2014 and specializing in peer-to-peer car trading, laid off more than 1,000 staff on 17 February without any prior notice. It was widely reported on social media that the company was facing bankruptcy but management claimed the layoffs were simply part of a 'restructuring plan', and that staff could in future become partners in the business by buying cars from the company.
Few workers were impressed by the company's offer. As one employee pointed out: "To put it bluntly, their plan is just to sell us cars. The company's claim that there are no intermediaries in the platform [没有中间商的个人二手车网站] is now obviously fake."
China's new online ventures have been hailed as a key engine for boosting domestic consumption but it is becoming clear that the business model employed by many of these companies is flawed. Over the last year, CLB's Strike Map has recorded numerous protests related to online platforms in logistics, car hailing services and even interior design. These companies expanded rapidly in order to increase their market share but all too often developed capital flow problems and collapsed, leaving employees out of a job and owed wages in arrears.
We expect more such protests to occur this year and urge China's official trade union to pay attention to this increasingly serious problem and work harder to safeguard workers' interests during the boom and bust cycle of these industries. The two protests by staff at RenRenChe in Beijing and Chengdu, outlined below, illustrate precisely the issues the union should be dealing with.
RenRenChe staff storm company headquarters in Beijing
Around 100 workers staged a protest at the company's headquarters in Beijing on the morning of 19 February. The workers demanded payment of their February salary, performance bonus and lay-off compensation after the company suddenly announced redundancies the day before.
The company promised to come up with a compensation plan by ten o'clock but failed to deliver. In response, the workers blocked the outer doors of the office building to prevent managers from leaving. Security guards initially prevented staff from entering the building but the workers eventually forced their way in and jumped the barriers. They were met by a company official who promised to negotiate but then promptly disappeared.
The workers are reportedly yet to be compensated but are reluctant to file a lawsuit against the company because they want to show respect to the management. Yet, staff have also complained that working at the company has greatly damaged their health, and are disappointed that the company has treated them as mere disposable labour.
Staff in Chengdu offered token compensation after protest
More than 30 RenRenChe staff in Chengdu staged a protest on 23 February demanding payment of wage arrears and lay-off compensation. Staff told local media that they had been blocked from the company app for more than a week with no explanation from management.
Sales staff, analysts and administrators were simply laid off, with wages and performance bonuses unpaid. Staff noted that at one point in 2018, the company had about 200 sales staff in Chengdu, however that number had fallen to just 30 one year later. The remaining staff were given harsh sales targets and required to sell at least ten vehicles a month.
A company representative met staff on the afternoon of 23 February and offered a one-time deal of 3,000 yuan for each employee, a compensation package significantly lower than the amount required by law. Some workers reluctantly accepted the deal but others are reportedly holding out for better terms.