Shanghai's streets should be safe for the public and delivery workers alike. Delivery workers are not a lawless group deserving of an administrative crackdown. Rather, it is delivery platform companies whose inhumane algorithms create perverse incentives for workers to disregard traffic regulations through incorrect map directions and strict delivery time limits, not to mention low delivery rates that require drivers to work faster to make ever more deliveries to make ends meet.
Workers are already fined by platforms for late deliveries and now by the traffic authorities for unsafe driving. Yet it is workers' lives that are put at unreasonable risk every day just to deliver meals and packages to the public across the city on behalf of platforms. Workers are one of the victims of Shanghai's unsafe roads, not the root cause of them. 
On 15 June, the Shanghai Public Security and Traffic Police launched a special operation entitled "Sword Sharpening 2023," implementing rolling checks of electronic licence plates, specifically targeting couriers and food delivery riders. In late 2021, the city began requiring workers for certain platform companies to install a new type of licence plate with an electronic chip on their motorbikes. The chip links up their bikes to a traffic monitoring network that photographs violations in the city's intersections and immediately issues fines.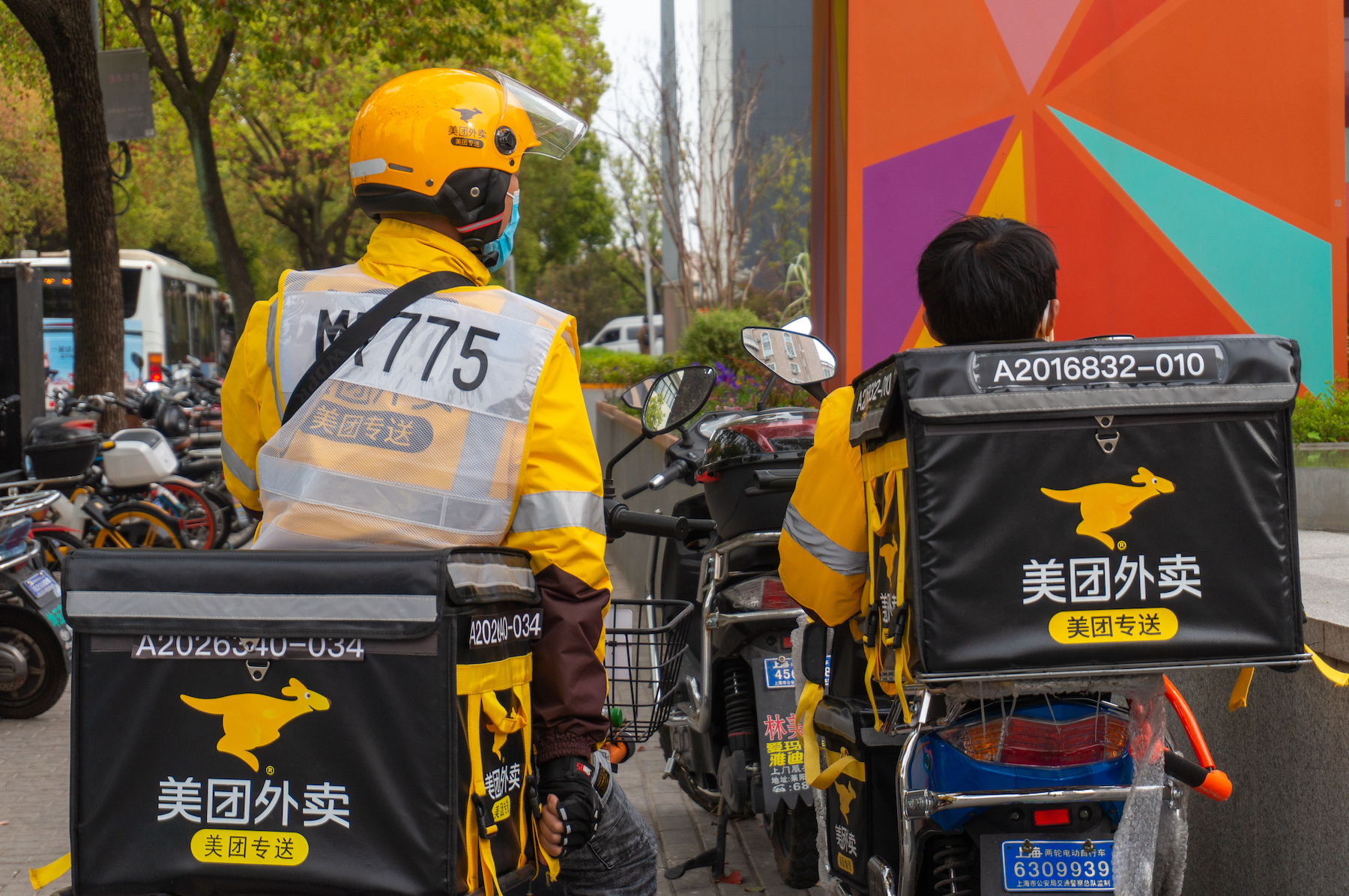 Photograph: Andy Feng / Shutterstock.com
The new operation is, first, designed to enforce the electronic chip plates. These new plates are made of a thick, blue plastic and have an electronic conductor component as well as a QR code.
For an initial violation of riding without the chip plate, a rider will be fined 50 yuan. A second violation is 100 yuan, a third violation is 200 yuan, and a subsequent violation results in civil forfeiture of the vehicle.
One rider posted online that many riders suddenly received fines last month for not having the correct type of plate, and another account said that riders were queueing up to get their blue plates. 
Second, the electronic chip plate system is a digital surveillance tool to catch traffic violations such as running red lights or driving the wrong way on public roads. Other drivers on the road are not subject to the electronic chip plates or the automatic fine system, meaning that these precarious workers face a type of legal discrimination on the basis of their work. To avoid this result, one solution is for companies to pay the traffic fines racked up by workers under this policy.
In practice, the monitoring system places riders in a Catch-22: Either be fined by the platform company for late deliveries, or be fined by the traffic bureau for unsafe driving. 
A food delivery rider named Xiao Xiang was interviewed by The Paper, and he described the "habitual practice" of riders running the very long red lights at major intersections and driving against the flow of traffic: 
Some riders deliver hundreds of orders a day, and on average, they can complete one order every three to four minutes. They will be late if they wait at the red light at the intersections.
Already, the monitoring system seems to be working. The Paper reported that riders are being more cautious. One rider interviewed said: 
One ticket will be a fine of 50 yuan, and this wipes out your earnings from delivering seven or eight orders, so now everyone passing through behaves in a proper manner.
Sina Finance reported that in the first three quarters of 2020, the Shanghai Ministry of Public Affairs handled over 43,000 traffic violations by delivery riders. There were 423 traffic accidents involving this group of workers, resulting in seven deaths and 347 injuries. But many workers simply do not report their accidents and injuries on the road. 
Riders would not be incentivised to violate traffic laws if their livelihoods did not depend on it. In fact, traffic accidents are a major workplace hazard for this group of workers. Their lack of clear labour relationships leads to challenges in receiving work accident compensation, and they pay into an insurance system that rarely leads to medical coverage in the case of an accident.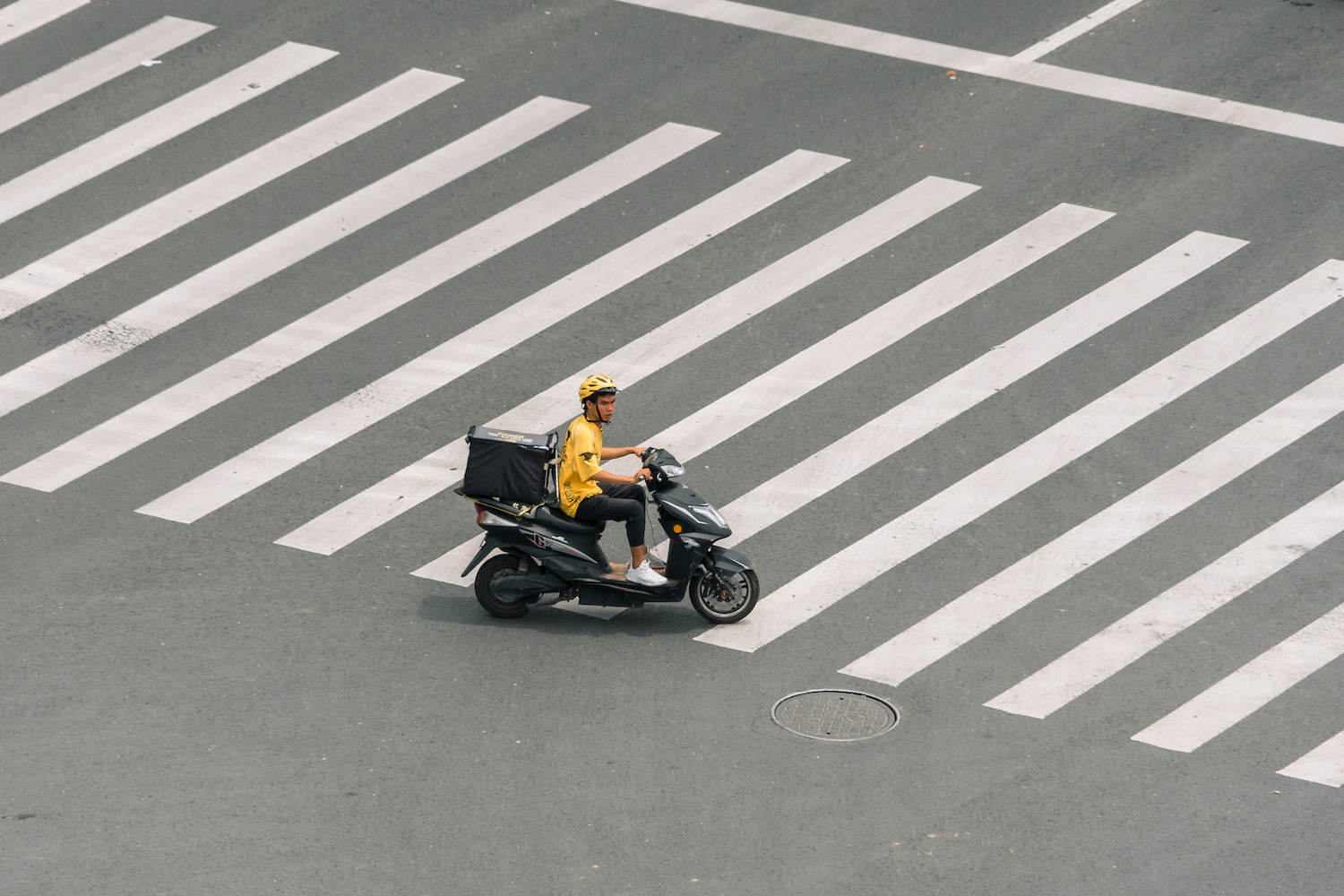 Photograph: sleepingpanda / Shutterstock.com
The authorities have implemented various regulations on platform companies, largely in 2021, and these have done little to curb companies and their algorithms. Shanghai's new special operation only highlights how burdens are shifted onto the shoulders of workers alone. 
Some riders are seeking to evade the surveillance. Some choose their routes to avoid intersections with the monitoring system. Some wear street clothes to appear like an ordinary motorcycle driver not subject to the regulations. Others have damaged the chip so as to not trigger the monitoring system. 
Once again, the injustices that riders face on all sides - from platform companies, to consumers, and the government - show that riders need representation for their rights and interests. China Labour Bulletin has long advocated for the official trade union to take up this role, in line with the All-China Federation of Trade Union's (ACFTU) mandate and authority under domestic laws. The ACFTU itself has said since 2018 that it will prioritise gig workers, including food delivery riders. 
Shanghai is home to some of China's major internet companies, including food delivery platform Ele.me. The Shanghai municipal federation of trade unions asserts that all of the top 100 internet companies in Shanghai have established enterprise unions. However, many gig workers are not eligible to join these enterprise unions. 
But the municipal union has launched some initiatives aimed to marginally improve conditions for food delivery riders. The Shanghai union boasted in May 2023 that over 400,000 informal workers in "new forms of employment" had scanned a QR code to apply for union membership. The next step, the union said, is to "explore a democratic consultation model of new employment forms… and complete the standardised establishment of thousands of trade union groups for new employment forms." 
CLB recommends that the various levels of the union implement common sense solutions - such as eliminating certain platform fines on riders, relaxing assessment indicators, and keeping unit prices from falling. This would relieve pressure on riders and lead to safer roads for all, in line with the traffic bureau's goals. And to further protect vulnerable drivers who risk their lives every day on the job, the union could arrange a group insurance policy to cover workers in the case of a traffic accident. 
---
Further CLB reading: