The All-China Federation of Trade Unions (ACFTU) has launched a massive recruitment drive for workers in China's fast-growing logistics and service industries.
The People's Daily reported on 10 April that the official trade union will target eight main areas; truck drivers, couriers, healthcare workers, domestic helpers, sales and marketing staff, food delivery workers, real estate agents and security guards, positions predominately filled by rural migrant workers.
Local trade unions in Hebei, Zhejiang, Jiangsu, Anhui, Henan and Guangdong etc. have already set up pilot projects that focus in particular on the recruitment of China's 19 million truck drivers. In addition, the municipal union in Shanghai has established a dedicated trade union for food delivery workers and the Shenyang municipal union has set up a couriers' union.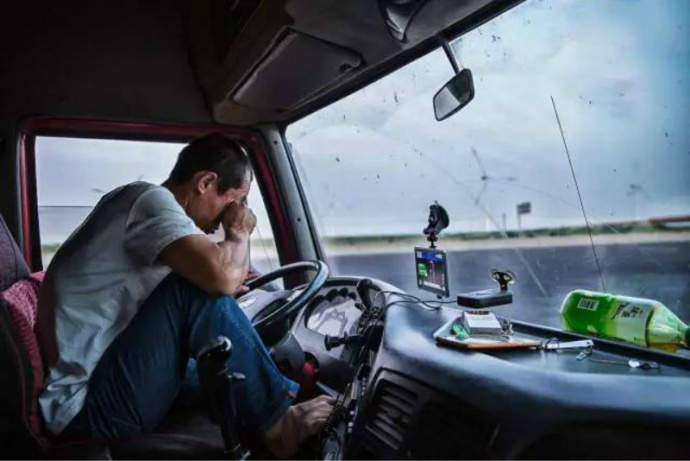 A truck driver takes a break during his long and intense working day
Most of the pilot areas chosen and the industries selected have seen regular protests by workers over a wide-range of issues including wage arrears, low pay and insecure work. Just in the last month, for example, CLB's Strike Map recorded strikes and protests by delivery workers in Beijing, Shanghai, Xi'an, Changsha, Hangzhou and Puyang in Henan.
Moreover, many of the rural migrant workers employed in service industries or the informal economy do not have a pension or decent medical insurance, making them even more dependent on earning a decent wage that can provide for them in the future.
This indicates that the official trade union has at least identified some of the major problem areas in labour relations in China today and is attempting to address them by broadening its membership in these areas.
Of course, simply recruiting new members is not enough by itself. As CLB's Executive Director Han Dongfang pointed out:
Sooner rather than later, the ACFTU will have to find a way to effectively represent and satisfy both existing members and newly recruited members. Otherwise, if workers are not satisfied with the union's representation, they will continue to go on strike.
Han also pointed out that the ACFTU is under tremendous pressure from the Chinese Communist Party to do a much better job in fulfilling General Secretary Xi Jinping's pledge to improve the lives of ordinary workers and their families and reducing the searing wealth inequality that has built up over the last four decades of economic reform in China.
The union's recruitment drive is a good first step but much more needs to be done if the union is going to be a really positive force for social change