Since the outbreak of Covid-19, workers in China have flooded into the gig economy. Express delivery companies have started price wars to gain more market share, resulting in companies offsetting lower consumer prices by cutting commissions for delivery workers.
CLB's Strike Map recorded 34 delivery worker protests in 2020. Many of these grievances are rooted in the lack of a formal employment relationship between workers and companies. Workers are faced with arbitrary fines and cuts to their commission, as well as difficulties in obtaining compensation when they become injured in the line of work.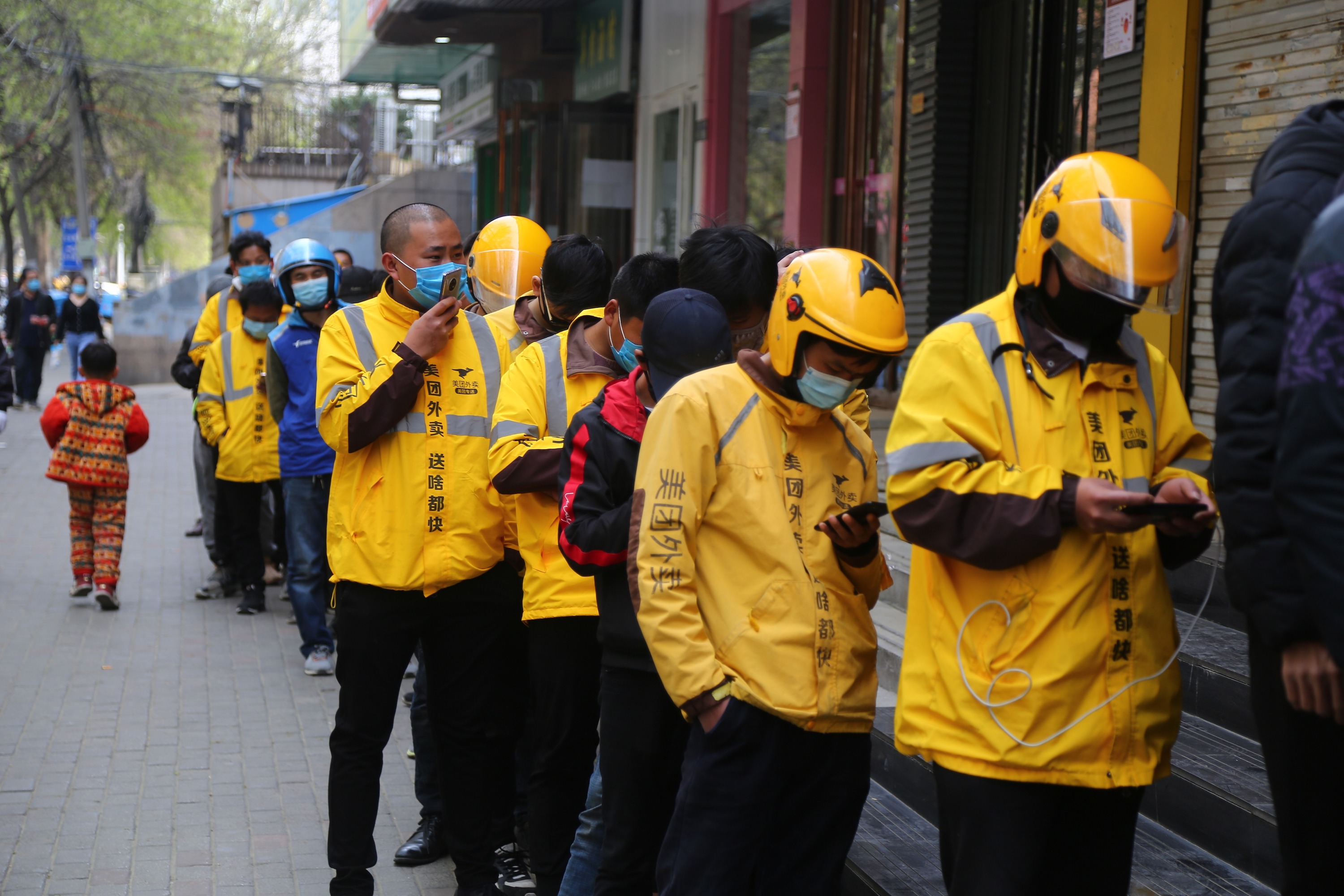 On 16 July, several ministries and commissions released standards on platform workers' labour conditions. These Guiding Opinions on Protecting Labour and Social Security Rights and Interests of Workers Engaged in New Forms of Employment are high-level guidance, and it is left to local governments to work out how to implement them.
Platforms have been making statements about how they will change bad practices. So far, these announcements are extremely limited in scope and seem primarily to be public relations moves. Express delivery companies, including Zhongtong, YTO, Shentong, Yunda, have pledged that workers will be paid 0.1 yuan more per delivery from 1 September. But it is businesses, rather than the platforms, that will apparently shoulder these costs. For example, on 30 August, the owner of a Yunda branch in Beijing received notice that fees for merchants would increase.
Meituan has made headlines for forcing drivers into dangerous driving habits with its black box algorithm that calculates delivery times and fines for late delivery. On 10 September, in response to the guiding opinions, Meituan stated that it would adjust its algorithm according to abnormal conditions like poor weather. It added that it would change its delivery estimate from a specific time to a range, in an effort to lower negative reviews for drivers and which in turn could mean drivers face fewer fines. Neither of these changes substantially changes the delivery times for couriers in "normal" conditions.
The guiding opinions also require companies to have written agreements with their workers to "reasonably determine the rights and obligations of the company and the worker." The problem is not the absence of an agreement, but its form and content. Workers already sign a contract on their app to start work. But an investigation conducted by several lawyers found that gig workers cannot tell who their employers are from their contracts, and they are often managed by a web of employers - such as one company paying wages, another insurance, another dispatching orders - rather than any single entity.
In some cases, workers sign contracts that stipulate that they are small business owners and are therefore not entitled to compensation in cases of illegal termination of the contract. To fight legal cases, they may have to travel to another province, where the corporation is headquartered. Moreover, since apps only show work records for the previous two months, drivers cannot obtain the evidence that they may need to pursue their claims.
On the issue of work-related injuries, Meituan pledged on 30 August to carry out pilot programs, but so far there are no further details. Some cities like Hangzhou are piloting work-related injury insurance that would include gig workers in its scope, though it seems that workers may have to pay for this themselves. 
CLB has argued that workers need unions to represent their interests. Some tech giants like Meituan and JD have set up enterprise trade unions, but it's not yet clear that their establishment will have any effect on raising labour standards for workers. Existing trade unions have been timid in their proposals. The city-level trade union in Xiamen, for example, reminded platforms to ensure that workers' wages are not lower than minimum wage and that workers who have been delivering orders for over four hours straight should be given "fatigue reminders," with no orders assigned to them for 20 minutes.
So far, neither local governments nor trade unions have shown any resolve to stop tech giants from dodging employer responsibilities by using intermediaries, or to limit the platforms' power to deal out fines. Instead, the focus is on small adjustments to wages, and reactive responses to the exploitative relationship, such as work-related injuries and labour disputes. The fundamental relationship between workers and these giants remains the same.