From 4-11 March, China held its annual leadership meetings in Beijing. The National People's Congress (NPC) and the Chinese People's Political Consultative Conference (CPPCC) met to put forward policy proposals, among which included labour topics. 
The annual meetings provide a barometer on what issues policymakers believe are the pressing ones for the country to deal with in the coming year. This year, discussions related to China's demographic changes were a focus. The nation is grappling with an ageing population and a smaller workforce, both of which put a strain on social security reserves.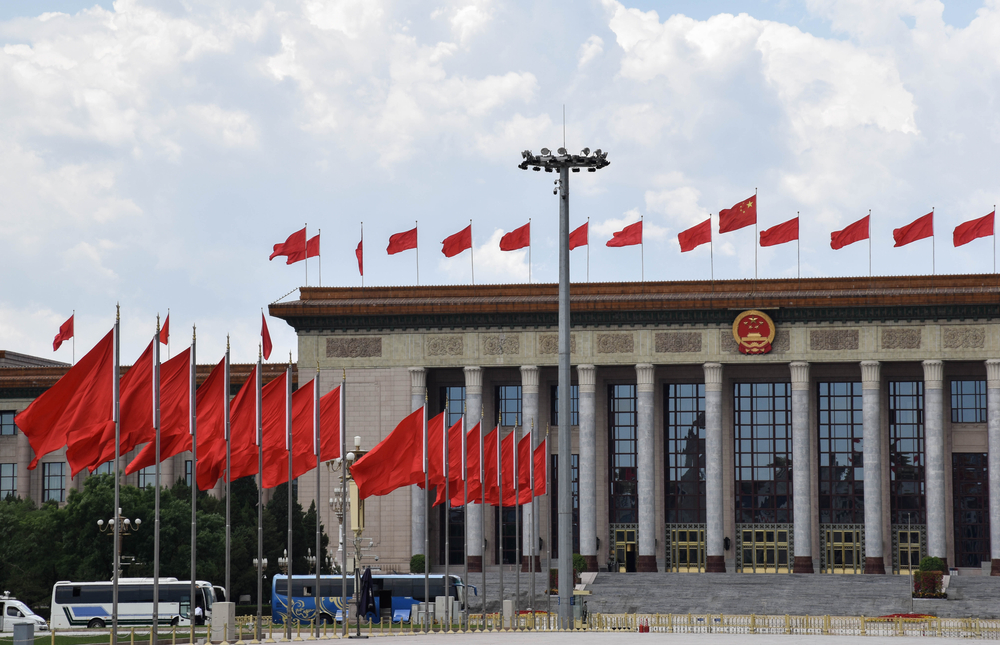 Photograph: WillMillerChina / Shutterstock.com
Creating family-friendly workplace policies is one way that policymakers have suggested to encourage families to have more children. Combined with the rollout of the three-child policy last year, the extension of maternity leave led to discussion on gender equality and gender discrimination in the workplace. 
Maternity leave varies by region but can be up to one year, after extensions introduced last year. This is in contrast to paternity leave, which is typically only 10-30 days. This means that women disproportionately bear the responsibility of childcare and domestic duties, and employers - who are responsible for paying out leave - may have even more incentive to discriminate in the hiring process against women and those of childbearing age.
Several NPC and CPPCC members put forward policy suggestions related to these challenges. For example, Jiang Shengnan, an NPC member, proposed that 30 to 42 days of paternity leave be introduced to alleviate the impact that childbirth has on women's careers. 
Other representatives also emphasised the importance of ensuring that companies are not the only ones to bear the cost of maternity leave, proposing policies to encourage companies to hire women and integrate gender discrimination in evaluations of corporate social responsibility. A government-funded childcare service and cost-sharing policies for maternity leave were also proposed.
Zhou Yanfang, Pacific Medical & Healthcare Management deputy general manager, proposed that parental leave be enforced and extended to 30 days. Zhou proposed quotas for women employees and tax incentives to companies that take the initiative to employ women. 
Xie Wenmin, a CPPCC member, advised that all localities and large state-owned enterprises should push for flexible paternity leave, and that maternity leave subsidies should be integrated into the social security system. 
Overtime work culture also affects families and contributes to gender imbalances. Dong Mingzhu, an NPC representative, suggested that workers should be able to utilise public interest litigation as a channel to enforce China's Labour Law prohibiting excessive overtime. Huang Xihua, also a member of the NPC, proposed that employees be permitted to work remotely two days per week. 
Not all workers are urging to limit their hours - and, therefore, their pay - and many do not have the option to work remotely. In fact, young workers have increasingly been pushed away from the more stable manufacturing sector and into the service sector and gig economy, such as working for food delivery and courier platforms.
In 2020, workers in flexible employment in China reached 200 million. In a two-month period at the start of the pandemic, 580,000 food delivery drivers signed up to work for these platforms, 40 percent of whom had come from the manufacturing sector. 
China's official trade union, the All-China Federation of Trade Unions (ACFTU), put forward recommendations at the CPPCC. The ACFTU proposed that a system for protecting the health and safety of food delivery workers and couriers be developed, as traffic accidents are on the rise. The union also encouraged trade unions to be established in emerging industries. 
Policy discussions at the meetings also centred on how this recent economic trend forcing workers into the service sector may affect China's efforts to become a high-tech manufacturing power. 
To address this, Zhang Xinghai, Sokon Group chairman, proposed developing income subsidies, talent policies, and vocational training to encourage young people to go into manufacturing rather than industries like livestreaming or food delivery. Other representatives proposed better training of talent and creating systems to evaluate workers and encourage entrepreneurship in key areas. 
Sima Hong, a CPPCC member, pointed out that rural migrant workers generate social security funds in developed parts of the country when they work in urban areas, which increases regional disparities. In fact, migrant workers have always made up a low proportion of those enrolled in the basic urban pension plan, with 2017 estimates of only 22 percent of the migrant worker population being enrolled. Obtaining those funds is a separate challenge as workers frequently move from job to job and region to region. 
Sima proposed that a portion of the urban pension plan funds should follow migrant workers wherever they go to live and work, so that the migrant worker population enjoys better social security coverage. 
The ACFTU likewise proposed that migrant workers be covered under the urban pension plan and offered improvements to the country's retirement policies. 
Finally, CLB notes that changes to China's education policies in the last year necessitated policy suggestions at the legislative meetings. As educational policies have affected working families and teachers alike, Sha Baoqin, an NPC representative, urged for teachers' workloads to be decreased. Specifically, education policy changes have increased the burden on teachers to look after children left at school after regular hours. Their focus, Sha said, should be on teaching. 
Zhang Yongmei, an NPC representative, proposed setting standards for teachers from private education companies wanting to enter the public teaching sector, including accounting for their private sector teaching experience rather than starting at zero. 
Another policy proposal included better training for teachers in rural areas, more funding for arts education, and setting up a platform for reporting sexual misconduct to filter faculty applications. 
Among the host of topics discussed at the annual meetings, CLB has identified these labour-related policy proposals as meaningful signs that the authorities understand the breadth of issues and gravity of the situation for the country's workers. In addition, the ACFTU put forward 42 policy recommendations, some of which the ACFTU already has the purview to act on to begin representing the identified needs of workers.