As stable manufacturing jobs become affected by the global economic downturn, what is the role of international brands in China's widespread factory layoffs, relocations, and closures, and how can China's official trade union take advantage of a confluence of stakeholder interests to better represent workers? 
On 14 April, workers at the Jiaxing Quang Viet garment factory in Zhejiang province went out on strike over decreased wages and unclear wage calculations. 
In this investigation, CLB finds that the Jiaxing Quang Viet garment factory has a strong reputation for following China's labour laws and even offered workers some additional benefits. This engendered a sense of loyalty among workers, who were suddenly let down by pay cuts and went on strike. 
The local union told CLB that it had tried to intervene in the workers' "misunderstanding," but CLB stressed that the union should be there for workers in good times and bad, and that more could be done to understand their grievances. In fact, the union could have a role in contacting international brands that the factory produces for and act as an intermediary to represent workers' interests. 
Workers at a garment factory in Zhejiang province that produces for Adidas, New Balance and other major international brands went on strike on 14 April over wages. Workers at the Taiwan-owned Jiaxing Quang Viet Garment Co., Ltd., stopped production for at least five days, demanding that factory representatives give them a clear explanation of how their wages would be calculated. 
The Jiaxing Quang Viet (嘉兴广越) factory in Pinghu, about 90 km southwest of Shanghai, employs over 1,200 workers. International orders have been reduced for the factory's cotton sports clothing and down coats, and the factory began paying workers less than usual. 
Workers in an online video preserved in CLB's Strike Map stated that the monthly salary is typically 5,000 yuan, but in April workers earned less than 4,000 yuan, and some took home as little as 1,500 yuan. According to a job ad from the factory, workers can make 7,000 to 10,000 yuan per month, which includes monthly wages, piece rates, and bonuses.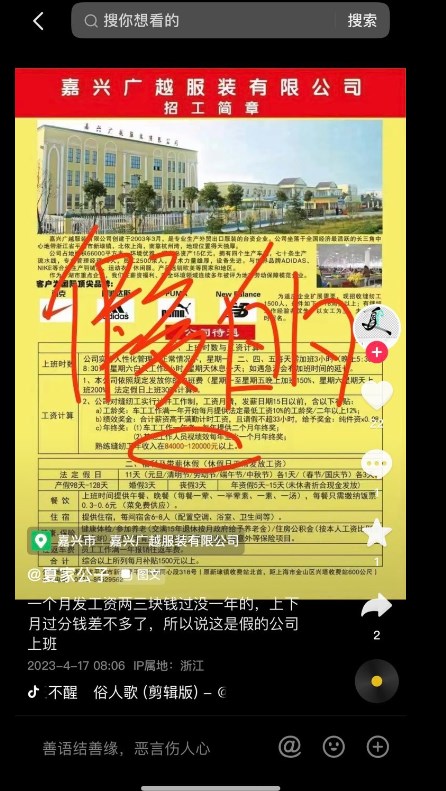 On Douyin, workers scrawled "Fake!" over the job ad from the Jiaxing Quang Viet factory, calling into question the stated income of 84,000 - 100,000 yuan per year.
This type of incident is not isolated to Pinghu and stems from broader economic changes in China's manufacturing industry and reduced international demand for manufactured goods from China. However, Pinghu is quite famous for its garment industry, ranking at the top of China's export areas and producing about 80 percent of down feather garments in China.
Workers protested outside the factory, and the police were called in to mediate. About a dozen police were stationed at the factory, and some workers were reportedly taken away by police. 
Workers can be seen in online videos speaking with a representative from management who promised a clear calculation of their payments, but only stated that a computer system calculates their pay based on hours worked. Workers responded that such a calculation system should be able to immediately tell them their salaries, and they wanted more transparency. 
Production resumed at Jiaxing Quang Viet later the same week, and workers are awaiting more clarity about their wages.
Jiaxing Quang Viet workers have counted on the company to provide adequate pay and benefits in line with China's labour laws
The Jiaxing Quang Viet garment factory had long attracted workers with its good salaries and relatively safe production environment, and it has been rated locally as a "model company" for years. Workers would receive 5-10 days of paid annual leave in addition to paid statutory holidays each year, and overtime wages are 150-300 percent of standard wages. 
Employees have also been satisfied with the job and benefits. Liu Yanli, who has worked at Jiaxing Quang Viet for over 15 years, told Zhejiang News in February this year that she was confident in the overtime calculations: 
For example, if we work overtime until 8:30 on Monday, Wednesday, and Friday nights, the company will pay us 1.5 times the salary. If we work overtime on Saturday, it will be calculated as 8 hours a day, and the company will pay 200% of the salary.
The company has a history of quickly implementing local Zhejiang policies. For example, after a local change in maternity leave policies, the company clarified that the new policy extends to those who recently took maternity leave according to the former regulations. One of those workers was Yang Li, who was grateful for the option to take additional leave after recently giving birth: 
During the parental leave, the salary is settled according to the normal working day, and there is no loss. If there is a need this year, I will take more parental leave.
After the Lunar New Year holiday in 2023, when other companies had trouble recruiting workers, the return rate of workers at Jiaxing Quang Viet was reported to be about 95 percent, showing the goodwill that the company had established with its workers. 
Jiaxing Quang Viet has an enterprise trade union, and in February 2023 Zhejiang News interviewed its chair, Qian Zhiqiang, who referred to the 8,000 yuan earning power of workers at Jiaxing Quang Viet. The company's employee representative Liu Ruihong was also quoted as saying that all employees support the company's good annual leave policies that allow migrant workers to spend more time with their families over the Lunar New Year.
The enterprise trade union praised the factory management for facilitating the convenient movement of workers by chartering vehicles this Lunar New Year to send workers directly to their hometowns, saving workers considerable time and expense. One worker, Chen Tianhua, from Yunnan province, rode for two days with 11 coworkers to get home: 
If the company didn't charter a vehicle for us, we would have to transfer four or five times to get home. It would cost five to six hundred yuan, unlike this vehicle that sends us directly to our home county. It is really convenient and a New Year gift for our family.
But mere weeks after this series of glowing comments from workers, the worker representative, and the enterprise trade union chair, the situation changed and Jiaxing Quang Viet factory workers were paid significantly less than expected and went out on strike. CLB investigated the role of the local union to find out if this sudden about-face could have been smoothed over well in advance by hearing worker voices, and if there is anything more the union can do to prevent economic difficulties being borne by workers.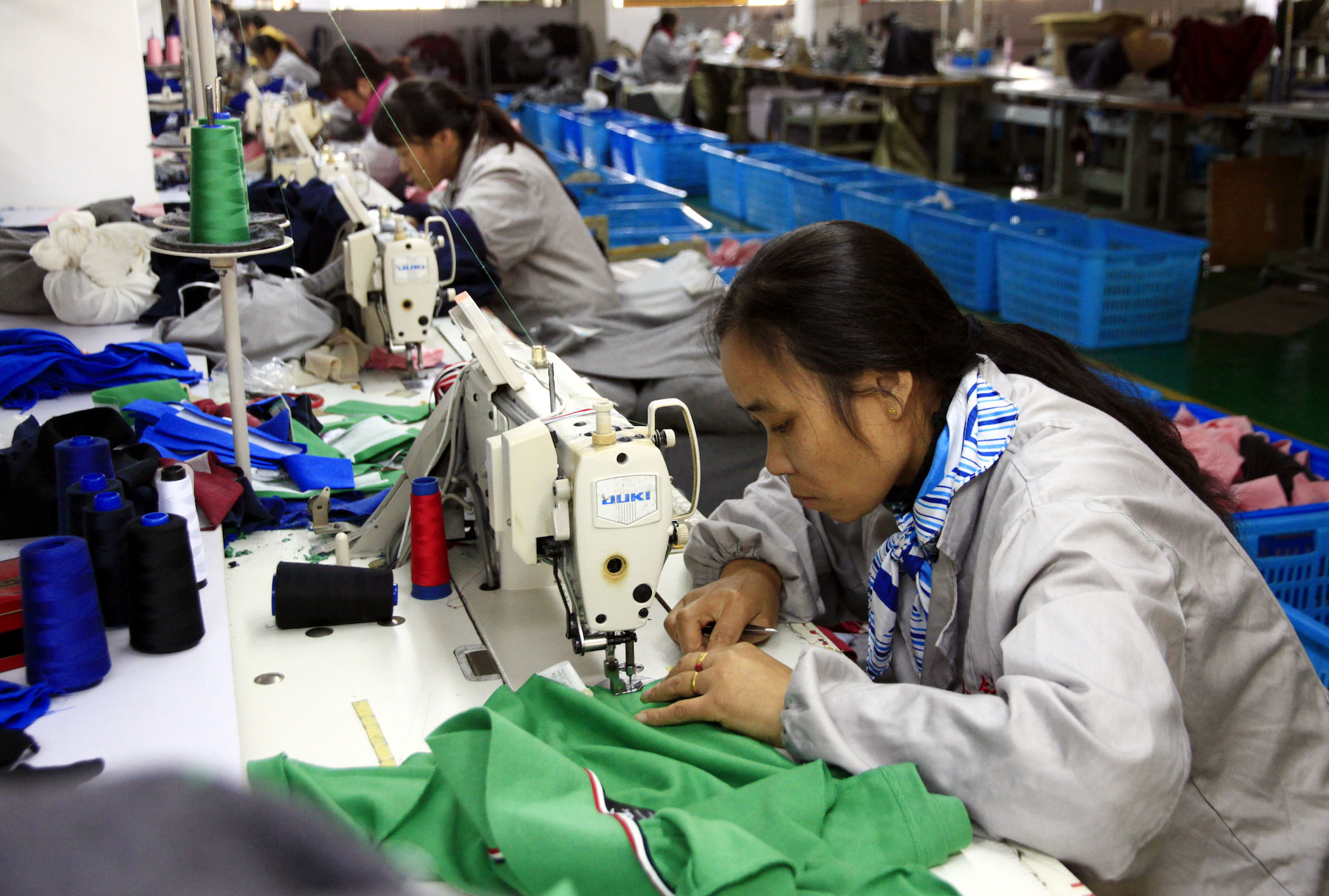 Photograph: humphery / Shutterstock.com
Union calls the strike a "misunderstanding of the workers" but sought to intervene
On 17 April, China Labour Bulletin called the local Pinghu trade union and spoke with a Mr. Yu of the union's rights defence department. Mr. Yu told CLB that his office was aware of the Jiaxing Quang Viet strike and had taken steps to learn more. This is already a much better situation than in many cases CLB investigates, where the union is wholly unaware of incidents in their jurisdictions or refuses to even consider intervening. Mr. Yu explained the union's understanding of the situation: 
We have been following up on this matter, which is basically a misunderstanding of the workers, at least some of the workers. The company has explained the situation, and we have been following up these past few days. 
CLB asked whether workers or the enterprise union had contacted the Pinghu union, and Mr. Yu said that they had not. This is not unusual. Workers may have little confidence in the union - or not know of its existence - and the enterprise union is often controlled by company management. At Jiaxing Quang Viet, the enterprise union seemed fairly in touch with workers. But Mr. Yu explained that the Pinghu union was following usual protocol about communicating with the enterprise union, which is under its jurisdiction: 
The enterprise trade union is right in the middle of this situation. It is inconvenient for me to ask the enterprise union about this right now. We will follow the relevant work of our party committee and government first, and when the situation improves will deal with the matter. 
Mr Yu drilled down further on this idea that his office is following protocol and cannot become more involved. He analogised the strike to traffic accident: 
The first step now is to rescue and save. The second step is to analyse why there was such an accident. We have to wait until things stabilise to find out further.
CLB suggested that in the meantime, the union could consider broader ways to play a role in protecting workers' rights and interests, considering the centrality of garment factories to Pinghu's local economy. 
CLB urges the union to consider the role of brands in the problems at the Jiaxing Quang Viet factory and in China's manufacturing sector as a whole 
In our conversation with Mr. Yu at the Pinghu union, CLB first pointed to new legislation on Europe making companies legally liable for labour rights violations in their supply chains and suggested that the union could leverage this in favour of workers: 
Whether it is in Vietnam, Cambodia, Brazil, or China, if workers' rights are not guaranteed, if those factories do not protect workers' rights, then the brand will bear legal liability in the European courts. Do you and the trade union understand what this new development means? 
Mr. Yu listened with interest but was concerned that the brands would not pay attention to a local union in China. However, CLB's own experience through a partnership in Bangalore, India, responds to this point. We have observed a small, grassroots union at a garment factory - not unlike Jiaxing Quang Viet - engage with international brands on issues of pay, workplace safety, and other working conditions. In fact, the union in Bangalore succeeded in establishing a worker fund in the event of a factory shutdown due to economic conditions and reduced orders of brands. 
CLB also pointed to the official nature of the ACFTU in China, giving the institution inherent advantages over grassroots trade unions such as in India. If the grassroots trade unions in India can grasp the demands of workers and organize them well and present them to brands, then China's official union at the municipal and local levels should certainly have such capacity. Moreover, the higher-level trade unions in China with greater authority and resources could play the role of communicating with international brands on behalf of China's workers, factories, and suppliers alike. Further, if work conditions and benefits are improved in China, labour-capital relations will improve, and the incidence of large-scale strikes and protests may be reduced. 
CLB also offered a recent Dutch intermediate court decision as an example to the Pinghu municipal union. A Hong Kong supplier brought a breach of contract case against a Dutch brand for cancelling its orders at the supplier's factory in Vietnam, leading to the factory's closure and layoffs of many workers. According to a contract with the supplier, the brand had agreed in 2018 to not cut its orders for three years. However the brand cancelled orders in Vietnam and then made similar orders at a factory in Bangladesh. The court found in favour of the supplier and cited the brand's corporate social responsibility pledges to workers in the decision. CLB raised this case with the Pinghu union to show that there is room for negotiation with brands and suppliers when factories face economic difficulty, and that the Vietnam factory's situation is quite similar to what factories in China and Pinghu specifically are experiencing right now: 
The brand shouldn't just cancel orders arbitrarily. What about the workers? The factory, the equipment, the purchased materials? All of these have been done, and the brand just left, not because they are going bankrupt, but because they transferred orders to [another country] to reduce costs. So I think this judgement is related here.
At the Pinghu trade union, Mr. Yu's interest in this topic was piqued and he said that he will report our ideas up the union chain to his superiors. CLB hopes that our way of thinking is forwarded within the union structure and taken up by the ACFTU during this economically challenging time affecting China's manufacturing sector. 
---
Further CLB reading: