The Zhongshan Wing Ming Electric Co. Ltd. produces magnetic components for U.S.-listed Bel Fuse. Bel Fuse initiated a consolidation plan under which the Wing Ming factory's equipment was gradually transferred to a sister factory in Guangxi province, but workers in Zhongshan were not offered to relocate; 
Workers were not informed of their changing employment status and protested first in May and then tried in July to negotiate with management about the uncertainty. In the end, workers were not fully compensated according to China's labour laws on business closure or relocation; 
The situation at the Wing Ming factory has sparked a public discussion online about exploitation of factory workers, and it calls for re-examining stakeholders' responsibility to workers in China to ensure domestic laws are followed upon business closure or relocation.
Have you ever thought that, actually, you do deserve the wage you earned so hard by working overtime, but that you should not be asked to work overtime to earn it?
This empathetic comment that brings dignity to gruelling factory work was posted online in the midst of a nuanced discussion about the relationship between long working hours, low wages and implementation of China's labour laws.  
On 12 May, a migrant worker from Hunan posted a video online saying that she and fellow workers at the Zhongshan Wing Ming Electric Co. Ltd. (中山市永明电子有限公司) in Zhongshan, Guangdong province, had gone on strike. After facing a reduced schedule of eight hours per day, five days per week, workers protested over their uncertainty in light of plans for production to be relocated to a new facility in Guangxi.
The worker's video announcing the Wing Ming factory strike received over 1,200 comments. Some were critical of the Wing Ming workers' protest and of factory workers' demands in general. One commenter wrote: 
You guys complained a lot about how hard life is when you have to work overtime and on weekends, and now you don't like it when you need to work just eight hours.
Another echoed: 
It's so hard to satisfy you guys. 
China's Labour Law mandates a 40-hour work week, with a maximum of 36 hours of paid overtime per month. Factory workers are used to being asked to exceed this limit, and they also rely on the additional overtime hours to make enough money to survive.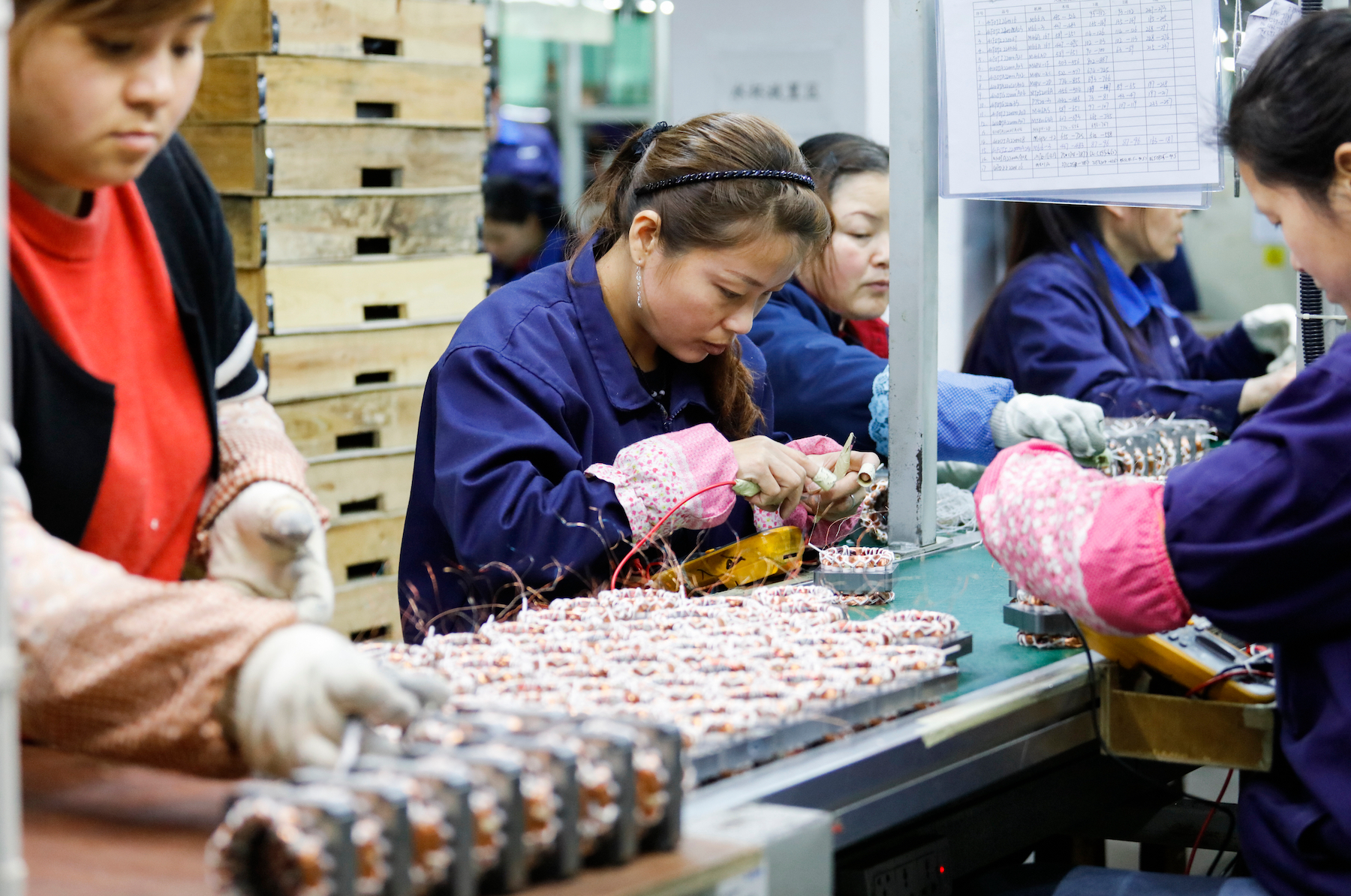 Photograph: humphery / Shutterstock.com
Many of the replies to the critics of the strike pointed out that the low earning power of factory workers, not the hours alone, is the problem: 
Eight hours, five days, is of course good for workers, but it has to take place when the wage is higher. It does not apply to factories at all… If not working overtime, then workers won't even get 3,000 yuan per month. I bet nobody will complain if the wage for eight hours, five days, is at the standard of 4,000 yuan.
Another worker got to the root of the issue; namely, that China's minimum wage is too low: 
The minimum wage is not set by the boss. Who is it that is setting it then? Who is preventing workers from getting a normal wage by working eight hours? Therefore, I suggest that we should not just want to work overtime to get a higher wage, because if the minimum wage is not raised, then we will all be screwed when the economic condition is not good. Let's strongly demand to raise the minimum wage nationwide!
This online discussion of exploitation of factory workers comes as China's manufacturing sector is struggling with a wave of shutdowns and relocations in the first half of this year. During the past three years of changing economic circumstances, factories have faced low purchase orders. They have tried to survive through periods of temporary work stoppages, mass layoffs, and shifting to domestic markets. 
Workers have been severely affected by these changes and the uncertainty in the sector, and - as CLB's series of case studies show - they lack representation and bargaining power to obtain even their most basic rights.
"When will the factory finally inform us?": Wing Ming workers seek dialogue with factory about their job security
As of 2022, Wing Ming workers felt they had job security and could point to signs that the factory was profitable. For example, workers were given mooncakes and supermarket vouchers that autumn, which they pointed out would not typically happen when a company is in the red. So workers said they were surprised when they noticed factory equipment being moved off-site in the spring of 2023, and they began to suspect that their futures were in limbo.
Wing Ming has been operating since the 1990s, and in 2006 U.S.-listed Bel Fuse opened a new 395,000 square foot facility at Wing Ming to produce magnetic components and electronics connectors. This type of Bel Fuse equipment is mainly for the Asia market. According to Bel Fuse's 2022 annual report, demand for the company's magnetic products decreased by half since 2021. The company states in a 2023 quarterly report that magnetic components are more labour-intensive, but that labour costs were low due to favourable U.S. dollar exchange rates with the yuan.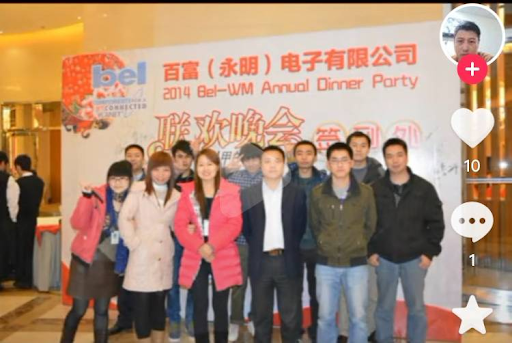 A Douyin video posted by a worker shows a photograph from 2014, indicating that some workers had been with the factory for many years. The banner shows the Bel Fuse logo and says in Chinese, "Bel Fuse (Wing Ming) Electric Company Ltd."
In fact, in late 2022, Bel Fuse announced consolidation of nine of its production sites in China, expected to be completed in mid-2023. The plan consolidates the Wing Ming plant in Zhongshan and another plant in Pingguo, Guangxi province, into "a single centralized site" in Guangxi, which it calls "the new Bel Guangxi facility." 
But Wing Ming workers in Zhongshan were unaware of how the plan for the new Bel Guangxi facility would affect them. As a result of this information gap, workers did not have essential information to plan for their futures. The new Bel Guangxi facility announced recruitment of 1,000 workers in the spring of 2023, but Wing Ming workers did not immediately believe their jobs were threatened by these changes. 
When workers' hours were reduced in May, workers faced uncertainty and wanted to force a conversation with management. The 12 May video that inspired the working hours conversation shows dozens of Wing Ming workers, mostly young and middle-aged women, exiting the factory and running in the street. 
A worker surnamed Xiao posted a video showing empty workstations and items packed for moving. She wrote: 
When will the factory finally inform us? How long does the factory want to drag this out and not tell us the truth? You tell me, how can we not go to the factory and ask for a word?
Instead, the uncertainty was used, workers alleged, to push them out. 
On 21 July, Wing Ming's remaining workers sought to negotiate with management over economic compensation for unilateral contract termination. But the result was not in the workers' favour. In fact, the workers who stayed until August reported that they could hardly get any economic compensation at all.
"We deserve a decent breakup": Workers allege tactics to force resignations and violate labour laws
China's 2008 Labour Contract Law is designed to protect workers by mandating that any major business changes that affect employment status, compensation, or place of work require the company to pay economic compensation. For mass layoffs or business closure, employees are entitled to severance pay according to the number of years worked at the company. 
Even for relocation, employees must be compensated for the change in fundamental terms of the labour contract. But Wing Ming workers were not offered the chance to relocate to Guangxi province along with the Bel Fuse production line. 
Rather, since May, workers were asked to leave gradually, some signing agreements stating they resigned voluntarily. This means workers were not eligible for the legal minimum compensation for termination of their contracts in Zhongshan.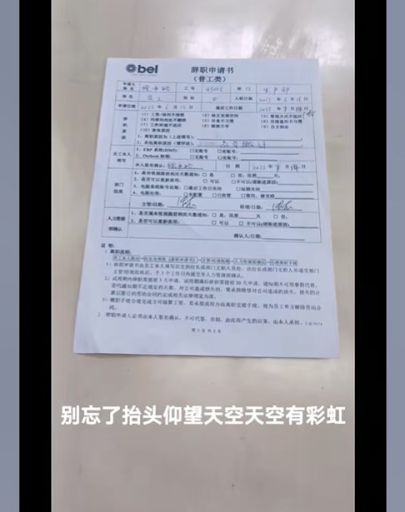 A Douyin video posted by a worker shows a resignation form with the Bel Fuse logo in the top left corner
An online commenter vividly analogised the workers' perspective:
This is like in a relationship with a boyfriend. He wants to break up with you, but does not say it. Instead, he just holds back and treats you indifferently, until you cannot take it and you bring it up yourself. You go to break up with him, and then he will agree and emphasise that, "It is you who wants to break up, it is not me who does not want this relationship." Are you angry? … We deserve a decent break up. 
Workers said that the human resources department of Wing Ming used all sorts of tactics to get them to "voluntarily resign." Many workers did in fact leave between June and July. A worker recorded that 30 June was the last day of work for many, some of whom had been working at Wing Ming for more than a decade. The worker who used the breakup analogy continued: 
The boss went to Guangxi to make a bigger fortune, but those who worked for years for him were treated like this. 
When workers complained about their plight online, they tagged local media for attention. Workers also sought help from government departments like the labour bureau and tax bureau, all to no avail.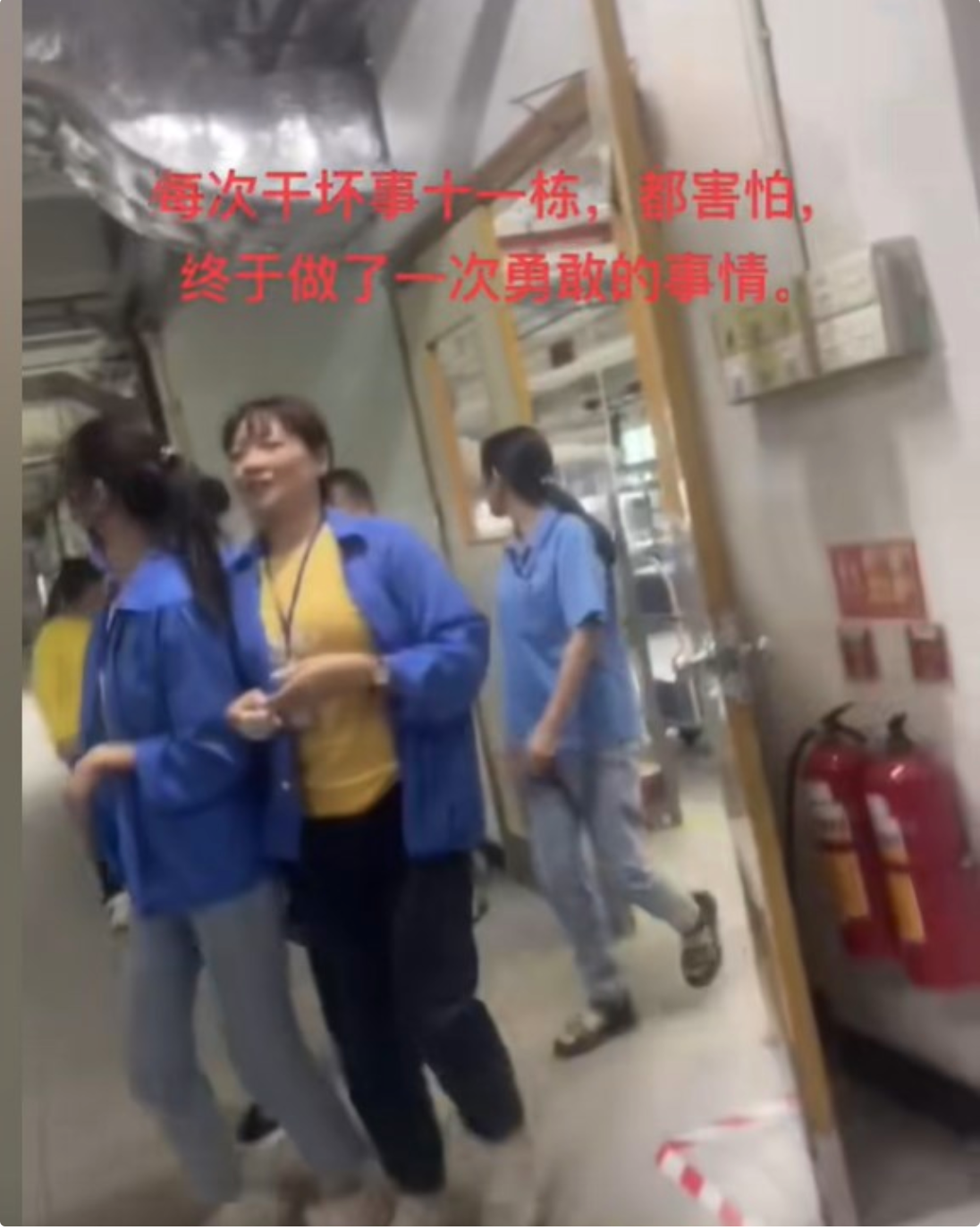 A Douyin video shows workers walking out of a room in the factory. The Chinese text over the video says, "Every time they do evil things they're afraid [our unit] will know about it, and this time we will finally do something brave."
A worker who signed an agreement in June wrote: 
We went to the government for help, but they are not helping. No one is enforcing the law. The labour bureau stands with the factory, even. As migrant workers, we can do nothing but to be treated like this here, where our social insurance policy is not enforced locally.
In fact, Wing Ming workers were offered a dilemma: choose between receiving a small amount of economic compensation - only a fraction of what is required by the Labour Contract Law - or receiving unpaid social security benefits. Not only is this offer against the law, but it also reveals how Wing Ming has been violating China's labour laws for some time by not paying benefits. 
One worker who has 14 years of seniority at Wing Ming chose the social security benefits, which was a larger pay-out in her case. But the fact is that she was owed those benefits and several years of unpaid insurance fees, as well as economic compensation, but now she has no recourse for receiving the full amounts owed.
Another injustice these workers face is that, to receive a pension in China, workers must pay into the system for at least 15 years, and this may now be impossible for them to attain. Another Wing Ming worker, surnamed Feng, said online that she is 45 years old, and many factories only recruit younger workers. Feng said she would have difficulty finding another job and paying into the pension system to receive benefits upon retirement. 
For those who took the economic compensation instead, they were given a pittance. The workers' circumstances varied greatly in terms of when they left the factory, their seniority, which of the options they chose, etc. One worker, surnamed Xiao, reported that she only received 5,450 yuan as compensation and had to sign a document waiving all other benefits and legal actions.
Worker Feng said that she had wanted to resign at one point during this drawn out ordeal, but decided to wait until the factory terminated her so she could receive compensation. But in the end, all she received was a lump sum of unemployment benefits, which she said was only 60 percent of the average minimum wage of 1,710 yuan per month. 
Decent work for decent pay and minimum legal guarantees upon factory closure are a shared responsibility in the supply chain
Online discussion about factory workers' pay structure and minimum wage is an example of how companies can technically comply with the law but still exploit workers by keeping the upper hand. When factories fall on hard times, they can resort to only paying minimum wage without violating the law. This is despite going against the understanding workers had about their earning power when they signed employment agreements, often moving far away from their families and taking huge risks to earn a higher income in the factory than they could back home. 
Similarly, companies have found ways to try to get around the language and spirit of the Labour Contract Law that guarantees workers economic compensation when the fundamental terms of their employment change - or cease to exist - because of unilateral business decisions. This system in which those with power and authority can simply look the other way needs more parties involved to balance the interests of capital.
CLB urges that more stakeholders become involved in the wave of factory relocations and shutdowns in China. We call on China's official trade union to take a leading role in arranging for dialogue with suppliers and brands in supply chains of affected factories and to represent workers' interests in demanding that companies comply with relevant domestic laws and regulations.
---
Further CLB reading: