Outside the main entrance to the Xuri electronic toy factory in Shaoguan, scene of the mass brawl in June between thousands Han and Uighur employees that left two dead, there is a large red banner proclaiming 手拉手共创平安 心连心构建和谐 (hand in hand bring about peace together, hearts beating as one realize harmony).

Peace has indeed returned to the factory that triggered the deadly riots in Xinjiang on 5 July, but, workers say, that is only because the Uighur employees have all been removed from the premises. Some have returned to Xinjiang, the others were transferred to another factory about 15 kilometers outside the city, in the middle of the countryside, and far from the Han workers.

The secondary factory is in a closely guarded compound in the Baitu Industrial Park, a collection of about a dozen small and medium-sized newly built factories clustered along Provincial Highway 253. The Uighur workers keep themselves to themselves and do not mix with the workers at the neighbouring factories, a store owner in Baitu said. Han workers at Xuri said it was best for all that the Uighurs moved elsewhere. "Most of them did not speak Chinese and did not really understand our culture," one said.

Meanwhile, the Xuri factory, located in the western suburbs of Shaoguan, is hiring new workers at relatively attractive rates. The recruitment board outside the factory claims that the average wage at the factory is 1,400 yuan a month, in a city where the minimum wage currently stands at 580 yuan, although this figure almost certainly includes extensive overtime.

And Xuri is not the only factory in Shaoguan recruiting at present. The northern Guangdong city is marketing itself as the new manufacturing centre for businesses leaving the Pearl River Delta because of rising costs. The cost of land, utilities and labour are all reportedly cheaper in Shaoguan, and the municipality currently has six major economic development zones, all with newly built factories and modern facilities under construction. There are none of the old abandoned or half-built factories that littered Dongguan at the height of the global economic crisis early this year, and, what's more, there is ample room for expansion.

Shaoguan has a relatively stable workforce with a higher percentage of local residents to migrant workers than in Shenzhen and Dongguan. Moreover, many of the migrant workers in Shaoguan are from rural Guangdong and the nearby provinces of Hunan and Jiangxi, rather than distant Sichuan and Henan. Wage levels are lower than in the Pearl River Delta but the cost of living seems to be affordable even for those on low incomes, with transport, housing and food prices all cheaper than in Guangzhou and Shenzhen.

Located at the confluence of two rivers, and on main Beijing to Guangzhou railway line, Shaoguan has for centuries been the transport hub of northern Guangdong, and its position will be further enhanced next year with the opening of the new high-speed rail link between Wuhan and Guangzhou, which will reduce the journey time to the provincial capital from over two hours at present to under one hour.

One the surface, Shaoguan seems ideally placed to take advantage of the next stage in China's economic development. However, it will not all be plain sailing. Unlike the Pearl River Delta, Shaoguan is also a centre of state-run industry. Most of the state-owned enterprises in the city, set up in the 1960s and 1970s, are antiquated and uncompetitive. Some have already been closed or privatized but large numbers of Shaoguan's workers remain employed in the state sector.

There are currently nearly 20,000 workers at Shaoguan Iron and Steel, one of China's domestic Fortune 500 companies and the largest single employer in the municipality. Shaoguan Iron and Steel resembles a small self-contained city; stretching over eight square kilometers across the hills south of Shaoguan, it includes not only the steel plants but houses, schools, hospitals, banks, retail outlets and workshops. The low-rise apartment buildings that house the workforce are drab and faded, and a low cloud of pollutants hangs over the entire complex.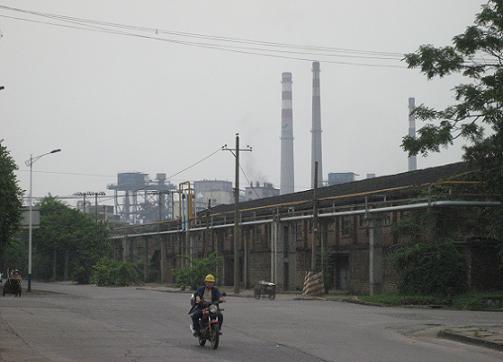 A worker passes by the main Shaoguan Iron and Steel plant
According to its website the company produced over 4.07 million tons of steel, 3.92 million tons of iron and 3.87 million tons of raw steel in 2008. But the plant is looking its age and at some point will have to undergo restructuring and modernization as part of the national government's ongoing reform and consolidation of the steel industry. But the government and plant management will have to tread very carefully when embarking on any restructuring plans. Just in the past month, there have been two major protests at steel plants in Tonghua and Linzhou, in which one factory manager was killed and another held hostage for several days. In both cases the proposed privatizations were put on hold. Shaoguan Iron and Steel is bigger and potentially more explosive than either Tonghua or Linzhou if any privatization is not handled appropriately and or the workers are kept in the dark.

There has already been major one strike - at Shaoguan's non-ferrous metal smelting plant - within the last year. On 1December 2008, several hundred workers blocked traffic on National Route 106 outside the plant's main entrance for two and a half hours in a protest at proposed changes to their employment contracts, which would have transferred them to an outside labour contactor, as well as the ongoing issue of equal pay for equal work. After talks with management and senior municipal government and Party officials, the protest was called off and management agreed to keep labour contracts within the company and not outsource them, and promised to study workers' demands for equal pay for equal work.

The dispute was just one more example of how increasingly effective worker protests are becoming in China. Local governments, wary of social instability and unrest, and realizing that striking workers have legitimate grievances, are now more willing to adopt a conciliatory approach and intervene on the workers' behalf. In CLB's study of 100 worker protests in 2007 and 2008, more than a third of the protests were resolved in the workers' favour, usually after a government intervention.