A massive explosion at a state-owned petrochemical plant in Shanghai on 18 June is the latest in a string of deadly blasts this month. With this June designated as China's workplace safety month, the cycle of campaigns and empty pledges to improve conditions have done little to actually protect the safety of workers.
In the early hours of Saturday, 18 June, a fire broke out in the ethylene glycol processing area of Sinopec Shanghai Petrochemical, one of China's largest refining and petrochemical companies. Subsequent explosions awoke local residents, according to media reports. Some individuals reported they thought an earthquake had occurred, and the blast broke windows and damaged homes.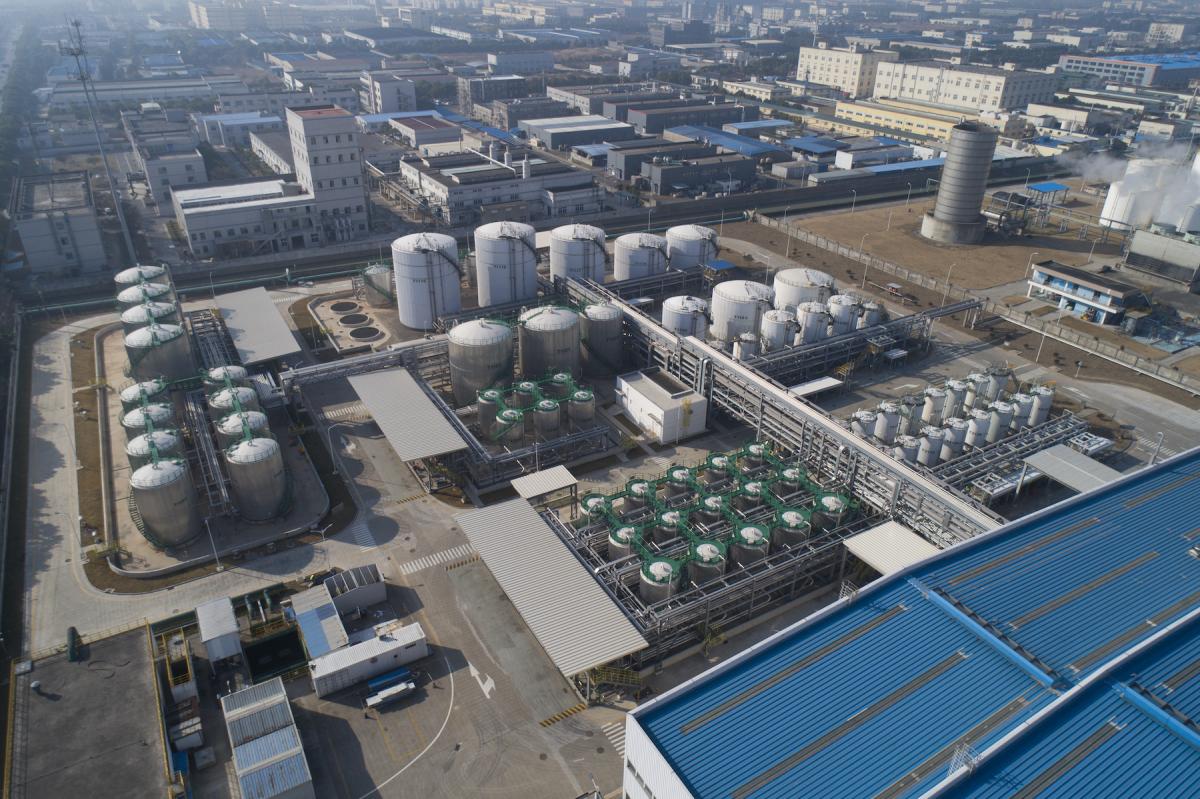 Photograph: Yaorusheng / Shutterstock.com
One truck driver was killed in the blaze, and another worker suffered minor abrasions on the arm. No further details have been reported from the section of the plant where the accident occurred, the area used to produce ethylene glycol, used in antifreeze and coolants. 
The casualties in this latest blast add to the growing list of chemical plant accidents in recent weeks, with six accidents logged in May 2022, a record high for CLB's eight years of Accident Map data. The previous high was in September 2020, with five incidents recorded.
The incident at Shanghai Petrochemical occurred despite recent calls by the authorities for companies to heed workplace safety, as well as workplace inspections and safety upgrades to facilities.
The fire and explosions in Shanghai occurred on the day after the plant celebrated its 50th anniversary. The chairman of the company, Wu Haijun, made multiple mentions of the importance of workplace safety in his anniversary address to the company, calling on the factory to "properly calculate the cost of safety and environmental protection."
The exact cause is still under investigation, but analysis by Caixin reveals that low loads on production lines - due to low demand and disruptions in supply chains related in part to the three month Shanghai lockdown - were the likely cause. Lower than normal loads can be hard on processing equipment and increase safety risks, according to refinery experts interviewed by Caixin. 
Company reports also show that Shanghai Petrochemical had drastically reduced its spending on safety in recent years. Safety spending fell from 28.5 million yuan in 2020 to just 11.2 million yuan in 2021, a drop of 60 percent, according to the Caixin report.
Another deadly incident at Shanghai Petrochemical occurred just one year ago, on 29 May 2021. A conflagration killed one person and injured 13 others at a separate portion of the company that manufactured ethylene. The enterprise trade union took part in the investigation of the incident, according to a government report.
Following the recent Shanghai blast, executives from Shanghai Petrochemical and ten other state-owned enterprises were summoned by the Ministry of Emergency Management (MEM) of China's State Council on Monday. Since the State Council's reorganization in 2018, the MEM is responsible for workplace safety issues. 
At the meeting of state-owned enterprise executives, MEM officials called attention to the Shanghai incident and another deadly incident at a state-owned chemical manufacturer in the city of Maoming, Guangdong province, that occurred on 8 June. Authorities said the incidents had "severely attacked the sense of safety of the people" and affected the image of China's state-owned enterprises.
The official death toll of the Maoming incident could not be verified, though initial reports said two workers were missing and one was injured; however, the incident was declared "deadly" by the MEM's dressing down of executives.
An even more deadly blast occurred just two days before the Shanghai blast in the north-western city of Lanzhou, Gansu province. An explosion at pesticide plant Binnong Technology killed all six workers in the plant's wastewater treatment centre. Eight other workers were also injured, and the cause of the accident remains under investigation.
The incident in Lanzhou contained echoes of previous chemical plant blasts. One report noted the newly-built Lanzhou plant was part of a wave of chemical plants built in China's central and western provinces following the aftermath of the terrible blast in Xiangshui, in Jiangsu province, in March of 2019, that killed 78 people and injured almost 250 more.
Following the Xiangshui blast, officials encouraged chemical plants to move out of China's heavily populated coastal regions. Blasts like the Xiangshui explosion affect not only workers, but also nearby residents. Still, Lanzhou residents reported power and cell tower outages, as well as a powerful disturbing odour, after the 16 June Lanzhou blast.
The number of deaths in major accidents has declined over the years, but the frequency has yet to slow. Heavy industry like chemical plants account for 15 percent of all accidents recorded by CLB's Workplace Accident Map already in 2022, more than ever before. The historical rate of heavy industry accidents since the map's inception in 2014 is nine percent.
It is not only heavy industry that is seeing a rise in dangerous accidents. CLB research has also indicated a sharp rise in gas explosions this year, with two such incidents recorded on 21 June 2022, in the Baodi district of Tianjin and Taian city in Shandong province, respectively. 
The string of tragedies of this June's work safety month should act as a wake-up call to officials. The MEM should focus on accident prevention, rather than reacting to incidents as emergencies after the fact. Onsite inspections, fines, and penalties on companies should carry a greater deterrent effect and be adequately enforced. And China's official trade union, which often takes up its role in accident investigations, should exercise that duty in an independent manner. Further, the union should perform its role under China's Work Safety Law to represent workers' interests, monitor workplace safety, and prevent accidents from occurring in the first place.
Workers need no additional incentive to better protect their own lives on the job. Rather, they lack adequate opportunity for their voices from the frontlines to be heard and taken seriously. China's official trade union has a strong role to play in ensuring that workers' safety is prioritised, from concerns on the job site, to the role of the enterprise union, the accident investigation, and beyond.