Factory workers at Covid-19 rapid test kit suppliers across China are being laid off after decreased demand, and most of them are temporary and part-time workers hired by labour dispatch agencies. 

Local authorities and the official trade union federations are more concerned with economic interests and stopping protests than with actually resolving workers' dissatisfaction.

At the Hangzhou Alltest (Aotai) Biotech factory on 9 January, workers took to the streets where they were beaten and confronted with police drones. The protest resulted in negotiations and wage guarantees, but the union focused its efforts on after-the-fact judicial remedies instead of representing workers at the bargaining table. 
The end of the Zero Covid policy in China has led to a decrease in demand for medical products like Covid-19 test kits. Medical supply factories, which largely rely on contract labour, have begun laying off workers. Workers protest the layoffs and often the accompanying outstanding wages.
The massive protest in Chongqing on 7 January, after Covid-19 test kit manufacturer Zybio announced layoffs of half its 20,000 workforce, is one example. China Labour Bulletin investigated the local trade union's lack of response in light of labour awards given to Zybio as recently as last April. 
In the days immediately following the Chongqing protest, there were similar incidents in Hangzhou, also at medical supply factories facing decreased demand for their products. On 10 January at Hangzhou's Xiaoshan Xinyue Biotech, workers protested against wage arrears, and some workers were beaten. 
The day before, on 9 January, Hangzhou's Alltest (Aotai) Biotech saw a large-scale protest over wage arrears and layoffs of factory workers. Workers protested in the streets, and police drones were flown overhead with audio messages attempting to stifle the conflict. The police intervened in person, but not while workers were being beaten. 
Ultimately, government representatives negotiated with Alltest workers. Workers were promised to be paid their wages in arrears and to receive 500 yuan in travel allowances to leave the factory after layoffs.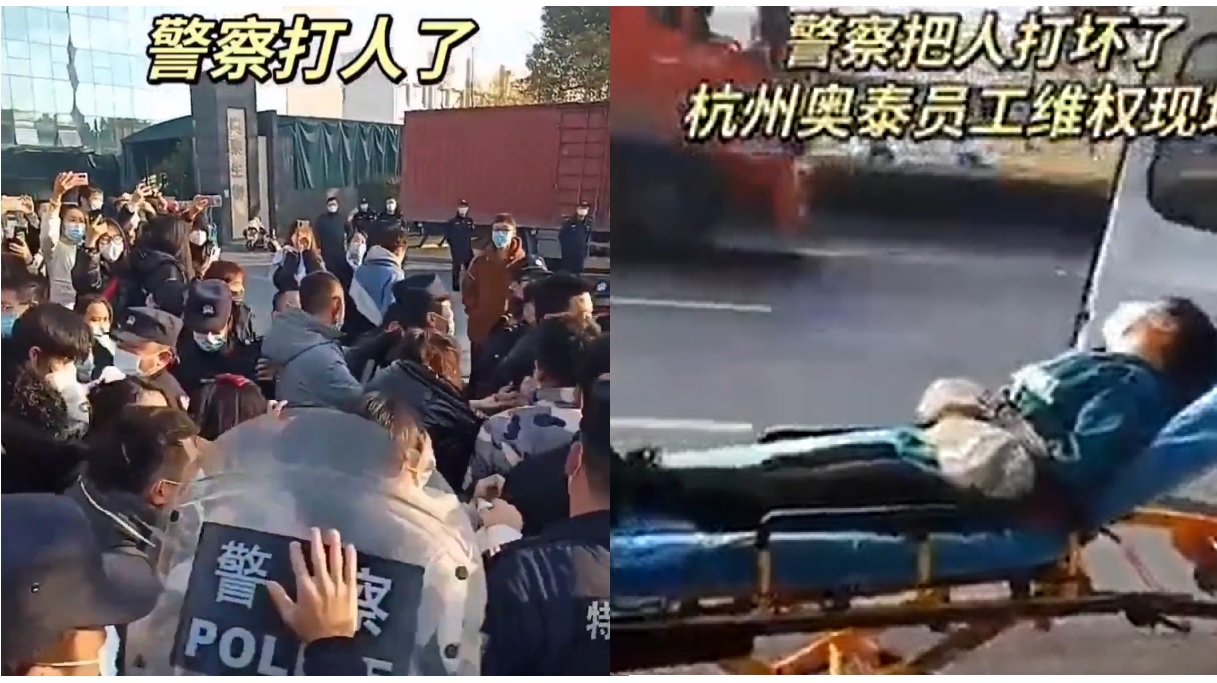 Images from social media show police response to worker protests, and an injured worker on a stretcher.
CLB investigated the role of the local trade union in these negotiations. We found that the Qiantang district union learned about the situation from local government offices, and the union hired lawyers to better understand workers' rights in this situation and to file a report with the higher-level Hangzhou municipal union on the matter. 
However, the Qiantang district union was mostly focused on calming the tensions and answering legal questions, rather than representing workers' interests and advocating for a more positive result. 
Contract workers lacked rights protections under Alltest (Aotai) Biotech's labour model
Alltest was founded in 2009 and was listed on the Shanghai stock exchange in 2021. Its English-language website states that the company was founded for the "sole objective of benefitting the stakeholders in [the] healthcare industry." The company produces a range of rapid diagnostic tests, including for fertility treatments, drug testing, and infectious disease testing, such as Covid-19 rapid tests. Alltest markets its products around the globe. 
According to local news sources, the company is one of two certified Covid-19 test kit suppliers in Hangzhou "undertaking the task of guaranteeing the supply of antigen detection reagents in Hangzhou" and producing about 2 million kits per day. The Aotai Park in Qiantang New District, Hangzhou, contains a 26,000 square metre facility, encompassing both the factory and the office space. Alltest has about 1,350 employees, not including factory workers. 
Alltest's production was increased during the pandemic, from eight hours per day to operating around the clock. Five labour dispatch companies in the Qiantang New District cooperated to dispatch over 1,000 factory workers every day, before layoffs occurred on 9 January 2023. Workers under these labour dispatch contracts are not considered full-time employees with full protections under China's labour laws.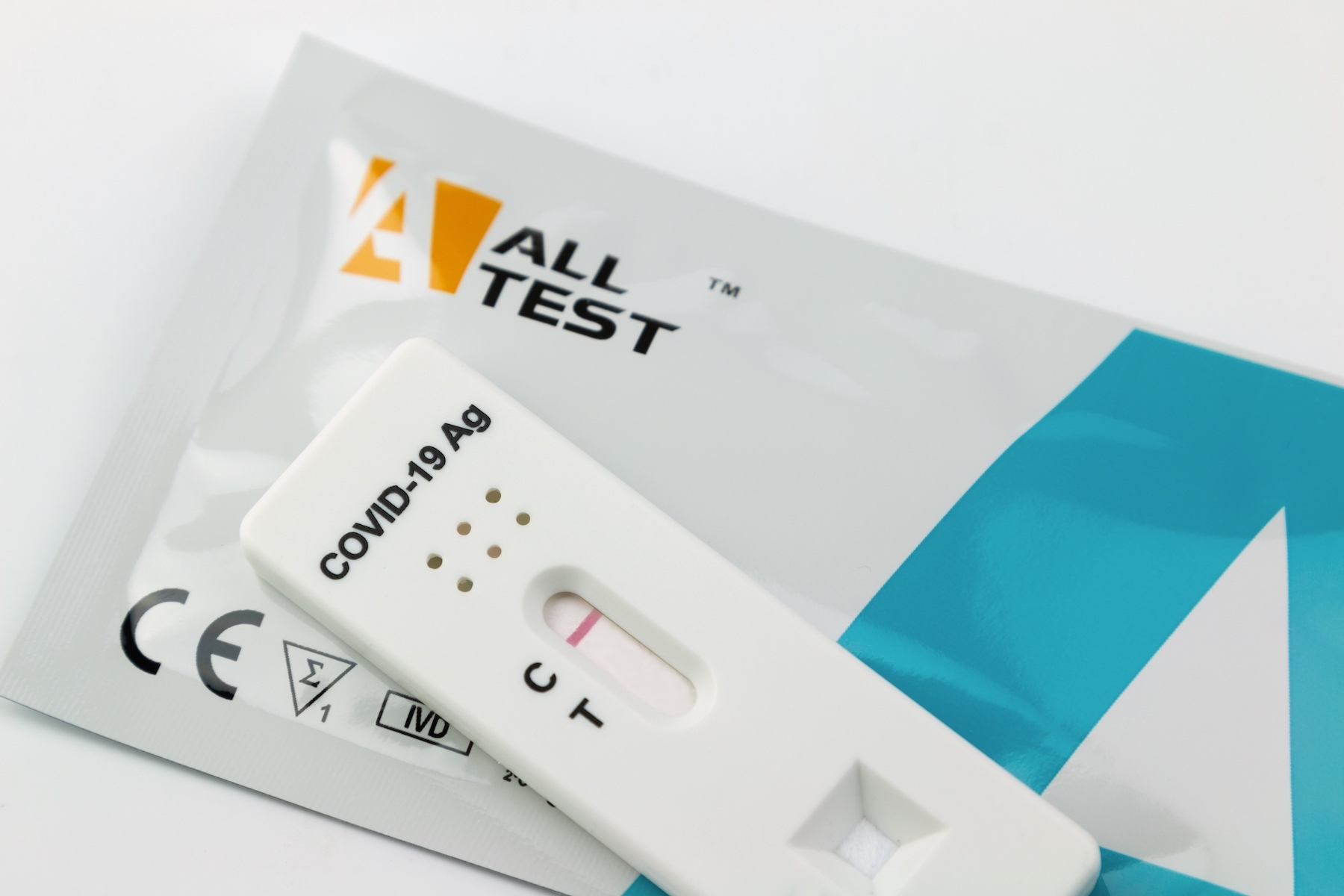 Photograph: Zigmar Stein / Shutterstock.com
District trade union stepped in, but mainly provided legal advice instead of advocating for workers' needs 
In CLB's numerous investigations into trade unions' responses in actual cases of workers' rights violations, we have found that unions only rarely take initiative to intervene on behalf of workers. 
In this situation at Alltest, the union should be applauded for stepping in and taking action as an initial matter. However, when CLB called the local union offices in Qiantang district to inquire about the details of their participation, we found the union's actions to be lacking in several regards, and we offered our concrete recommendation to the union officials. 
To start, the union hired a team of lawyers to sort out which of the affected workers had viable legal claims, sorting out which workers were employed at the time of the layoffs on 9 January. This action follows a pattern we have observed, in which the union views representation mainly in terms of providing legal assistance, and only for those cases likely to succeed in court. We find this approach to be fundamentally lacking in the larger picture of the union's duty to represent workers before and during rights violations, rather than only after the fact in legal procedures through outsourced lawyers. 
Specifically for Alltest workers who resigned prior to 9 January, the union should take responsibility to find out the working conditions of those workers who resigned. At issue is whether their resignations complied with labour laws and regulations, and whether the workers faced any undue pressure to resign prior to layoffs. 
In addition, the local government participated in recruiting temporary workers for Alltest, but the union was not given a role in negotiations on their salary, accommodation in factory dormitories, and other labour conditions. In our phone calls to the union, we were told that the union was not given information about the negotiations, because only the district committee is involved. We therefore recommend that the union take up this responsibility, and for the local authorities to communicate with the union on such matters in the future. 
Alltest Biotech's Chair, Gao Fei, was recently awarded the title of "model worker" by the Hangzhou municipal federation of trade unions, recommended for this by the Qiantang district union. The award reveals something about the union's own mindset of protecting capital and promoting business, rather than noticing workers on the frontlines of production. 
Instead of honouring labour, the award to Chair Gao Fei instead alienates workers. The chair already earns a high salary, and the material benefits that accompany the model worker designation are inappropriate. The trade union should act according to its mandate to represent workers, particularly those most vulnerable: the temporary contract workers affected by layoffs at Alltest Biotech in Hangzhou.  
Further CLB reading: