On the second day of the strike, China's Ministry of Transport called on platform companies to protect workers' rights and cease interrupting fair market conditions.
Freight drivers for Huolala launched a strike for three consecutive days in November in various parts of China. Workers protested in person and also posted online videos lamenting a series of corporate policy changes that reduced their incomes. 
Photograph: Graeme Kennedy / Shutterstock.com
Huolala is a platform economy company that links up drivers and vehicles with customers needing goods transported. Huolala was established in 2013 in Hong Kong, where its corporate name is Lalamove. In mainland China, Huolala is estimated to have a market share of about 53 percent in the industry as of the end of 2021, and the company operates in about 350 cities with 660,000 monthly active drivers. 
The 16-18 November protests were largest in Guangdong province. Eyewitnesses estimate that 1,000 drivers protested in Shenzhen, 400 came out in Dongguan, and there was also a decent showing in Foshan. Drivers in other parts of China participated in online protests and the strike, including in the cities of Wuhan, Changsha, Quanzhou, and Wenzhou. 
Huolala drivers organize around a set of demands
The drivers in Guangzhou submitted a list of sixteen concrete demands related to recent corporate changes that have reduced drivers' pay by as much as 20 percent, according to driver pay records shared online. 
The corporate policy changes have most affected the "multi-factor" orders, which have a flexible pricing system based on variables such as distance, road conditions, and supply and demand for services at the time of the order. Other changes increase special discounts for customers and make changes to drivers' paid membership fees and rates. The algorithm also began calculating distances not based on actual route travelled, but on a straight-line distance from point to point. 
As platform workers, drivers are considered independent contractors, rather than formal employees covered by China's labour laws, including minimum wage and maximum working hours laws. 
A Huolala driver who works in Jiangsu province, surnamed Yang, told Sina Finance: 
If it weren't for the fact I can't earn enough to eat, how could there otherwise be so many freight drivers across the country?
 
Ministry of Transport calls on companies to respect workers' rights
The call for the strike and online protest spread quickly, also catching the government's attention. On the second day of the strike, Huolala and other logistics companies were summoned by the Ministry of Transport and asked to change their cost-cutting practices in favour of workers.
The ministry said that the companies have "seriously damaged the legitimate rights and interests of truck drivers and disrupted the order of fair competition in the market." 
Huolala reversed some of its recent policies and made other adjustments. 
Worker Yang described how this is one step forward, but there is still a long way to go to satisfy drivers:
In some places the effect is still not obvious, but our side is obviously much better these days.
Nationwide strike shows organizing potential for platform economy
Although platform economy workers are more dispersed than in traditional industries such as manufacturing, these recent protests show that platform workers can be united by common challenges and can also spread information quickly. 
Platform truck drivers have formed a sectoral identity that crosses regions of China, calling each other 卡友 (kayou), meaning fellow truck driver. The drivers are also more likely than other platform workers to travel among provinces, increasing their access to diverse sources of information and allowing them to act as conduits themselves. 
It is also not the first time that truck drivers have gone on strike. In June 2018, drivers protested increased fees and high fuel prices. And Huolala drivers, specifically, protested membership fees in May 2018, calling out the company for its monopolistic practices. 
CLB's Strike Map has recorded 64 transport worker strikes since 2012. About 56 percent of the collective actions have been over wages, and an additional 11 percent requesting pay increases. 
Chart: Number of strikes in haulage industry in China (2012-2022)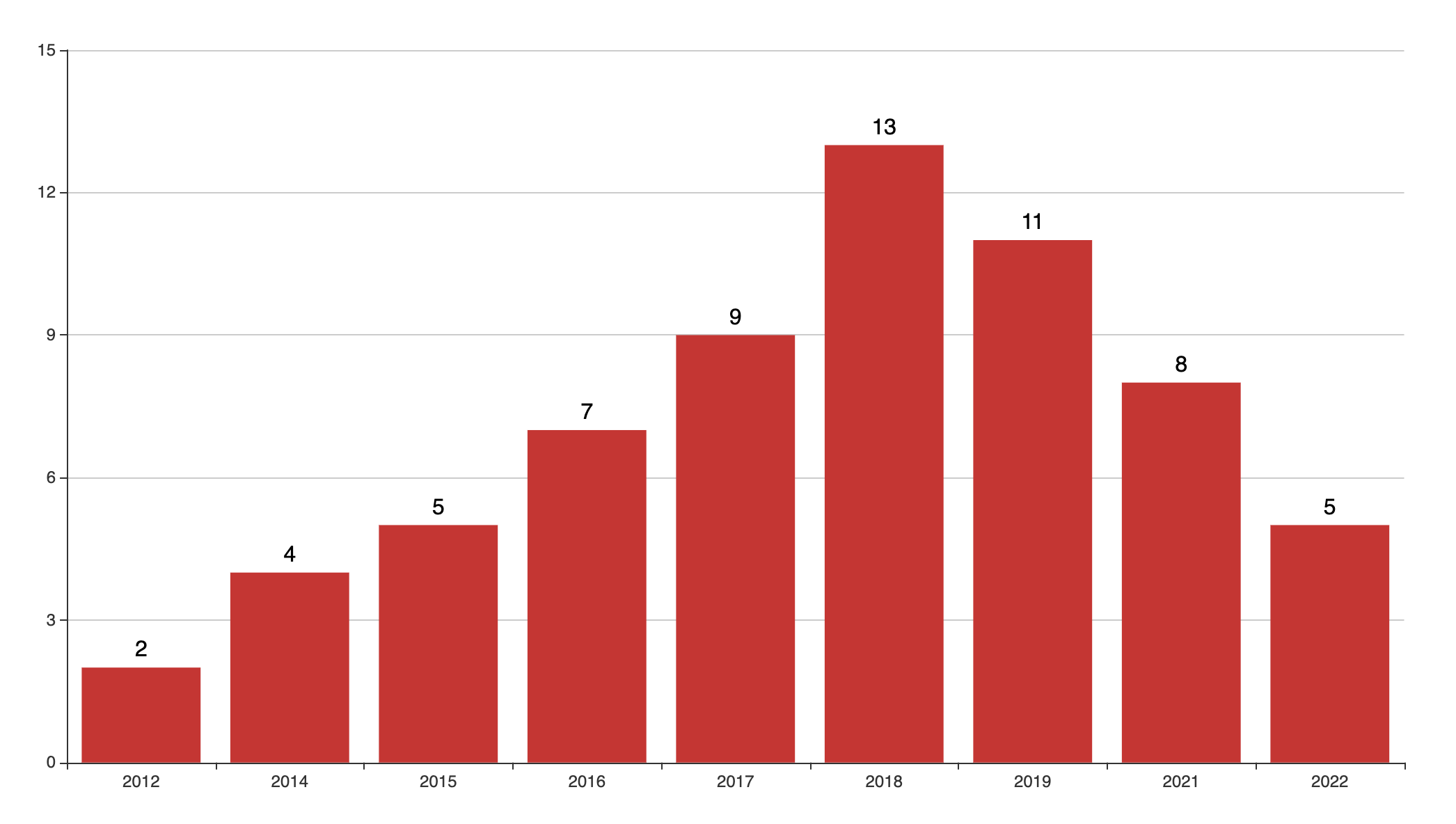 China's official trade union has vowed to focus on "eight major groups" of workers, including the category of truck drivers. This is an ideal time for the union to step up and represent workers by engaging in collective industry contract negotiations between truck drivers, platform companies, labour officials, and other stakeholders.
Further CLB Reading: