On the same day that Zhang Haichao was
awarded 615,000 yuan
in compensation for pneumoconiosis contracted while working at an abrasive materials factory in Henan, another migrant worker suffering from the same disease was being given the runaround by hospital and government authorities in Sichuan.
Xiao Huazhong
, an elderly retired miner from Qu county in Sichuan, suffers from stage three pneumoconiosis and has been seeking compensation from his former employer for several years, so far all to no avail. His former employer, Liao Xing'an, is a local coal baron and one of the most powerful men in Qu county.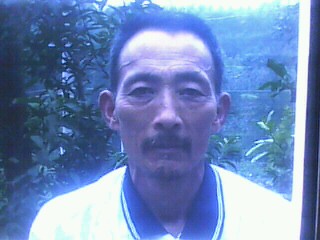 Xiao Huazhong outside his home in Longtan village
Xiao sought definitive proof of his work-related illness by getting a diagnosis from the prestigious Sichuan University West China Occupational Disease Hospital. The diagnosis clearly indicated stage three coal miner's pneumoconiosis (black lung disease) but Xiao's
local labour bureau refused to accept the diagnosis
on the spurious grounds that the examination was initiated by Xiao without the knowledge of his former employer or the local government. As such, the head of the labour bureau explained, the diagnosis was "illegal" (不合法).
Just like Zhang Haichao, Xiao was told that only a diagnosis from his local centre for disease control and prevention would be acceptable. However, when Xiao was examined at the centre in Dazhou city (in the presence of labour officials) on 16 September, he was told that although his lungs were weak the diagnosis was not clear. He was told to return the following month for a further examination.
The parallels here with Zhang Haichao's case are staggering. Zhang's local centre for disease control and prevention contrived to diagnose his pneumoconiosis as tuberculosis. Likewise, it seems incredible that doctors at a government occupational disease clinic could not recognize the most serious stage of pneumoconiosis as diagnosed by doctors at a provincial-level university hospital. Zhang eventually underwent open-chest surgery to prove that he had pneumoconiosis but this clearly is not an option for Xiao who is already in his 60s and very weak.
The system in China that restricts work-related illness appraisal and diagnosis to government sanctioned centres for disease control and prevention is clearly flawed and open to widespread corruption and abuse. A major shake up of the system is needed if workers' rights are to be adequately protected.