A retired coalminer with third-stage pneumoconiosis and living in poverty in rural Sichuan is being pressured by local officials to withdraw his work-related illness lawsuit against local coal baron, Liao Xing'an, one of the most powerful men in eastern Sichuan's Qu county.
Xiao Huazhong, a 61 year-old miner from Longtan village in Qu county, brings up blood, has trouble eating and cannot walk even short distances without coughing and panting. He cannot work, has no medical insurance and has received no compensation from Liao Xing'an, a deputy to the Qu county people's congress and deputy head of the county federation of industry.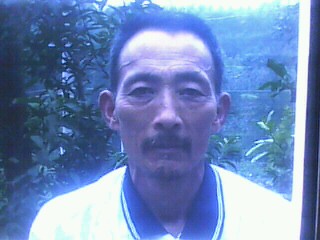 Xiao Huazhong outside his home in Longtan

With the help of China Labour Bulletin, Xiao filed a civil lawsuit against Liao for work-related illness compensation and continuing medical treatment costs. The case was heard in the Qu County People's Court on 11 September 2008. Xiao lost the case in the first instance but filed an appeal with the Dazhou Municipal Intermediate People's Court, which was heard on the afternoon of 24 December 2008.

However, five days before the appeal hearing, on 19 December, Xiao was ordered by the Longtan village government to attend a "mediation meeting" chaired by the county court and attended by the mine management bureau head, deputy head of the village government, and deputy head of the county labour bureau, Chen Yue. The defendant, Liao Xing'an, did not attend.

Xiao's family and supporters believe the meeting was a trap set by the local authorities to make Xiao withdraw his lawsuit. During the meeting, deputy village head Li allegedly said: "Don't sue; you are poor and sick, the government issues annual hardship allowances. As last year, it will provide 300-400 yuan to tide you over the New Year Festival. And next year you will get a basic subsistence allowance. But if you still want to sue, we will charge you with making malicious accusations and lock you up!"

Chen Yue reportedly added: "Your lawsuit is bound to fail because you don't have an arbitration document from the county labour bureau. If you hadn't gone to Beijing to petition, Liao Xing'an would have given you a few thousand. You screwed up!" (In October 2007, Xiao's son, together with another miner with a grievance against Liao, went to the capital to petition the authorities but were detained in Tiananmen Square and escorted back to Sichuan by Qu county police). 

Xiao ignored the threats from the local government and went ahead with the appeal. But on the morning of the trial, deputy labour bureau chief Chen Yue personally delivered an official document from the labour bureau to the presiding judge Hu Guangjun. Qu County Labour and Social Security Bureau Document (2008) No. 106, issued on 19 December, claims that Xiao did not have an "employment relationship" with the Workers and Peasants Mine owned by Liao Xing'an at which he had worked from 1999 to 2002. The document claims Xiao left the mine in July 2001 to work at the nearby Hantianba mine, the owner of which could not be found. Xiao has consistently denied ever working at the Hantianba coalmine.

A year earlier the same bureau clearly acknowledged Xiao's labour relationship with Liao Xing'an in a document entitled Concerning Reply to, and Opinions of Comrade Xiao Huazhong's Request for Compensation as a result of Occupational Illness, which stated: "You reported that when Shinian coalmine of Qu County began operating in 1996, you went to work there until January 1999, until Liao Xing'an completed transfer of the coalmine to Yang Anquan. After Liao transferred the mine to Yang, you worked under the latter for one day, before you were employed yet again by Liao as technical safety assistant at the Workers and Peasants coalmine of Qu County until June 2001.Your account holds true..."

It seems clear that the labour bureau is trying to protect Liao Xing'an by distorting the facts of case and using the weight of official documents to influence the court. As CLB has demonstrated in its research report Bone and Blood: The Price of Coal in China, mine operators and local government officials across China have created an almost impenetrable network of collusion that allows mine bosses to operate outside the law, and prevents the central government's mine safety policies from being enforced.

On 5 January 2009, Xiao Huazhong telephoned Judge Hu to discuss the case and was advised by the judge to drop the case as soon as possible.

For more information about the case, see the translated summary of CLB director Han Dongfang's interview with Xiao Huazhong, Sichuan Miner left alone to Die in Poverty.