In this edition: Lunar New Year, spring migration, and migrant worker wage arrears; "PCR test economy" crumbles but manufacturing sector as a whole may see some recovery; university graduates adjust employment expectations
High incidence of migrant worker wage arrears before Lunar New Year's spring migration
THE STORY: The problem of wage arrears is particularly acute this year, with workers in many industries not being paid their wages, including construction, manufacturing and medical workers. Notably, according to CLB's Strike Map, sanitation workers staged six protests or strikes in early January across the country, in Henan, Fujian, and Hebei provinces, and in Tianjin. 
CONTEXT: Every year, migrant workers are particularly affected by the wage arrears problem as their incomes are some of the lowest of China's workers. They travel back home typically only once per year at the Lunar New Year, but since 2020, migrant workers were told to "celebrate the new year in place" as the result of China's pandemic prevention measures. This makes the 2023 holiday that much more urgent for collecting wages to finally take home after the policy was lifted late last year, as CLB wrote in January 2023.
WHY IT MATTERS: This year, local governments are in financial difficulty and may be hesitant to intervene and support workers seeking wages against enterprises in their regions. According to Bloomberg, provincial governments' debt ratios rose from 83 percent in 2019 to 118 percent in September 2022, largely as a result of China's property crisis. A labour lawyer in Chongqing commented to the Financial Times: "Local governments won't be able to support themselves until business owners are able to support themselves." Local governments, which rely on corporate taxation as a source of income, are therefore inclined to protect capital even when workers' rights are blatantly violated.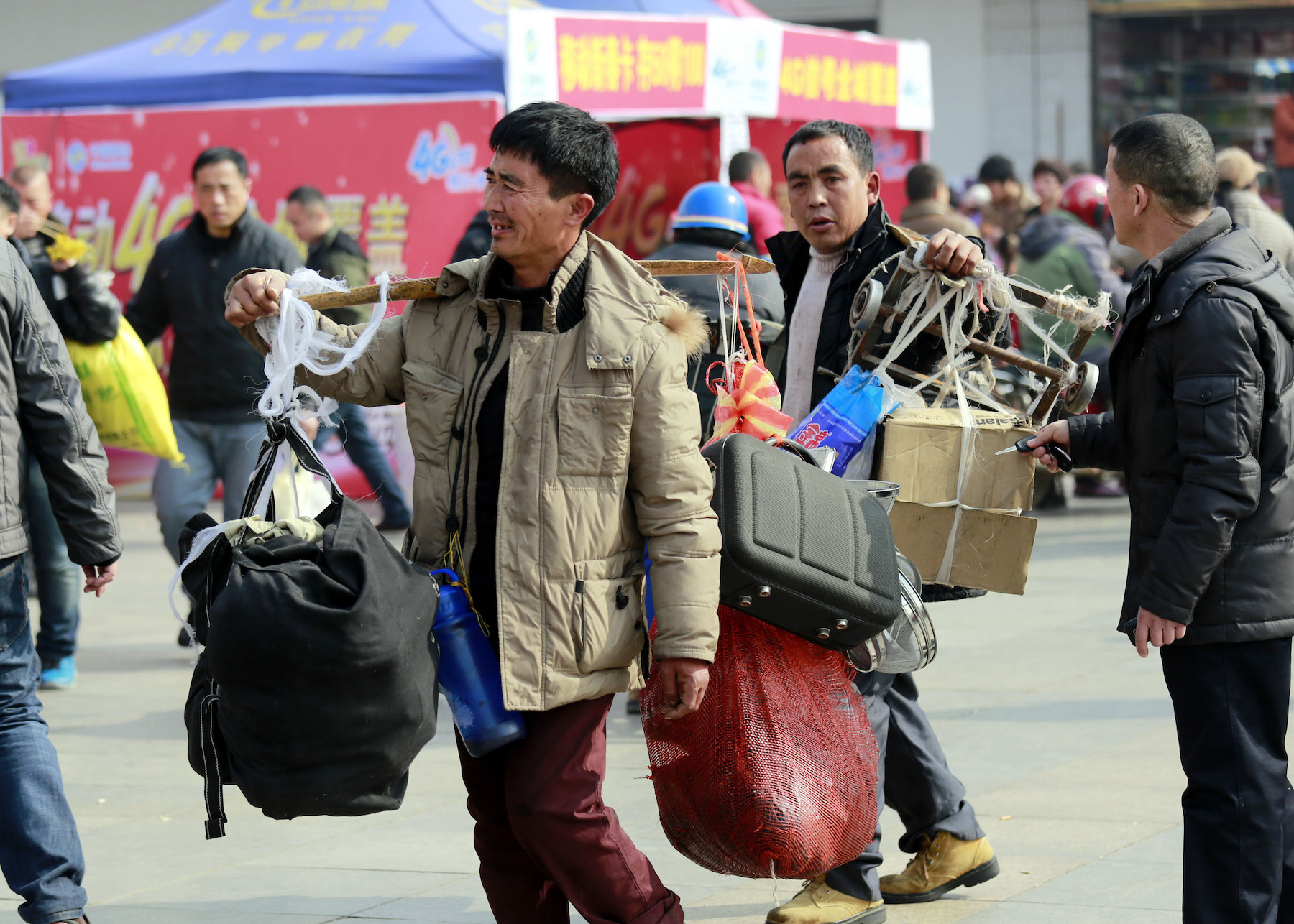 Photograph: humphery / Shutterstock.com
China's "PCR test economy" collapses; manufacturing industry recovery will be slow
THE STORY: The manufacturing sector has seen a bifurcated effect of the elimination of the Zero Covid policy. China's "PCR test economy" was quite large, with many people finding work as pandemic prevention workers and manufacturing pandemic supplies. Now, this whole industry has collapsed, leading to unemployment and wage arrears in many parts of the country. For example, Guangzhou's KingMed's growth in revenue gives a sense of the scale: their net profits rose 275 percent in 2020, but the company and others like it may have taken on bad debt and are unable to make payments. At the same time, manufacturing in other sectors has rebounded slightly now that lockdowns and restrictions on movement are no longer in place. According to data released by the National Bureau of Statistics, China's Manufacturing Purchasing Managers Index (PMI) in January 2023 was about 50 percent, up from 47 percent the previous month. 
CONTEXT: Workers at Covid supply manufacturers in China staged large-scale protests in late December and early January. These protests were over mass layoffs of temporary contract factory workers, but also over wages owed and discrepancies between wages promised at recruitment and actually paid out. CLB analysed the incident in Chongqing, in which half the 20,000 workforce of Zybio was laid off, and two similar incidents in Hangzhou. For other manufacturing industries, such as the electronics and garment sectors, widespread Covid-19 infections in China created a labour shortage even as customer orders had dropped. Local governments have instituted policies and incentives to stabilise work and promote production, but it may not be enough. For example, CLB covered one garment factory shutdown in Dongguan in early January. 
WHY IT MATTERS: In some regions, the anticipated post-Zero Covid job wave has not arrived. According to data from the Ministry of Human Resources and Social Security in Dongguan, Guangdong province, the employment demand is still low after the Lunar New Year holiday. One problem is that consumer demand is down for electronics, textiles, and garments, so orders have not rebounded. The pandemic may have a longer-term effect on consumers' habits and therefore on employment opportunities in the manufacturing industry in China. 
Recent graduates focus on stability over earning power
THE STORY: Recent university graduates indicate preferences for stability in their job hunt, with state-owned enterprises and government jobs as the most sought-after choices. Students are also increasingly taking up employment outside their studied major, with 13 percent of students doing so, 6 percent higher than last year. In addition, students are more likely to return to their hometowns or second-tier cities to work, preferring stability over competing or waiting it out for a higher salary and potential future career opportunities in first-tier cities or places further from home. 
CONTEXT: After the conclusion of the 2022 autumn recruitment season, data shows that recent graduates have largely taken up employment through university-sponsored job placements (签三方就业) (53 percent of graduates), some have flexible employment (10 percent), and others are continuing their studies (7 percent). The rates of those taking the postgraduate entrance examination and admission into higher education have both increased.
WHY IT MATTERS: Unemployment, especially for young people, is high, and the pandemic and its economic conditions have affected the trajectory of many young people. The available jobs - such as in manufacturing and the gig economy - do not meet university graduates' expectations, creating a mismatch in labour supply and demand. However, a recent report indicates that recruitment for production and sales positions is beginning to increase. 
Further CLB Reading: 
CLB's December 2022 labour news roundup is available here.