New consumer habits have changed the landscape for traditional retailers around the world. China has long been a leader in cashless transactions and online shopping, with group buying, livestream sales, and other retail trends gaining prominence over the last decade. Alibaba, JD.com, and Pinduoduo (which owns Temu) are just some of the major e-commerce players in China driving these trends.
Traditional retailers have struggled in this e-commerce environment. For example, workers at Carrefour and BBK (Better Life Commercial) supermarkets have protested recently after a spate of store closures this year.
Suning is a domestic electronics and appliance retailer founded in 1990, whose model is based on brick and mortar stores. In 2019, Suning purchased an 80 percent share in French supermarket Carrefour's China operations, hoping to turn the business around. But not only has Carrefour China struggled since then, Suning is also in the red.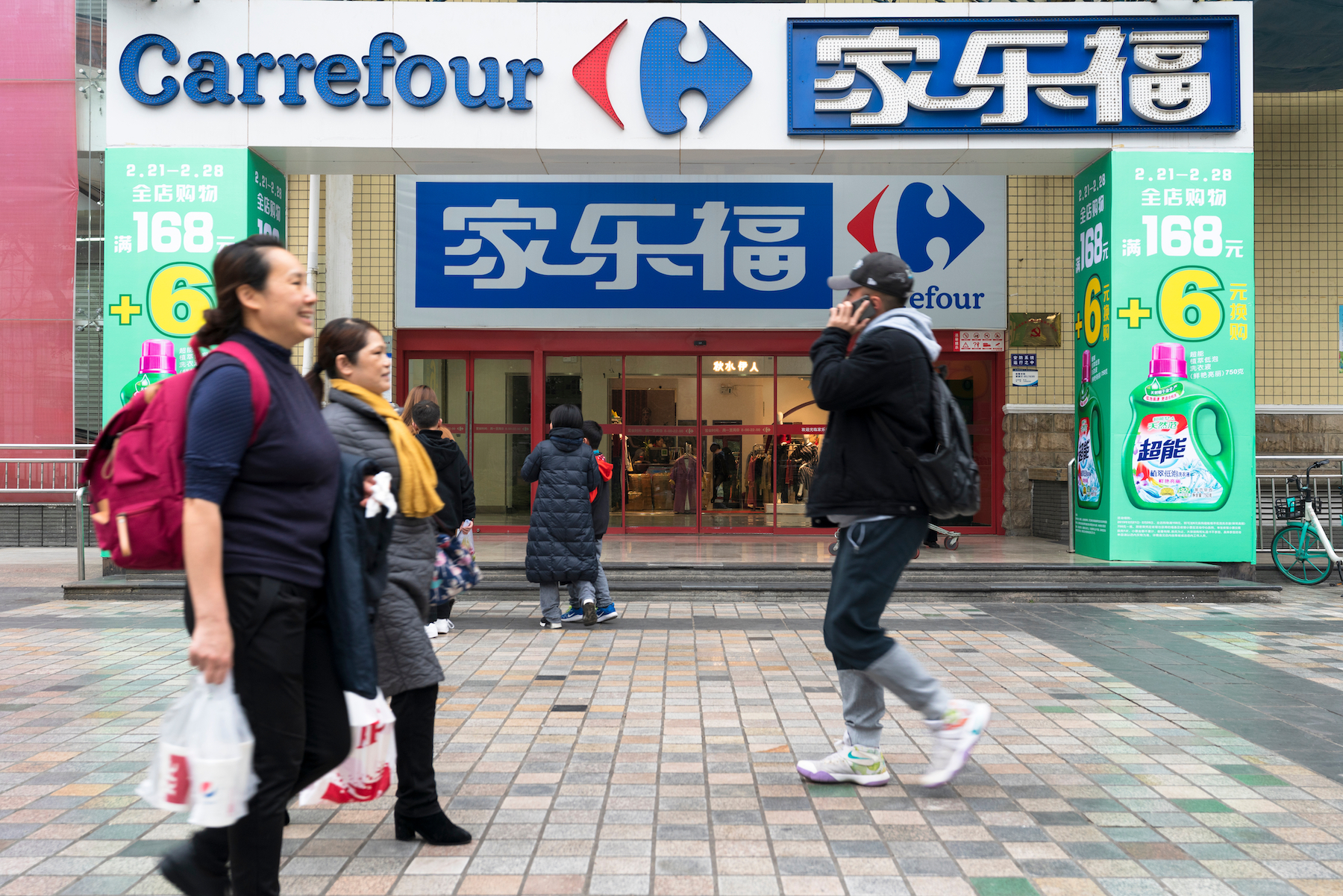 Photograph: B.Zhou / Shutterstock.com
Carrefour began its China operations in 1995. By 2017, Carrefour operated 295 stores in China, and that number dropped to 205 in 2021. Suning's 2023 semi-annual report shows that 106 Carrefour stores closed in the past six months, leaving only 41 stores operating in China. 
As stores close down, Carrefour China has had difficulty maintaining its agreements with customers, suppliers, and workers. For example, customers have reported being unable to use their stored value loyalty cards, opening hours have been shortened, and goods are frequently out of stock - leaving empty shelves - attributed to stores' arrears with suppliers. And Carrefour workers have protested at stores and offices across the country, demanding owed wages, benefits, and severance pay. 
Workers protested at ten Carrefour China stores in past nine months
Since December 2022, there have been at least ten worker protests at Carrefour stores in China related to store closures and unpaid wages.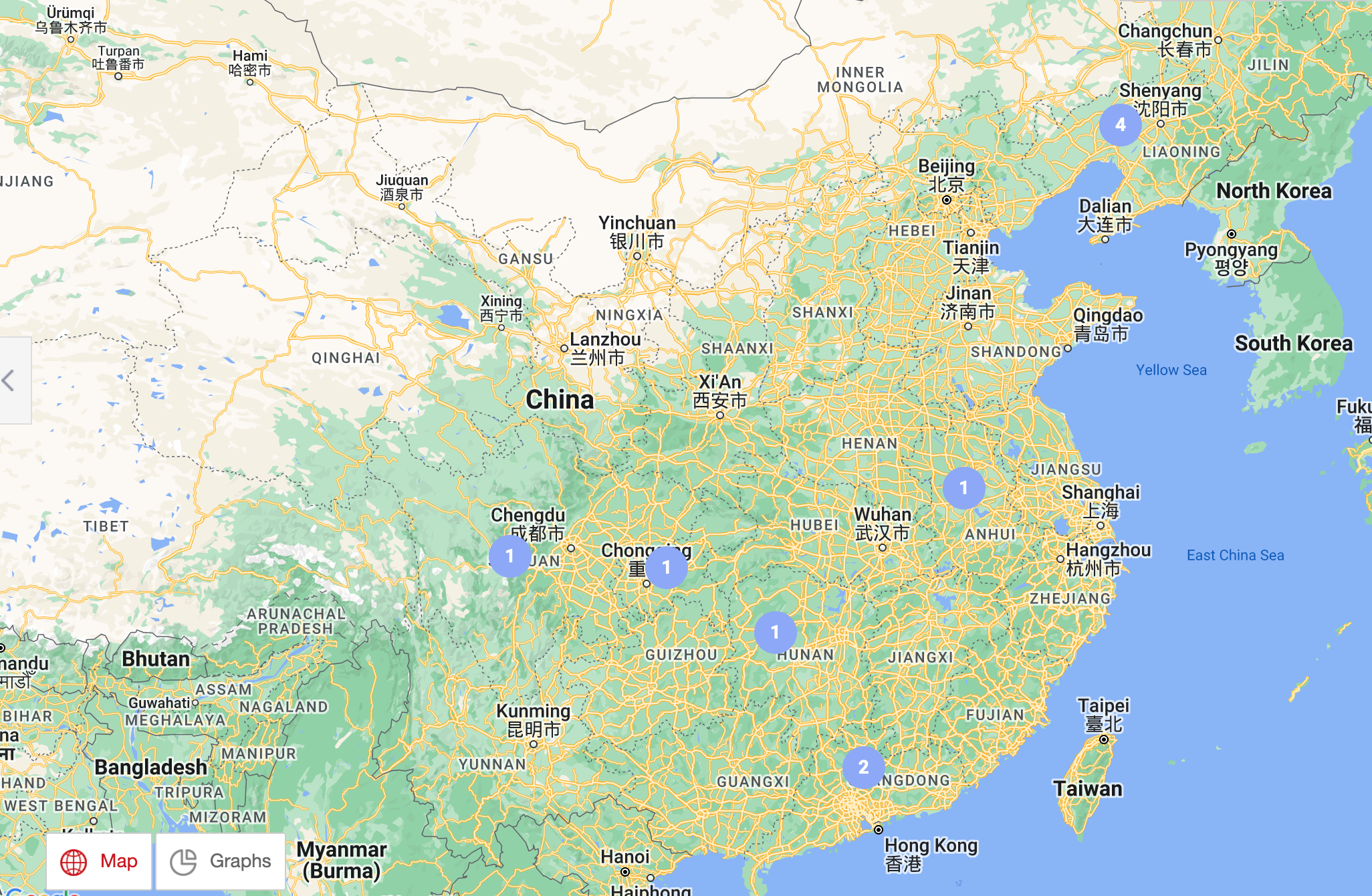 CLB's Strike Map shows ten worker protests at Carrefour stores in China since December 2022
The latest collective action by workers took place in Chongqing on 25 August. Workers posted videos online showing more than a dozen mostly female workers protesting at the local Suning-Carrefour office, holding up white computer paper printed with one word each, writing out, "Suning Carrefour, give back our hard-earned money!"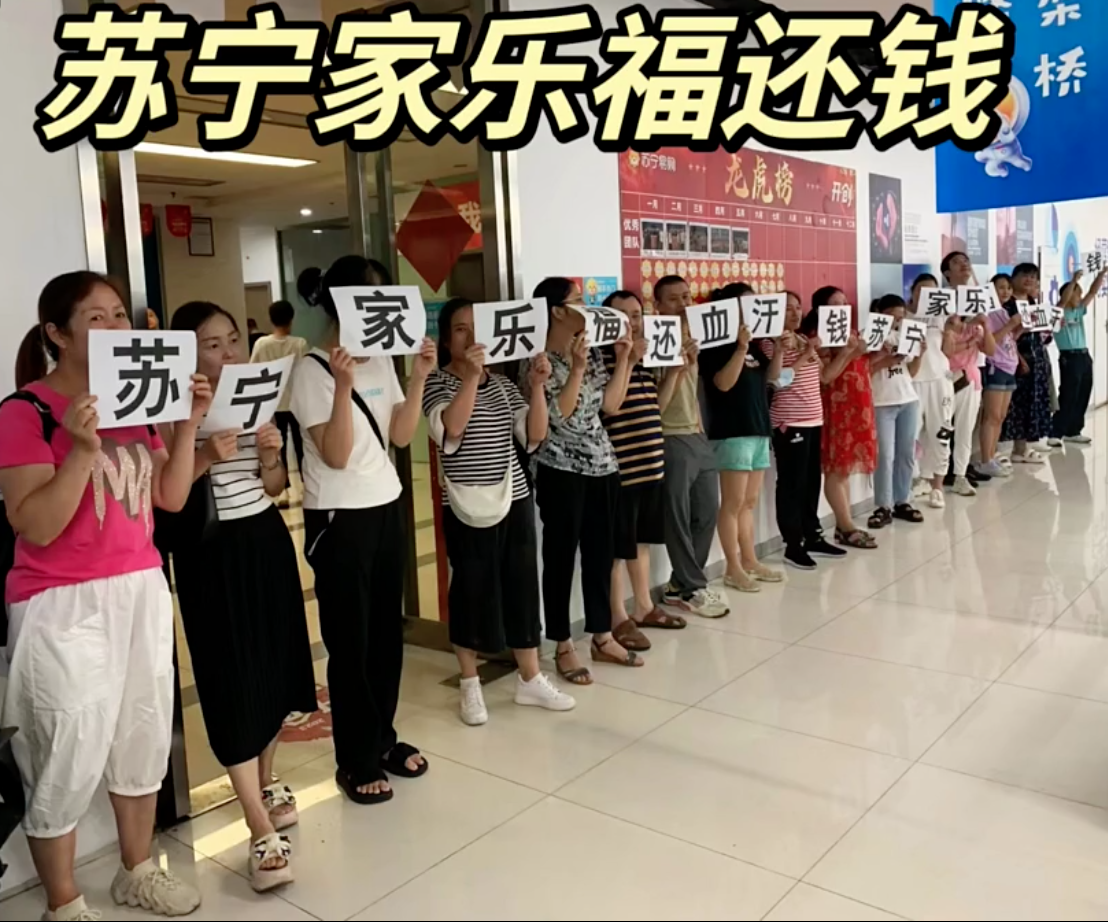 Workers in Chongqing protest at the local Suning-Carrefour office with the message: "Suning Carrefour, give back our hard-earned money!" Source: CLB Strike Map
As recorded in CLB's Strike Map, a Chongqing worker wrote online: 
It's so depressing. I've been working here for decades and still can't get back what belongs to me.
On 9 December 2022, Carrefour employees in Chengdu, Sichuan province, wrote online to say that after Suning and Carrefour China negotiated a termination agreement with workers, they never received the compensation. The signed agreement stipulated that workers would be paid in four instalments over a period of four months, but workers said that the company unilaterally changed the agreements. 
On the same day in Hefei, Anhui province, Carrefour workers held banners in front of the store to protest the company's "unreasonable compensation plan and unpaid wages of resigned workers."
On 6 April, the Carrefour store in Shenyang, Liaoning province, closed down. A notice on the door stated that the company had breached the leasing contract, thereby terminating the lease. 
Shenyang workers complained that the company had not made payments to workers' social security or housing provident funds. As for severance pay, the economic compensation for employment termination was to be paid in twelve monthly instalments rather than in a lump sum. 
On 1 May, employees at a Carrefour store in Guangzhou, Guangdong province, marched inside the store to protest against what they called illegal termination under their employment contracts.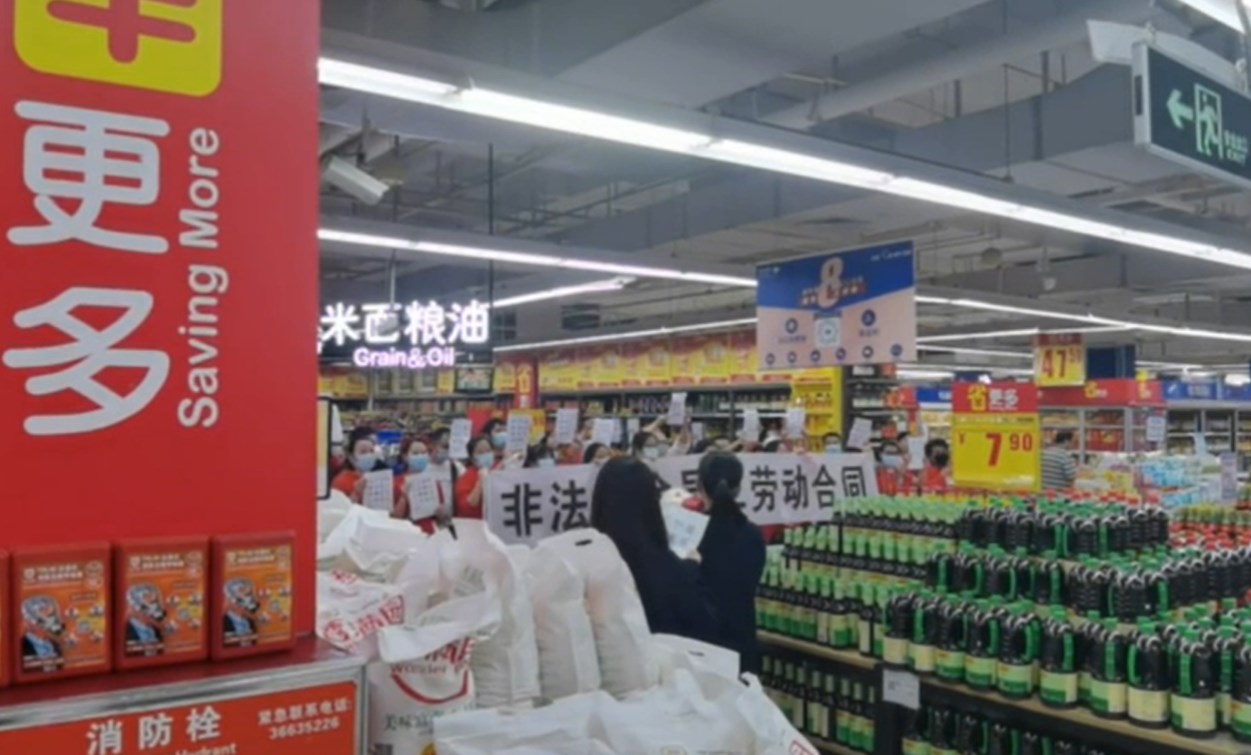 Workers in Guangdong protest in the middle of the Carrefour store against violating workers' employment contracts. Source: CLB Strike Map
On 6 July, more than one hundred Carrefour employees gathered in Shenyang, Liaoning province. Online videos show workers negotiating with government departments, and it appears that the company itself was absent from these talks. 
One worker wrote online, "Was this the plan all along, to run away?" 
The same worker revealed that Shenyang workers - like those protesting in Shenyang in April and in Chengdu in December - were offered payment plans on owed remuneration: 
How is it reasonable to pay the compensation in twelve instalments? What about our insurance and housing provident fund money? Deductions and non-payment are actually legal violations. I was employed for the whole month of February, and I was in full attendance for the whole month, clocked in and out, and never arrived late or left early. So why haven't they paid insurance? If the store fails, how is that the employees' responsibility? 
Based on CLB's estimated labour needs of supermarkets and hypermarkets, these store closures likely involve more than 100 workers each. The decline of Carrefour's China operations under Suning's majority ownership has therefore caused thousands of workers' rights to be affected. 
With stores defaulting on wages, social security payments, and other mandatory benefits such as housing provident fund payments, plus withholding workers' legally-entitled severance payments, this all amounts to a serious violation of China's labour laws. 
What can be done for workers in this economy? 
Suning's 2022 Social Responsibility Report states that the company "strictly abides by" China's labour laws, including the Labour Law, Labour Contract Law and Social Insurance Law, among other relevant laws and regulations. The report also guarantees Suning's compliance with international human rights conventions and labour standards. 
According to the report, as of 2022 Suning had a total of 35,583 employees and had achieved a labour contract signing rate and social security coverage rate of 100 percent.
Yet Suning has not publicly accounted for the labour rights disputes at Carrefour China stores. In Suning's 2023 semi-annual report, the company mentions details of its difficult operations, but leaves out information on labour-related costs. The text mentions a "significant year-on-year decrease in sales revenue and the large increase in one-time compensation expenses related to store closures," but does not list payments of wages in arrears, social security in arrears, or economic compensation owed for worker layoffs. 
The responsibility of Suning and Carrefour China for workers' economic rights is a topic that could be taken up on behalf of workers by China's official trade union, the All-China Federation of Trade Unions (ACFTU). The responsibility of the French company Carrefour could be clarified. Carrefour may still have a 20 percent stake in the China operations, and the stores carry the Carrefour name and goodwill. Indeed, France's 2017 Duty of Vigilance Law may be a useful tool in bringing stakeholders to the table to resolve China's workers' rights disputes at Carrefour. 
---
Further CLB reading: