Sometimes the solution to a problem seems straightforward, but without fair mechanisms to share information and seek common solutions, the problem only gets worse under an imbalance of power. 
That's what electronics factory workers in Zhongshan, Guangdong province, are finding out this week, as they go on strike for over new management policies on repeated security checks that have workers queuing for long periods while off the clock, plus a stagnant wage that has not increased with the cost of living. 
Workers were made to queue in the record-breaking rainfall that hit China's southern coast, notably causing dramatic flooding and two deaths just across the Pearl River Estuary in Hong Kong last week. As the regional rains have continued into this week, workers in Zhongshan went on strike holding umbrellas outside the factory. 
Workers queue outside in the rain, waiting to pass through security before starting their workday. The text overlay reads, "Life cannot tell you which road you should walk."
Over 1,100 workers are employed at the Zhongshan Eurotec Electronics Co. Ltd. (中山欧科电子有限公司), whose parent company is Music Tribe Manufacturing Ltd., which produces for Behringer in Germany. At the same address is registered the associated company Zhongshan Behringer Electronics Ltd. The factory was registered in 2001 and employment there has been sought-after by workers.
Zhongshan Eurotec workers went on strike starting on 11 September, listing over 20 separate demands, with the burdensome security measures being shown in workers' online videos and discussed in detail in the comments.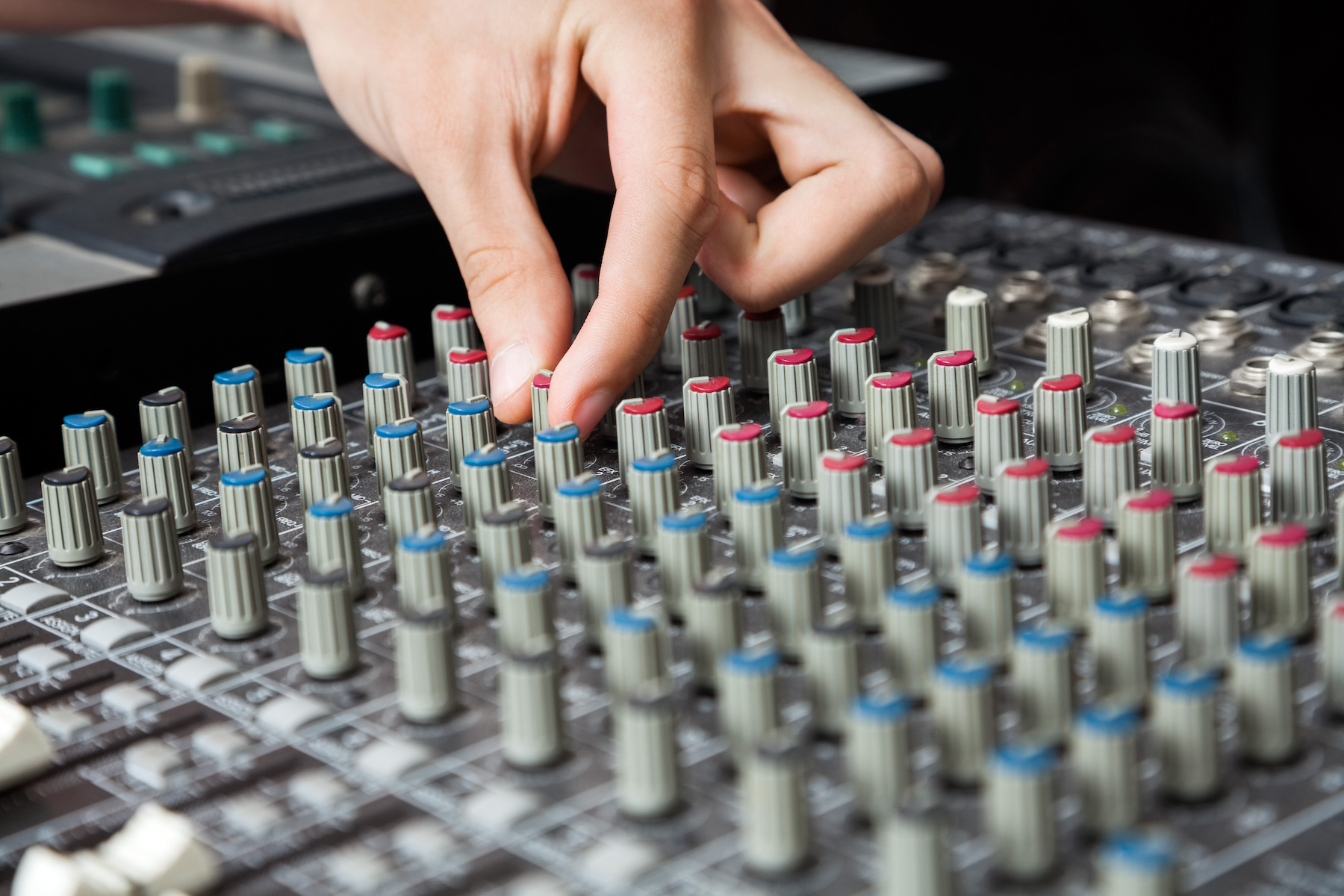 Photograph: Tyler Olson / Shutterstock.com
This wasn't the first time they have held a collective action. In 2017 they protested saying that harsh chemicals and improper ventilation after relocation into a new space led to mass illness at the factory. At that time, the company publicly responded to deny there was a health and safety risk. This week, a worker referenced the 2017 strike in hopes that today's collective action will result in pay and working conditions more in their favour: 
The unity and persistence of five years ago is what finally won our victory! Now, five years later, I hope that everyone can work together as one and make persistent efforts.
Management responded on 12 September expressing "disappointment" that workers resorted to a strike without sending representatives to negotiate with management, and the company promised to set up a communication mechanism. But workers say they have peacefully raised their demands, and in online comments they mentioned that a negotiation between workers and a manager was streamed live online on 11 September. CLB is unable to verify this.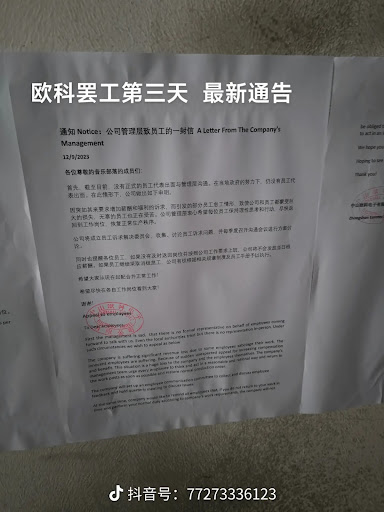 Workers posted online the bilingual management letter sent on the third day of their strike.
Management stated it was surprised by the "sudden, unexpected" wage demand that came with the calls for changed security procedures. But workers said their wage has not been increased in over five years, and temporary workers often make more than full-time workers. A Zhongshan Eurotec worker makes an average of 3,000-4,000 yuan (less than U.S. $550) per month, and some complained that year-end bonuses were not paid. 
The management letter pointed to workers "sabotaging" the company, referring to the strike. However, workers expressed that the enterprise union was not adequate to represent workers, and - even more concerning - that workers feared individual retaliation for stepping up to negotiate. Instead, they joined together to feel more safe in raising their concerns. 
As of 15 September, management had opened up more lanes for security screenings, but workers were still striking over wage demands. Management announced that striking workers would be written up, and after three marks on their employment record they would be let go from employment. A notice on 14 September states that 269 workers had been written up. 
New security protocol means workers repeatedly queue in slowly moving lines and are penalised as late to work
The reason for the sudden change in security policies is unclear. According to workers' posts online, a new manager and speculation about an alleged theft of a factory product are likely what led to the security crackdown at the Zhongshan Eurotec factory. 
Workers are not paid for the time waiting to enter the factory, and they are also subject to waiting for another check after they clock out for the day. One worker said they were screened as many as seven times per day. His online video is titled, "Do you like this kind of working environment?" He wrote: 
On a normal day, we were searched four times, and now we pass through security checks seven times per day… And note, this is just inside the factory, while we need to be checked again exiting the factory.
Employers in China have the right to screen workers and others entering and exiting their private premises. Such screenings are common, especially in electronics and jewellery factories. As for whether waiting time for the screenings should be paid as working time, the legal framework is less clear, but the remedy is as simple as having faster procedures that do not unfairly penalise workers.
For example, a worker posted a video from September 2022 showing the previous security measures at Zhongshan Eurotec. Workers orderly filed through metal detectors on their way into the building, without the process obstructing their normal entrance into the facility.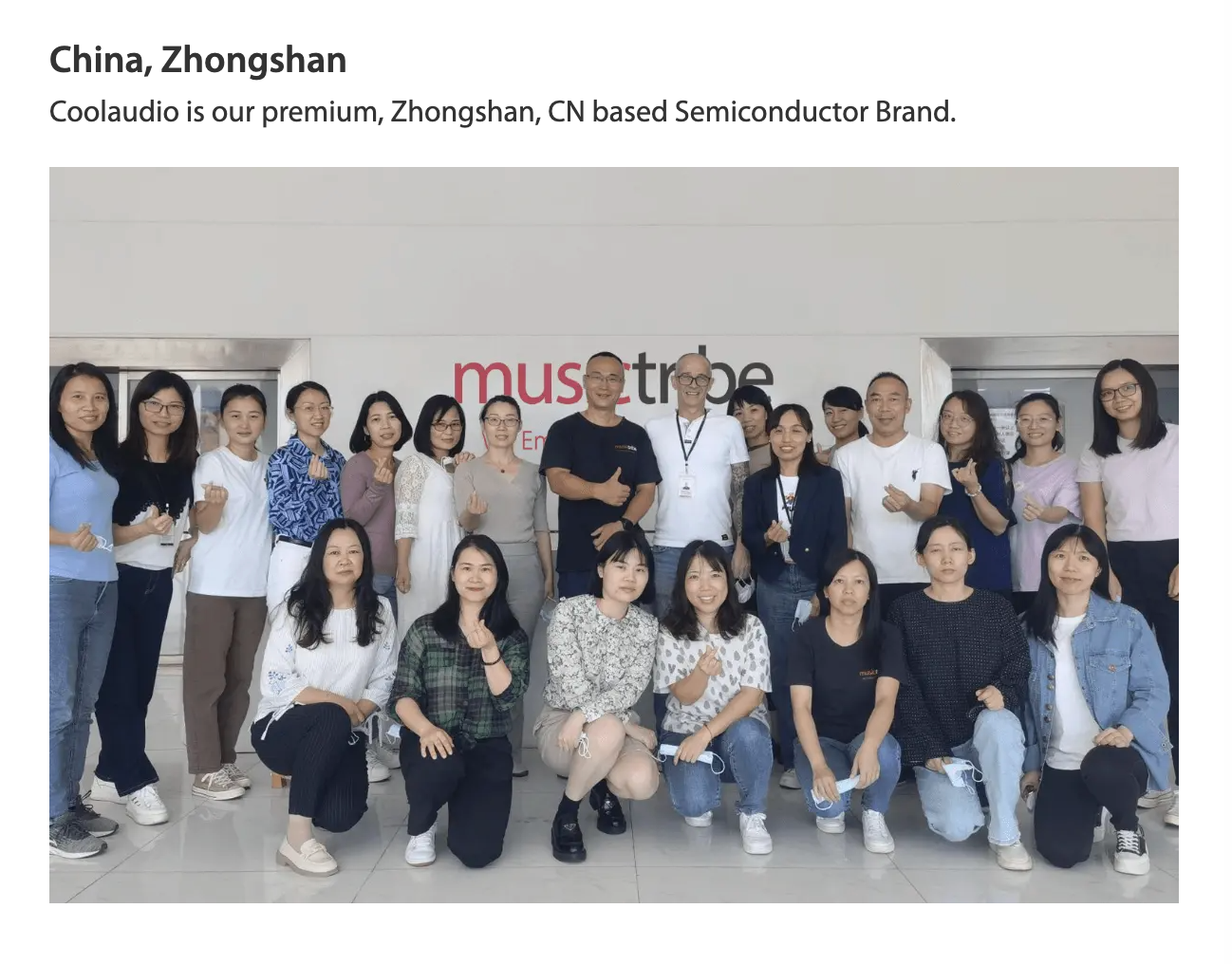 A screenshot from the Music Tribe website shows Zhongshan workers.
In contrast, workers' videos this week show the new security measures. Workers in bright blue Music Tribe factory shirts queue in long, tightly packed lines, filing through only two metal detectors. They leave their personal items on a table to be further scanned with security wands, and they lightly jostle for a position as they near the scanners. In some videos, as soon as workers pass through the metal detectors, they run to get to their workstations. 
The lines snake outside, where workers wait under umbrellas in the rain. One worker wrote online, "It's already 8:30 and I've waited ten minutes without getting into the factory. What would the boss think if he knew?" 
In a popular video of the strike, one commenter said: 
I really hate those factories that ask workers to queue a lot: a queue for going into the workshop, a queue when getting off work. A queue for meals, a queue for washing dishes. With around one hour of meal time, half an hour is wasted queueing.
After the third day of the strike, management sent a notice that workers are required to attend the four regular screenings during work hours: at 9:00, 11:00, 14:00 and 16:00 each day, in addition to screenings when entering and exiting the premises. Workers who do not appear for the screenings will be considered absent. 
This notice was accompanied by loudspeaker warnings to workers not to participate in the strike, threats to terminate workers' employment for striking, and other pressure in the workplace. Still, some workers continued striking in the factory cafeteria.
Without adequate mechanisms for worker participation in management decisions, what options do workers have? 
The Zhongshan Eurotec factory is known by workers to pay wages and legally-mandated benefits on time. In fact, some critics of the workers' strike say that the workers should be happy to have a decent job in this economy, and that if workers disrupt the factory's production, it could lead to even worse outcomes for workers in the future. 
At the same time, it would have been simple for management to consult workers on the changing security policies, have a dialogue about the reasonableness and necessity of the screenings, and to ensure that adequate screening channels are available to make the process move more quickly. Instead, workers said they were made to feel inhuman by the process: 
Online comment: What is your demand? 
Worker response: To be treated like a human being.
On 13 September, management stated in a notice that more factory gates would be opened to facilitate screenings, and some minor benefits have been announced. They also would "consider at the right time" salary increases, provided the strike ends. 
However, the fact that management has doubled down on the mandatory screenings and said that workers will lose their employment without compensation if they do not stop the strike only contributes to the workers' feelings of injustice and lack of dignity in the workplace.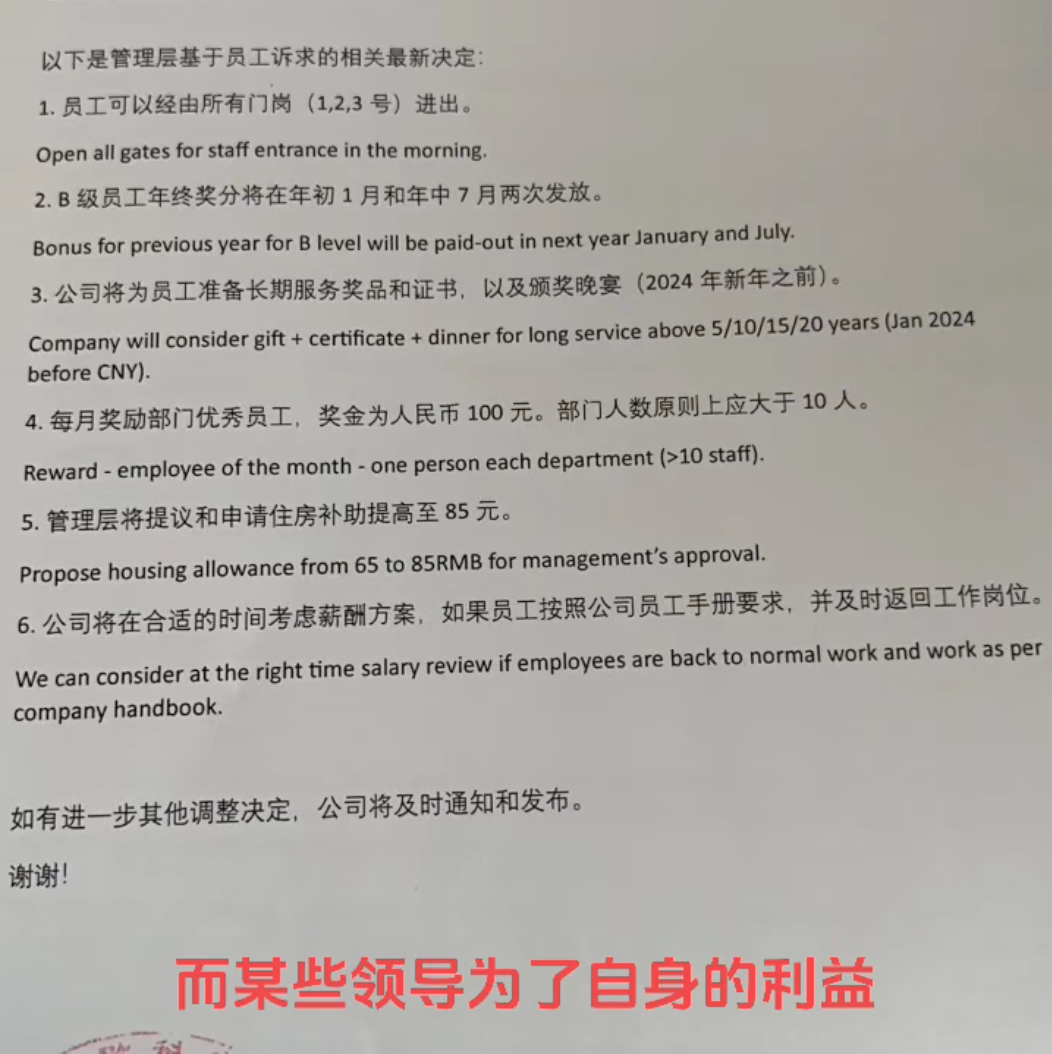 A worker posted a video with a series of responses from management, including an image of some concessions made by Zhongshan Eurotec during the strike. The worker's text overlay says, "From some of these leaders, for their own benefit."
Workers and employers alike can benefit from mechanisms for worker representation, and China's official trade union can step in when workers in their jurisdictions go on strike. Initially in the strike, workers were sceptical about the union and unsure of whether an enterprise union exists, writing online that "union leaders are just like managers, and there may not even be a union there." Another said: 
Since there is no union [representing us], we organize by ourselves collectively.
However, on 14 September, a worker posted a video showing officials from the local union coming to visit the factory. Some suggested that workers should send representatives to formally express demands, and the worker confirmed in a comment that they have organized to do so. 
This developing situation shows the complexity of worker organizing in China and the need for better mechanisms for workers to voice their concerns before problems escalate.
---
Further CLB reading: