In 2018, China's construction industry accounted for by far the largest proportion (45 percent) of all collective worker protests recorded on China Labour Bulletin's Strike Map. Nearly all of these disputes were related to the non-payment of wages.
Construction workers were also involved in the highest number of accidents (26 percent) recorded on CLB's Work Accident Map in 2018. This finding was backed up by China's Ministry of Emergency Management (MEM) which noted last year that the construction sector had been the most dangerous industry in China for the last nine years, and that accident and death rates had actually gone up in the first half of 2018. The majority of accidents, the MEM said, were related to some kind of mechanical or structural failure and could have been avoided if proper safety procedures had been in place.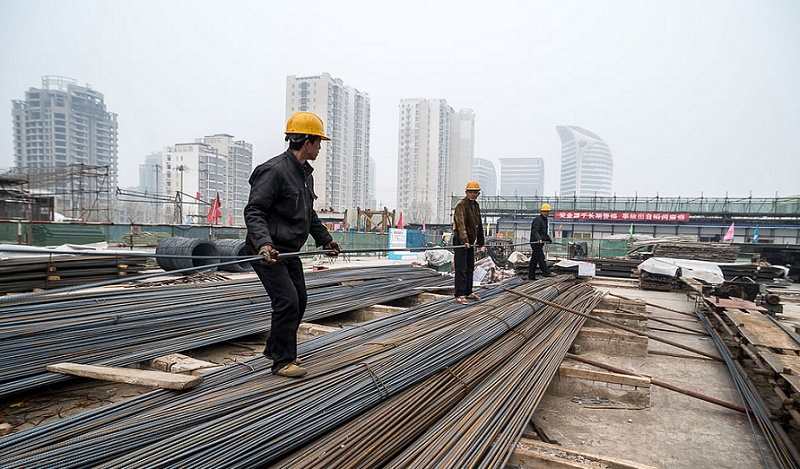 Construction workers in Beijing. March 2013 by Joe Tymczyszyn. Photo available at Flickr.com under a creative commons licence.
For decades now, China's construction workers have been systematically denied their basic labour rights (to be paid in full and on time, to sign a labour contract and receive social insurance), and, as the MEM noted, health and safety issues have been routinely compromised by the industry's chaotic sub-contracting system and the lack of proper training and safety equipment on construction sites.
Many observers have blamed this dire situation on the lack of law enforcement, exploitative bosses and uncaring government officials, or even the workers themselves for not knowing their rights, but so far no one has come up with a viable solution or an effective way out.
A new report on the construction industry, published by CLB today (in Chinese) offers a new perspective on these deeply ingrained problems and suggests that the best way forward is through the creation of a sectoral trade union that can guarantee decent pay and working conditions through collective bargaining with representatives of China's construction industry, which is nowadays dominated by private capital.
The report argues that union officials should get out of their offices, go to the construction sites in their district, and recruit every single worker so that they can effectively represent every one of the different trades involved in the industry including plumbers, electricians, plasterers, scaffolders, and general labourers. The union will then have a mandate to negotiate an annual collective agreement with the employers' association that will specify wages and benefits for all professions, levels of experience and expertise, etc.
This collective agreement will ensure that all workers are fully insured before setting foot on the construction site, and allow workers to be directly involved in the supervision and maintenance of health and safety issues at their workplace. The agreement will clearly state the measures to be taken in the event of an accident or death, thereby eliminating the need for workers to spend huge amounts of time and money on claiming compensation.
Communist Party General Secretary, Xi Jinping, has repeatedly demanded that the All-China Federation of Trade Unions take bolder steps to defend the legitimate rights of workers, and the report suggests that the best place to begin this process is in the industry with the most pressing needs.
The report, 建筑行业工会归位: 我国建筑行业40年之"法外运行"及其出路 (Resetting the Construction Workers' Union), comprises an industry overview, an examination of the subcontracting system and labour relations, and an analysis of the various illegal practices in the industry and how they impact ordinary workers. It concludes with a call to move the industry away from rampant and routine violations of labour law by focusing on trade union reform and returning the union to its legitimate owners - China's construction workers.
As the Lunar New Year Holiday approaches and construction workers once again clamour for their hard-earned wages, it is more important than ever that radical new steps be taken to end the cycle of abuse in China's construction industry and build a strong construction workers' union.
建筑行业工会归位: 我国建筑行业40年之"法外运行"及其出路 is available as a downloadable PDF. For this and other research reports in Chinese and English, please visit the research report section on the website.
中国工人集体行动地图显示,2018年建筑工人的集体行动在所有工人抗议活动中占最大比例(45%),而几乎所有的建筑工人抗争都与追讨欠薪相关。
同时,根据中国安全事故地图统计,2018年建筑工人也是各行业工人中,遭遇安全事故的最大群体(占比26%)。这一统计结果与应急管理部通报的数据相符。该部门指出,自2009年起建筑业事故起数开始超过煤矿,已连续9年为工矿商贸事故最多行业,主要事故类型为高处坠落和坍塌。如果采取适当的安全程序,这些事故本可以避免。
改革开放四十年来,中国的建筑工人被系统地剥夺了基本劳工权利(按时足额获得劳动报酬、签订劳动合同、参加社会保险)。且正如应急管理部指出的那样,在建筑业混乱的分包转包系统中,在缺乏适当培训和安全设备的条件下,建筑工人的职业健康和安全往往难以保障。
许多观察者将这一情况归咎于执法不到位、剥削的老板和漠不关心的政府官员,甚至归咎于工人自身不了解自己的权利,然而到目前为止,还没有人提出一个可行的解决办法或找到有效出路。
今日,中国劳工通讯发布了一份关于建筑行业的中文报告——《建筑行业工会归位: 我国建筑行业40年之"法外运行"及其出路》,将为解决建筑行业根深蒂固的问题提供新的视角。报告认为,最好的办法是从工会开始,让建筑行业工人工会回归到建筑工人的利益代表者,回归到建筑工人的组织者,回归到代表建筑工人与建筑企业协会集体谈判的谈判者。
报告提议,工会应走出办公大楼,走进建筑工地现场,把建筑工人组织到工会中来,从而使建筑行业工会在一线建筑工人当中具有充分的代表性。应该推动建筑行业工人工会与建筑企业协会,通过集体谈判,达成建筑行业年度集体协议,实现按年调整业内不同工种的工资标准,规范工资支付方法和日期,确定工伤保险、养老保险、失业保险、医疗保险等的缴费方法以及缴费额度。
以建筑行业年度集体协议所约定的方式,每名建筑工人在进入工地前,便缴付了各种保险,从而最大程度避免雇主故意或无意违法;建筑企业可以以符合建筑行业特点的支付周期,向不同工期的建筑工人支付工资,从而最大程度避免发生欠薪;一线建筑工地上的建筑工人们,将能够在工作现场直接参与安全生产和职业健康的监督和维护。
2018年10月29日,习近平对中华全国总工会新一届领导班子集体讲话,要求"哪里的职工合法权益受到侵害,哪里的工会就要站出来说话"。报告认为,中华全国总工会应该从建筑行业入手,从建筑行业工人工会做起,积极探索从被动维权向主动协调和谈判转型的路径。
本报告首先描述了建筑行业的基本状况,其后分析了建筑行业的分包制度,以及建筑工人的权利保障状况,并以案例说明了建筑行业"法外运行"对普通工人的影响。 最后,报告呼吁,通过建筑行业工人工会的归位,逐渐解决建筑工人被拖欠工资、没有劳动合同、没有社会保险、安全生产和职业健康保障不足等问题。
随着春节来临,又到了建筑工人讨薪的季节。报告建议,应以建筑行业工会归位为起点,走出解决建筑行业沉疴顽疾的新出路。
《建筑行业工会归位:我国建筑行业40年之"法外运行"及其出路》报告在此下载。更多中国劳工通讯发布的中英文研究报告,请访问本网站的研究报告部分。