​​Eli Friedman's The Urbanization of People (Columbia University Press, 2022) provides unparalleled insight into Beijing's migrant worker population through the study of a fundamental site in their and their families' lives: the migrant elementary school. Friedman's study takes a whole-person and intergenerational approach to the question of how China's national policies and access to its capital city's public services are designed to discriminate and exclude this dynamic population that the city simultaneously relies upon for its informal labour. 
Friedman's research involves interviews with almost 250 people, including migrant worker parents, migrant school teachers, school administrators, and members of civil society. His research was conducted from 2011 to 2018 and includes some comparative study of economic and social conditions for migrant workers and at migrant schools in other major cities in China. 
The lingering question that Friedman's research raises is how the interrelated economic and social challenges of the nation – economic inequality, dropping birth rate, unappealing and inadequate job prospects for young people, inadequate social security funds – could possibly be met when the policy implementation regarding China's floating population of over 300 million migrant workers exacerbates these very issues.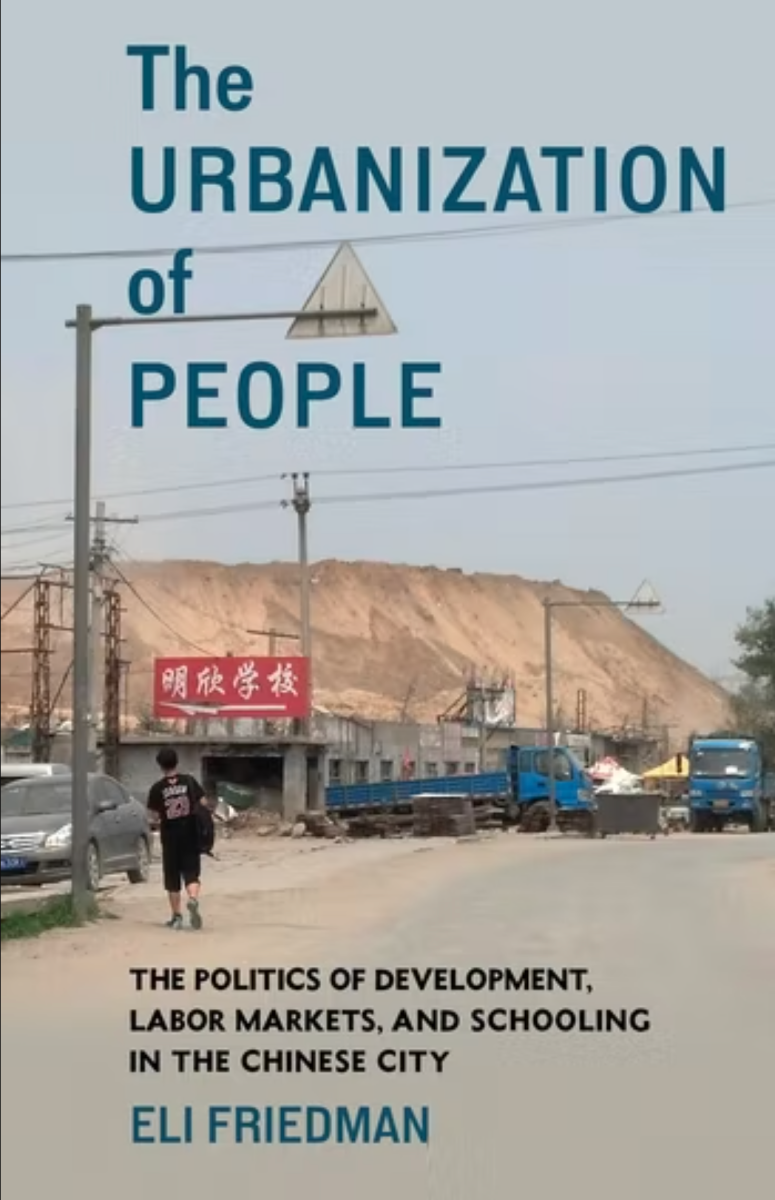 Friedman describes the city's changing policies regarding its migrant worker population as a "just-in-time" approach to labour resources. This apt use of the manufacturing metaphor hints at the effects of China's declining manufacturing industry, which has pushed many migrant workers from more stable employment and into the service sector and precarious forms of employment. Just as scrap and by-products are discarded after their use has expired in the factory, so has the city designed policies to "discard" or at least discourage migrant workers from continuing to seek a better life in the city by excluding them and their families from essential public resources. 
Schools are a site where the skills of future workers are forged, and they are a workplace for teachers and administrators. But in Friedman's study, they are also a place that can tell us a great deal about how policies about allocation of resources have an effect on labour, from housing to urban development to social security. China's Compulsory Education Law provides for nine years of schooling to all children, but this is not a reality for many. In The Urbanization of People, Friedman documents the hurdles migrant families face in obtaining access to education for their children. 
As a result of China's hukou system of household registration, in which public services are administered only in one's place of registration, citizens who travel outside their place of hukou for work are excluded from the public services in the locality where they reside. (For more on this topic, see CLB's explainer on Migrant Workers and Their Children, recently-updated in May 2022.) In effect, the state has created classes of citizens and restricted access to public services, including education, through the hukou system. 
Migrant workers - rural hukou holders residing in urban areas - face the choice of leaving their children at home, where educational resources are low, or bringing their children into the cities with them, where access to public school is not guaranteed. Friedman interviewed a teacher surnamed Xu, who worked at a migrant school in Beijing. Xu described the typical migrant parent: 
[They] rarely have regular jobs. Usually they're doing some kind of business, like selling vegetables, running a breakfast stand, selling things in the morning market, or selling other things in market stalls. There are very few with 9-5 jobs.
One avenue for a migrant family's children to attend public schools in the city is to obtain urban hukou. Some cities have established a points-based system that rewards owning a home, paying into social security funds, and other markers of stability and economic success that migrant workers have little access to in the first place. 
In Beijing, specifically, families can apply for public schools without a Beijing hukou, but they need to produce "five permits," one of which is a labour contract. As CLB has documented, even after the passage of amendments to China's Labour Contract Law, many migrant workers and those in informal employment are unable to obtain this document.
Access to education in the first place is a huge enough hurdle. But once enrolled, the problems pile up. One of Friedman's interviewees was a teacher, surnamed Zhou, at Yinghong School, a migrant school in Beijing: 
In our school, when it rains a lot outside, it also rains a lot in the classroom… Two days ago was the final exam, and the floor was covered with water. All of their exams got soaked… some even took an umbrella and used books to block the water, this is how they took their exams. Our facilities cannot compare with public schools.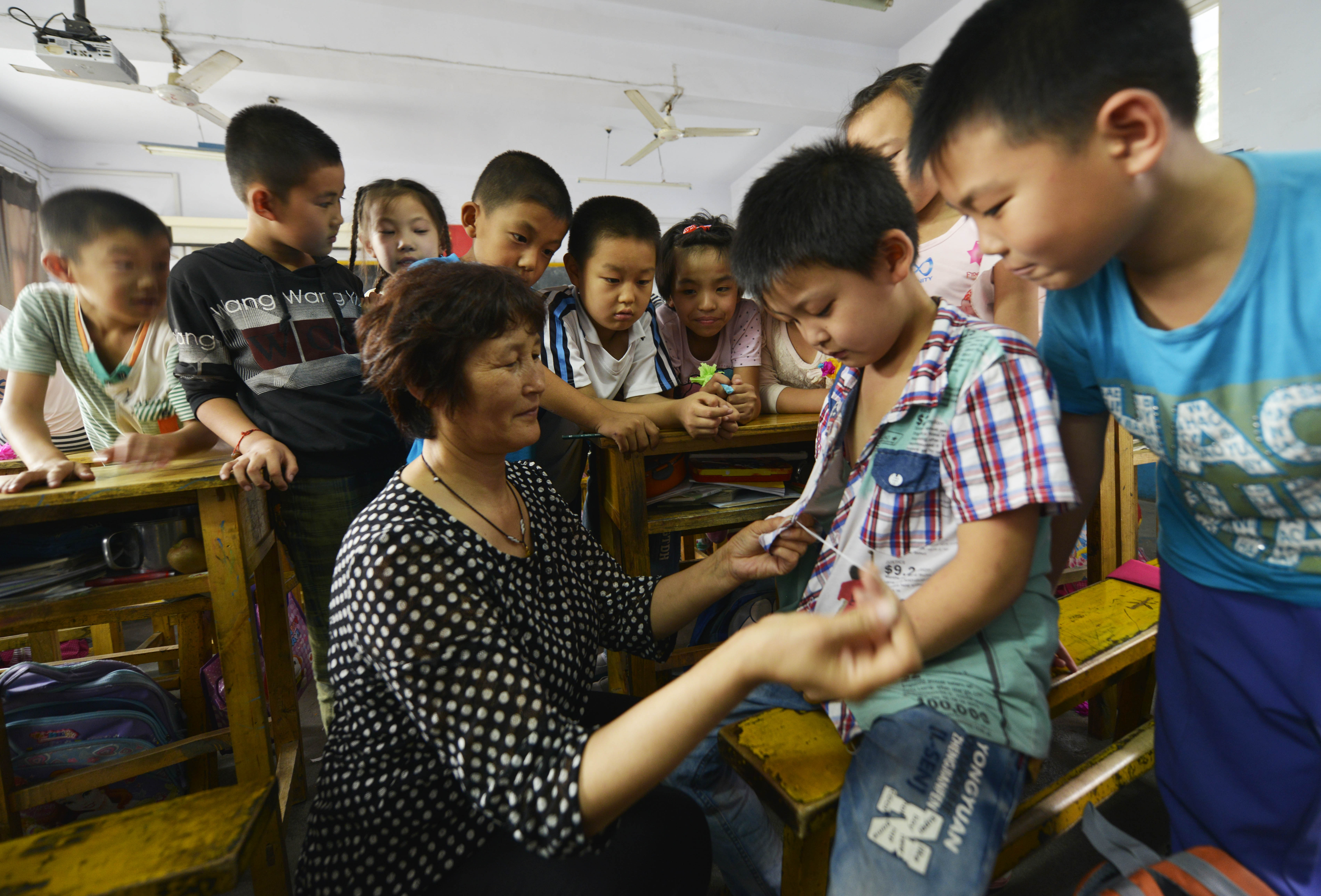 Labour conditions for migrant school teachers are trying, mirroring the experiences of rural teachers. A teacher surnamed Lin, also at Yinghong School, was blunt with Friedman during an interview: 
To put it crudely, the boss of a private school is a capitalist, they're in it for the money… The workload is quite heavy; it's like this everywhere in China. Of course, some bosses are concerned with education, but the overwhelming majority of private schools are there to earn money. Public schoolteachers' workload is at least half [of ours], because public school managers won't be too strict. Private school bosses are savage.
The gender disparity and "feminization of the job" is another feature of Friedman's study, with multiple administrators and teachers noting that women are more likely to be employed at migrant schools because of societal factors. The legal retirement age for women is lower than that for men, meaning that women teachers in the public school system are forced into retirement but are then able to work in migrant schools. In addition, women generally face less burden to earn an income compared to a male partner. One teacher stated that "dealing with children usually, how to put it? It just seems like it's not the kind of thing a man should do." 
The emotional labour on teachers is dramatic at migrant schools, as well. A teacher surnamed Ma who taught at Shusheng School said: 
Their families really are too busy with work, and they abandon the most basic things. Perhaps as the class director sometimes I'm like a mother.
These striking interviews and intertwining themes are only the tip of the iceberg that Friedman reveals in his research that connects the dots between long-studied problems that intersect in the lived experiences of migrant workers just trying to make ends meet and create a better life for themselves and their children, let alone live up to the "China Dream" or any measure of "common prosperity." 
The reality is that China's population of migrant workers hold the key to realising top priority goals, from greater economic equality, increasing domestic consumption, and boosting the population. But as Friedman's research shows, this population is actively discriminated against and disregarded by state policies. Protecting capital and the livelihoods of China's urban dwellers is shown to be the priority of policymakers, but these goals are destined to stagnate so long as much of China's workforce faces precarious labour conditions, informal housing, and lack of access to public resources. 
This book's publication during the ongoing Covid-19 pandemic and China's "Zero Covid" policy could not be more timely, as the role and plight of frontline workers - often migrant workers - has been in the spotlight in the pandemic and lockdowns of major cities. Even the urban, middle class population is bleakly rallying around the idea that they are the "last generation." What about the children of migrant workers? How will this cycle of their exploitation ever be broken?