Just ten days after the massive explosion at a chemical plant in Jiangsu that killed at least 78 people, another explosion at a factory in the same province has killed seven people and injured another five, one critically.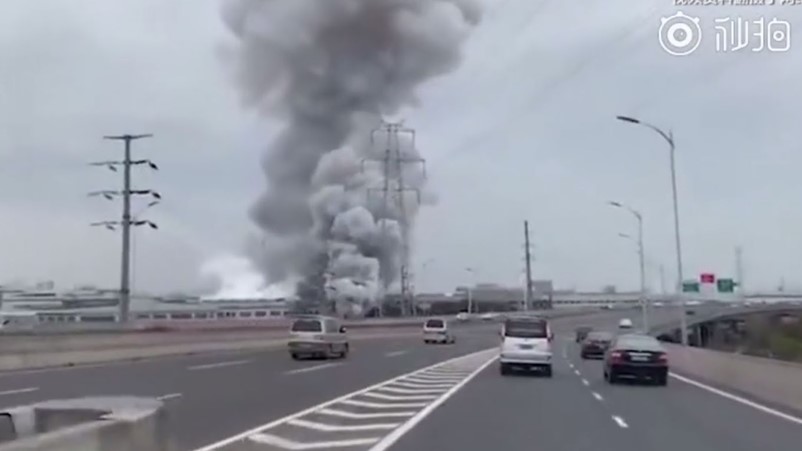 Screenshot of footage reportedly taken on the site of Sunday's explosion circulating on Chinese social media
The blast at Han Ding Precision Metal Co., a Taiwan-owned auto parts factory in Kunshan, occurred on Sunday morning. The Kunshan government's official Weibo account claimed that the source of the explosion was a shipping container on the premises that was filled with scrap metal. The resulting fire was brought under control by 10:00 in the morning, it added.
Han Ding Precision Metal was established in 2004 and employs around 2,500 workers producing electrical conduction accessories and alloys. The plant is a subsidiary of Taiwan's Waffer Technology Corp.
Four years ago, another Taiwanese-owned auto parts factory in Kunshan, Zhongrong Metal Products, was the site of one of China's worst industrial accidents in recent years. An explosion at the plant on the morning of 2 August 2014 killed at least 146 people, many of who were hospitalized for long periods before succumbing to their injuries.
Local authorities said that the cause of Sunday's accident was under investigation, and emphasised that "Suzhou and Kunshan municipal Party and Government leadership have immediately rushed to the site to supervise rescue and accident management operations."
The Ministry of Emergency Management (MEM) had vowed to conduct "a month-long special inspection in the fields of hazardous chemicals, mines and fire safety" following the Yancheng explosion on 21 March.
Lessons should be learned from recent accidents, and the country must thoroughly analyse its production safety systems, and resolutely curb the occurrence of major accidents, the MEM said a Xinhua report dated 28 March, adding that "big data, the Internet of Things and other scientific and technological means should be used to strengthen the real-time monitoring of employees and dangerous chemicals."
The State Council had earlier issued new Regulations on Emergency Response to Production Safety Incidents, which go into effect today. Under these new regulations, "all production operation companies must establish an emergency response plan," and this plan "must comply with applicable laws, regulations and standards and be published to the company's employees."
China Labour Bulletin continues to argue that in order to discourage businesses from taking safety shortcuts and truly prevent industrial accidents, workers themselves should be given a say in workplace safety supervision and enforcement.
The 2002 Work Safety Law (安全生产法), as quoted in our Work Safety section, provides the main legal framework for the rights and responsibilities of workers, employers and government agencies in creating and maintaining a safe workplace. Although the law gives workers and trade union officials the right to monitor and participate in the management of work safety, the reality on the ground is that employers continue to ignore their obligations, employees are unaware of their rights regarding work safety and trade union officials fail to intervene in or remedy safety violations.
In the last four years, since 1 April 2015, China Labour Bulletin's Work Accident Map has recorded a total of 206 explosions across China, predominantly at industrial and manufacturing facilities.