Two years ago, Belgium became the first European nation to join the Electronic World Trade Platform initiative created by Chinese tech giant Alibaba. Nicolas Chua investigates what this means for workers and trade unions in Europe.
When Alibaba signed an agreement in late 2018 to establish an e-commerce hub at Liège Airport, it was hailed by then Belgian Prime Minister Charles Michel as an opportunity to boost Belgian firms' competitiveness in "the global marketplace in the digital age."
Alibaba CEO Daniel Zhang stated that the €100 million deal with Cainiao, Alibaba's logistics branch, would allow European businesses to access the Chinese market and benefit from global cross-border trade. It was claimed that the 220,000-square-metre site at the airport would directly create at least 900 new jobs, plus an estimated 2,100 indirect jobs. Workers have already been subcontracted to Cainiao, and recruitment advertisements for positions at the forthcoming trade hub have been posted in both English and Chinese on job search engines.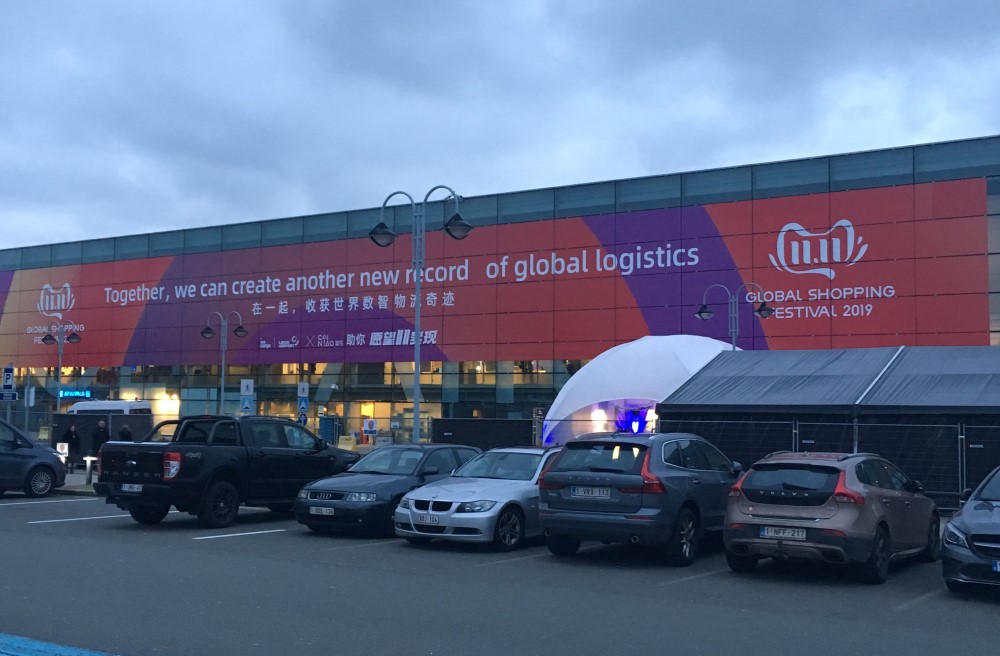 Photograph courtesy of Cédric Leterme CETRI/GRESEA
However, Alibaba's arrival in Liège has not been universally welcomed. Considerable local opposition is motivated by concerns over the quality of the jobs created and the hub's potential environmental impact.
Like many European cities, Liège is a declining industrial centre where steel factories have been closing down for decades. The unemployment rate is now more than 20 percent, one of the highest rates in the region.
The government is desperate for new jobs and sees logistics as a potential saviour. Major changes in labour legislation have already been put in place to make Belgium more attractive to e-commerce companies like Alibaba. A royal decree in March 2016, for example, made it "possible to use night-time work for the execution of all e-commerce related activities within companies in the distribution sector." Later that year, the De Croo bill created a more comprehensive framework for "collaborative platforms" such as Deliveroo and Uber.
According to Cédric Leterme, a researcher at Centre Tricontinental (CETRI) in Liège, the De Croo bill was a "Trojan horse for greater labour market flexibility and the first step towards changing regulations to make them more compatible with new technologies."
This process was further accelerated by the Peeters bill, passed in February 2017, which significantly reformed labour regulations to boost flexibility at the expense of workers. The Peeters bill was met by strikes, protests and strong opposition from all major trade unions in Belgium, with claims that the bill would undo "half a century" of achievements in the labour movement.
The direction that working conditions are taking in Belgium is part of a larger trend in Europe of greater labour flexibility to cater to the new digital economy, with similar laws passed in France, Spain and Italy. By signing an agreement with Alibaba, Liège Airport sets a precedent for the rest of Europe: it legitimizes the dismantling of labour laws, gives the company an opening for future developments in Europe, and further tightens the grip of big tech companies on the global economy.
E-commerce work is inherently precarious, with long, intense working hours, and jobs that can and do disappear quickly with the growth of automation - something Alibaba is an avid supporter of. Rating systems, unrealistic job targets and ever-increasing levels of surveillance are fundamentally detrimental to workers. These issues exist industry-wide, the chief example being Amazon's much-publicized treatment of its warehouse workers.
Alibaba is no exception: overworking couriers during Singles' Day, the 11 November online shopping day created by Alibaba to spur online sales; championing the notorious "996" work schedule in China, in which employees work from 9:00 am to 9:00 pm, six days per week; and using its own DingTalk app to monitor workers.
In fact, the e-commerce industry is structured to use surveillance and tracking, tilting the balance of power in labour relations even further in favour of capital. A report by the New Economics Foundation shows that data obtained by surveillance is "overwhelmingly used for the benefit of management." Moreover, it notes that "unions and workers, may struggle to prove scientifically or beyond doubt that the surveillance and data gathering was damaging to workers' well-being."
Alibaba's integration into Belgian work culture is another cause for concern. When the Dutch company Thomas Nationwide Transport (TNT) established itself at Liège Airport 1998, it encountered difficulties in adapting to Belgium's significantly higher union presence, leading to strikes and protests against its management practices. This led to TNT threatening to move out of Belgium entirely before finally agreeing to enter into negotiations with local unions.
Similar issues are expected to arise with Alibaba. Chinese companies are not used to dealing with trade unions as equal partners. Enterprise trade unions in China are expected to be compliant, helping to manage labour relations rather than actually represent workers in bargaining with management. Moreover, the official All-China Federation of Trade Unions has done little to disabuse either domestic or overseas company bosses of this notion.
In Belgium, it should be noted, many trade unions have now supported the shift towards the logistics sector simply because it is one of the few growth areas for jobs in the region. However, Leterme notes that "there are significant internal divisions" within trade unions, "most notably generational divisions with younger members that are generally more involved in environmental movements and have a problem with the 'anything-for-a-job' discourse that is still very present among the older generation."
Alibaba's move into Belgium highlights the increasingly complex nature of union work in "the global marketplace in the digital age." On one hand, unions reject laws that threaten labour rights and workers' welfare; on the other, high unemployment rates have unions welcoming jobs from e-commerce companies whose indirect influence over local governments further encroaches on labour legislation. Striking a balance between protecting their workers and guaranteeing job opportunities becomes more and more difficult. As result, unions have yet to voice genuine criticism of Alibaba's arrival.
Rather, the strongest opposition comes from Watching Alibaba, a local non-governmental organisation that aims to shine a light on Alibaba's enormous negative impact on the region. Watching Alibaba has organized protests, campaigned for an impact study of the project, and continues to raise awareness about the potential consequences of an Alibaba trade hub in Liège Airport. While attending an event organized by Liège Airport in November 2019 about the Alibaba project, the group noted that "it is baffling to see that labour was absent from all presentations and panels that took place throughout the day."
The Covid-19 pandemic has further complicated the issue, with unions across Europe seeking to protect both their members' health and their livelihoods. FedEx employees at Liège Airport, for example, went on strike last month to protest the management's refusal to provide a bonus to compensate workers for the additional burdens created by the pandemic.
Now, Belgium is once again under lockdown, making protection of workers' rights even more difficult at a time when Alibaba wants the whole world to consume more products this week via its e-commerce network on Singles Day.
This article is part of China Labour Bulletin's occasional series on the impact that China's growing integration into the global economy is having on labour.
For the Chinese version of this article please go to 阿里巴巴的全球雄心给欧洲劳工带来困境和挑战 on our Chinese website.