The Beijing Municipal Federation of Trade Unions (BMFTU) has introduced guidelines designed to regulate and encourage unionization for "gig" delivery drivers, workers and labourers in China's capital city. With the introduction of these new guidelines - and similar measures already introduced in Shanghai and Xiamen - Beijing is on the cusp of structurally reforming a sector of its local economy that until now thrived under a laissez-faire approach.
The BMFTU is organized under China's official All-China Federation of Trade Unions (ACFTU). Although the driving forces behind these guidelines remain unclear, the union's implementation in China's capital city may reflect that the social cost of gig work now outweighs its economic benefits. As CLB has tracked for months, accidents, strikes and conflicts involving delivery workers have been steadily rising throughout Beijing and the rest of China.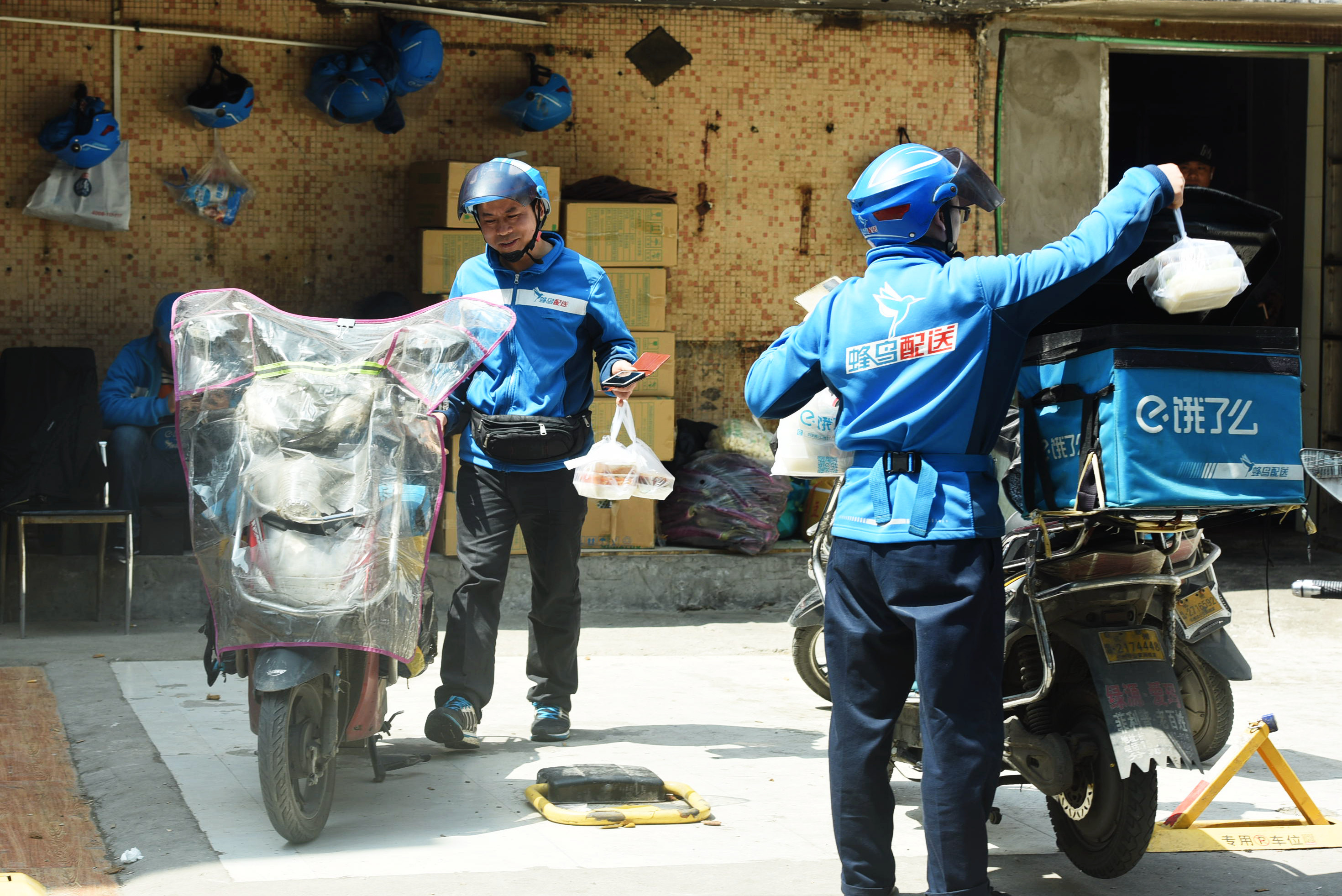 The BMFTU guidelines lay out ten major measures to improve union work in the new gig economy. These include stationing union cadres in the local community to gather and solve problems faced by workers, recruiting gig economy workers to join the union, utilizing existing worker centers to contact workers, providing health checks and childcare services, and providing workers with skills training.
The guidelines also state that the union will negotiate with companies on important issues such as pay, workplace policies, working hours, and other workers' protections. In the meantime, the union will organize lawyers to provide legal advice and services for gig workers.
After years of negligence, Beijing's government oversees one of the most criticized gig economies in all of China. Last year, the flagship outlet Renwu (人物) published a devastating exposé on delivery drivers working for the duopoly of Ele.me and Meituan. The piece details how the rules and penalty systems of food delivery platforms force workers to rush during peak hours and break traffic rules, leading to accidents and injuries, while tensions between drivers and customers lead to verbal and even physical confrontations. In a restrictive media environment, the article's publication sparked a widespread public conversation around food delivery drivers during the global pandemic. But without union or government intervention, the response from gig economy companies to public uproar was limited.
The guidelines are fairly comprehensive on paper, but it will take time to see how the union carries them out. Taking the BMFTU guidelines in good faith, CLB Executive Director Han Dongfang's response was pragmatic but optimistic:
We recognize the efforts of the Beijing Municipal Federation of Trade Unions in promoting workers to join the union and understanding workers' demands. This is a very important first step towards the future protection of gig workers' rights. The next crucial step is for the Beijing union to conduct sessions with workers to discuss the real life problems that workers face, as they are trapped and have become the slaves of the platform. Based on opinions collected from workers, the union could frame key issues and formulate a negotiation strategy to approach platforms for collective bargaining.
Tempering our optimism, it should also be noted that as grassroots organizing of food delivery workers has been obstructed, the ACFTU is one of the only legal avenues left for workers seeking fair treatment from gig companies. For those looking to organize outside of the ACFTU, consequences can be severe. In February, the arrest of organizer "Mengzhu" was a flashpoint between gig companies, workers, media and Beijing's local government.
A former food delivery worker himself, Mengzhu was successful in building an online mutual assistance community of delivery drivers. The group provided legal as well as material support for workers in need. Despite the social services he provided, Mengzhu's work was unsanctioned by official union structures, leaving him vulnerable to arrest and criminal charges.
CLB researcher Aidan Chau has observed that the ACTFU's very structure may be unable to balance its dual loyalty to workers and the state. Likewise CLB has reported on the failure of similar union guidelines in Shanghai and Xiamen to transform the uneven relationship between gig workers and China's gig employers. China is not alone in this struggle,  as with other G20 nations seeking to regulate or unionize the gig economy, the outcome for gig workers is still unclear.
This first step by the union is indeed a positive, if the BMFTU is able and willing to represent Beijing's gig economy workers. For the union to materially improve the conditions for gig workers, the workers themselves must be able to have a voice in the union.