At least 55 people were killed and another 136 hospitalized, many with serious injuries, after a massive explosion in an underground oil pipeline ripped through the eastern port city of Qingdao on 22 November, local authorities have confirmed.
The explosion in the city's Huangdao district occurred mid-morning as workers sought to contain an oil spill from the pipeline. The spill had reportedly contaminated sewerage drainage channels in the city and several thousand square metres of sea water along the coast.
The explosion ripped open roads and overturned vehicles in the largely commercial and industrial section of the city. Many people were injured by flying glass as the blast smashed windows.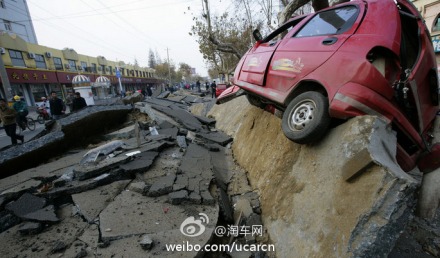 Photograph from Sina Weibo
The pipeline, run by state-owned petrochemical giant Sinopec, linked Qingdao to the concentration of petrochemical plants in Weifang, 176 kilometres to the northwest. It is one of several pipelines in the area and Qingdao residents are already questioning why the authorities allowed the pipelines to be located in such a densely populated area. Local residents and workers are also demanding to know why no warning was given immediately after the oil leak was first discovered in the early hours of the morning. Many had no idea about the potential danger or even the fact that the pipeline was located so close to their workplace.
Four days after the explosion, on 26 November, the local authorities announced that seven Sinopec staff had been detained in connection with the blast and the official Xinhua news agency quoted a senior safety official as saying there had been a "very serious dereliction of duty."
Yang Dongliang, director of the state administration of work safety and head of an investigation team for the accident, said the poor planning and supervision, and "unprofessional handling of oil leakage before the blasts", contributed to the tragedy.
"The serious damage in this incident has highlighted major problems, including the location of the pipelines and the sewerage grid and the negligent maintenance of the oil pipeline that caused the oil leak,'' Mr Yang said.