At least 119 people have been killed in a fire that swept through a poultry processing plant in the north-eastern province of Jilin on Monday morning, 3 June, the local authorities have confirmed.
The official media reported the fire had been ignited by series of explosions at Baoyuanfeng Poultry at around 6.am when around 300 to 350 workers were on the site. Many workers were trapped inside the plant's narrow network of passageways as the fire spread rapidly.
The Global Times reported that almost all the doors of the workshops were locked on the outside, and only a narrow side exit had been left open, which made escaping difficult. Relatives of the victims told the Global Times that most of the doors were shut during working hours to prevent workers from slacking off while on duty.
One survivor told the official Xinhua news agency that there was a stampede when workers fled the workshop and only around 100 employees managed to escape the fire. At least 54 workers were sent to local hospitals around the city of Dehui for treatment.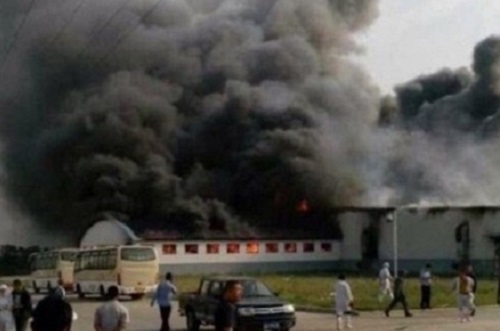 Photographs posted on social media sites in China such as Weibo (see above) showed thick black smoke billowing out from the factory, as well as some of the horribly burnt victims.
This is one of worst, if not the worst, factory fires in China in living memory and the death toll has already exceeded that of the infamous Zhili Toy Factory fire in Shenzhen in 1993, which killed 87 young migrant women workers and injured 47 others. However, the lack of proper fire safety equipment, exits and training for workers are all too commonplace in China's factories.
The worst industrial accidents in China have been in the coal mining industry, with several disasters in the mid-2000s, which claimed the lives of more than one hundred miners. See CLB's research report Bone and Blood: The Price of Coal in China for more details.