The Myanmar military launched a full-scale assault on protesters and residents in Hlaing Tharyar Township, the centre of Yangon's garment industry, on 14 March, in what was the bloodiest day so far in the junta's crackdown.
At least 71 deaths were reported across Myanmar as a whole on Sunday, with the majority occurring in Hlaing Tharyar and nearby townships, bringing the total death toll since the 1 February coup to 167.
The Irrawaddy reported that troops used live rounds, tear gas and stun grenades on protesters staging sit-ins across the township, located in the western suburbs of Yangon. Eyewitnesses also described soldiers crossing the township on motorbikes and shooting residents seemingly at random. At least 65 people died in public hospitals in Hlaing Thayar on Sunday, with many others reportedly taken home by relatives too afraid to register at the hospital.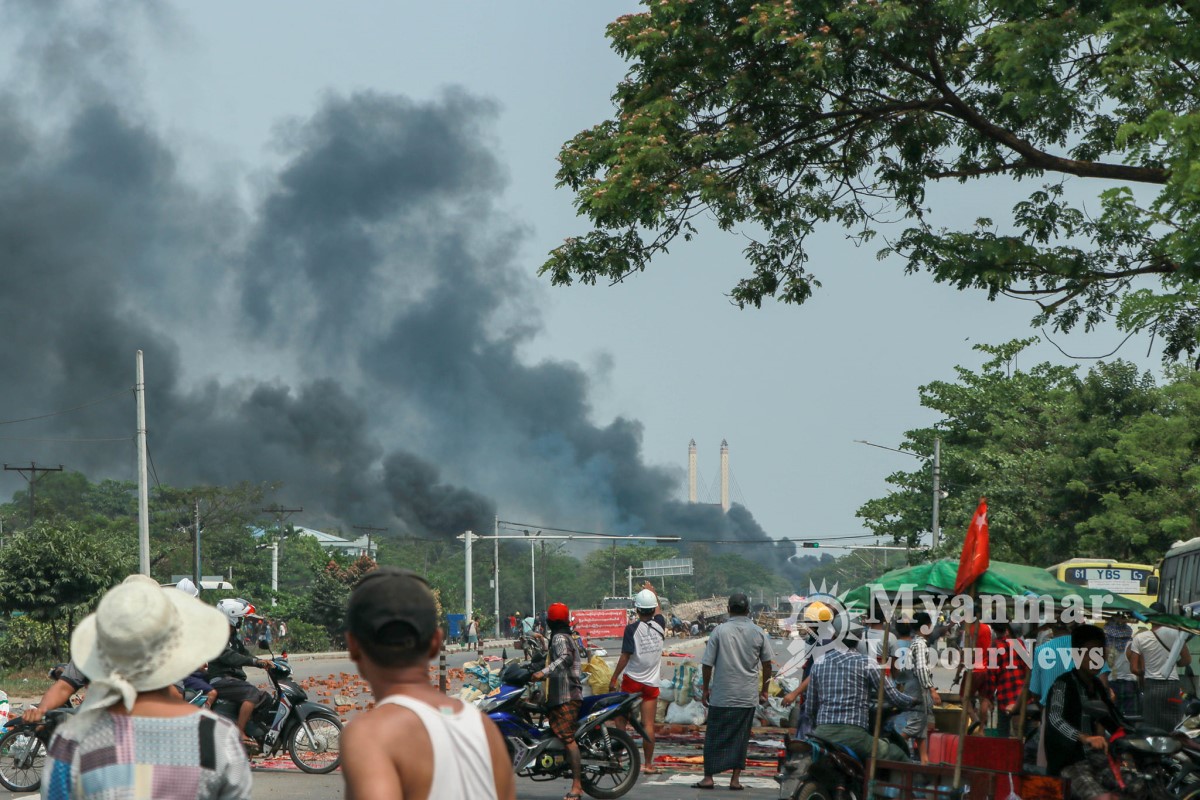 Hlaing Thayar Township on 14 March. Photograph: Myanmar Labour News, reproduced by kind permission.
Four garment factories and a fertilizer factory in Hlaing Thayar, at least two of which are owned by Chinese and Taiwanese investors, were set on fire on Sunday. Another two factories in the nearby Shwe Pyi Thar Industrial Zone were also set on fire. The cause of the fires is being investigated, but already commentators have variously laid the blame on protesters taking revenge on the military, the army itself, or embattled factory owners seeking an insurance payout. 
The Chinese embassy in Myanmar claimed that many Chinese-owned factories in Hlaing Tharyar had been "looted and burned by criminals." Chinese media alleged that gangs carrying iron rods, axes and gasoline smashed through security and set fires at the factories' entrances and in warehouses.
The primary concern expressed by the embassy was the protection of Chinese-owned property and the safety of Chinese nationals. In an oblique reference to the civil disobedience movement (CDM), an embassy spokesperson said, "We call on the people of Myanmar to express their demands legally and not to be incited or used to undermine the friendly cooperation between China and Myanmar." 
Trade unionists said that the army set up positions in Hlaing Thayar and Shwe Pyi Thar townships from which they spread out and targeted protesters and residents throughout the day.  Workers and trade unionists were among the victims of Sunday's bloodbath, including a member of the Solidarity Trade Union of Myanmar (STUM) who was a union representative at the JCK factory located in Shwe Pyi Thar Township. The factory is reportedly owned by Hong Kong's CSG International Limited, which first established production in Myanmar in 2015.
As CLB reported last month, the role of factory owners and managers has come under intense scrutiny in recent weeks, with some managers being accused of complicity in the crackdown by informing on protest leaders and preventing workers from joining the CDM. 
The Guardian reported that managers at GY Sen, which supplies fast fashion retailer Primark, had sought to prevent employees from joining the protests on 18 February by locking them in the workplace. Up to 1,000 workers were trapped inside for several hours before they were able to break free. About 20 workers were reportedly later fired for taking part in the CDM. 
Primark said it has suspended orders from the supplier pending an investigation, but there has been little overt support so far from the major international brands for the workers they depend on to produce their apparel. As the crisis in Myanmar continues to worsen and the death toll climbs, it is imperative that international brands who claim to uphold workers' rights to freedom of expression and freedom of association stand by those workers who are seeking to defend their rights and restore democracy.
Trade unionists like Ma Moe Sandar Myint, president of the Federation of General Workers Myanmar which is based in Hlaing Tharyar, have been at the forefront of the resistance since the beginning of CDM. They have made it very clear that the brands need to do more to help.
"Every factory is in a different situation now, but all need international brands to step forward and tell factory owners to unequivocally respect workers' rights to assemble and freedom of expression," Moe Sandar Myint told The New York Times.