After a campaign lasting nearly two months, a group of 59 workers at Tongxin Jewellery in Foshan has finally secured support from the Guangdong Provincial Federation of Trade Unions in a dispute with their employer over low pay, social insurance and housing fund contributions.
Following a public declaration of support by the Guangdong federation on 24 July, the Tongxin workers' chief negotiator, Zhu Xinhua, said:
We appreciate the efforts made by the Guangdong union, and welcome the wind of change. We are happy to see that after the Guangdong union's intervention, the company began to demonstrate good will and restarted the negotiations. It has already promised to pay the social insurance contributions in arrears. There are still some disagreements but both parties can definitely achieve more by having a healthy dialogue on equal grounds.
Moreover, the chairman of the Guangdong Federation of Trade Unions, Huang Yebin, made a commitment online that the union will play a bigger role in resolving labour disputes in the future.
"I promise you this, when workers, especially migrant workers, in Guangdong file complaints at the union, we will assign special staff to every single case, deal with every single case, and solve every single case," he said.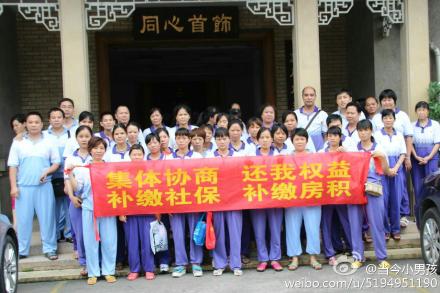 Workers state their demands outside Tongxin Jewellery
Tongxin, which supplies, among others, Hong Kong's premier jewellery retailer, Chow Tai Fook, had initially refused to negotiate with the workers, even after a number of strikes and protests, so they decided to elect five representatives and approach the Foshan municipal trade union federation initially for help. They also opened a Weibo account to update news of their struggle and create solidarity with other workers, civil society organisations, and academics.
The Foshan union arranged a tripartite meeting on 11 July but little progress was made, so a week later, the workers staged a spontaneous protest and marched through the workshop chanting slogans.
Three days later, the five worker representatives were taken away and questioned by the local police. They were released however after eight hours of detention when their colleagues arrived at the police station and demanded that they be freed. Chen Huihai, a labour organizer at the Laowei Law Firm in the neighbouring city of Shenzhen who has been following the case said, "The workers had no fear and showed an extraordinary amount of solidarity while their representatives were being held."