After more than 300 days in detention, Wu Guijun was in remarkably good spirits as his trial resumed in Shenzhen on 4 April 2014.

As three police officers walked the slimly-built 41-year-old Wu into the courtroom, he was greeted with a round of applause from the 30 friends and co-workers who had come to show their support.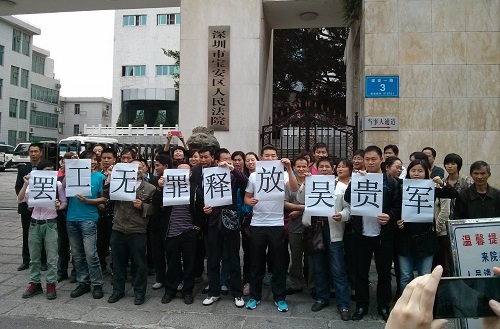 Supporters outside the courthouse. "Striking is not a crime. Release Wu Guijun."
Just before he sat down, Wu, who had a prison haircut and wore a pair of plastic slippers, grabbed the chance to wish his wife: "Happy Birthday!" He then thanked the police officer who removed his handcuffs.

Wu pleaded not guilty to the charge of "gathering a crowd and disturbing the order of public transportation," which carries a prison term of up to three years. Wu had been detained in May 2013 after several hundred workers at Hong Kong-owned furniture maker Diweixin took to the streets in protest at their employer's refusal to discuss compensation for a planned closure and relocation of the factory.
The hearing lasted for about five hours and seven workers testified for the defence. They pointed out that rather than inciting and organizing the demonstration as alleged by the prosecution, Wu had actually urged the workers not to take provocative actions, such as blocking traffic, during the 23 May protest.

Wu's lawyer, Pang Kun said: "During the labour dispute, which the prosecutor insists led up to the 23 May incident, Wu was elected as a workers' representative. By facilitating talks with management and helping co-workers get their due compensation, Wu was performing his duty as a representative and exercising his lawful rights as a worker."
Earlier, the prosecution had failed to get any of its five witnesses, two of who were still employed by the company in managerial positions, to actually appear in court. Pang argued that their written accounts were too vague and speculative to convict Wu.
Moreover, Pang said, the testimony offered by the prosecution was not gathered in accordance with due process because the police did not inform any of the witnesses of their rights and obligations before getting them to speak on the record. According to police records, one police officer questioned several witnesses at the same time, and certain passages of their testimony were identical.
Pang stated that: "If there is any trace of justice then Wu Guijun cannot be found guilty." The court adjourned mid-afternoon without reaching a verdict.
Wu's wife, Zhou Yuzhi, was in tears as she left the court. "They have done nothing to prove that my husband is guilty and yet he cannot walk out today as a free man! Our eldest son is taking the national college entrance examination in June. It will be a big moment for him, for Wu and the family. We need him back!"
With the help from academics, labour rights groups and lawyers, Wu's son has started an online petition calling for his father's release, which has so far been re-tweeted more than 12,000 times.

As the trial was adjourned, Wu, his handcuffs back on, was escorted by two policemen out of the courtroom and back to the detention centre. His supporters jumped to their feet and applauded vigorously. Wu kept his chin high and struggled to raise his hands and wave to the crowd.