The latest Covid-19 outbreak in China has affected 27 of China's provinces, revealing the fragility of the infrastructure that workers rely on.
On 13 March, the city of Shenzhen ordered residential communities into lockdown and provided that nonessential companies allow their workers to work remotely. On 14 March, the nearby city of Dongguan announced the closure of communities, factories and industrial parks. 
The region's factories are under huge financial pressure, since raw materials cannot enter the city under lockdown. But small factories continued production, requiring workers to stay on the premises or lose their jobs. Under this policy, workers were not allowed to clock in and out, leaving them vulnerable to unpaid wages. 
These workers have access to the internet, water and electricity, but they must buy their own food and drinking water. Workers who were interviewed said that they could probably subsist in the month following Lunar New Year, but if the lockdown continued and they still weren't paid, they would have to rely on their families for money. 
One video shows a factory in Dongguan with tents pitched outside. In other locations, workers sleep on the ground, on beds made out of rubber sheets and cardboard.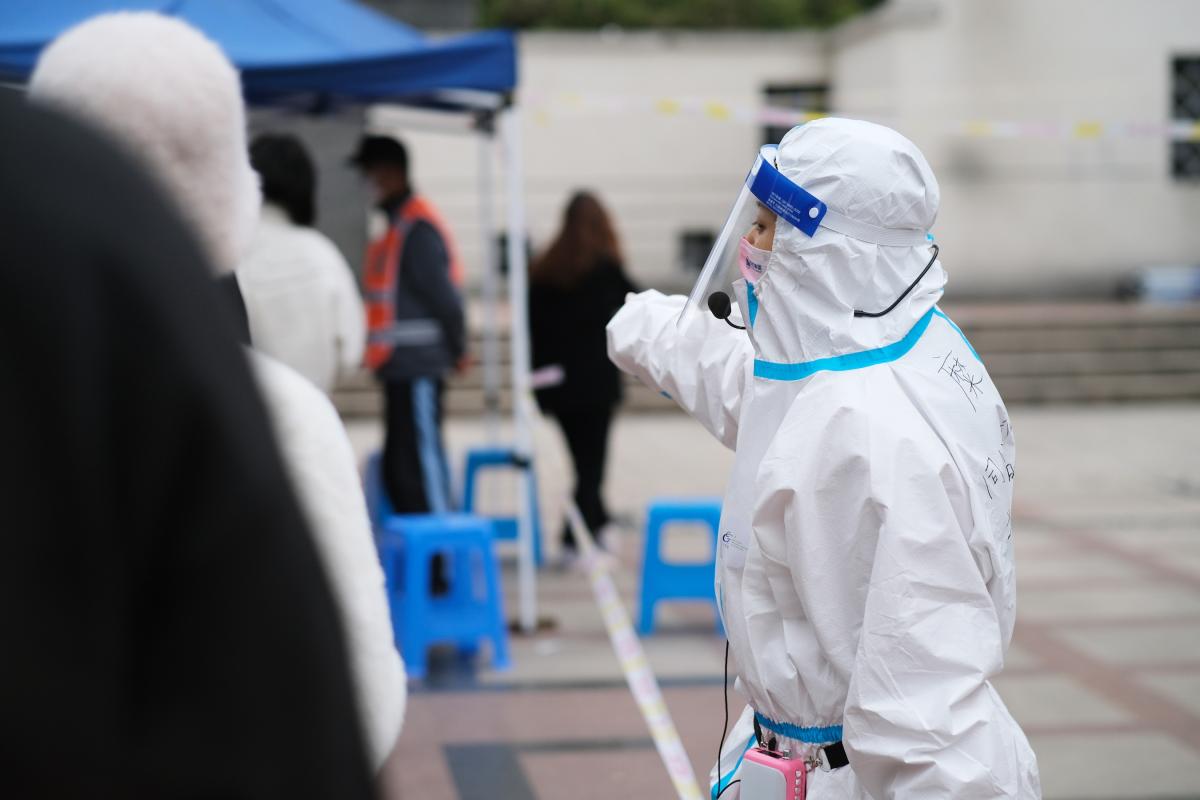 Photograph: Robert Way / Shutterstock.com
The lockdown in Shanghai created difficult choices for food delivery drivers. They may be allowed to go home but not allowed to leave, so those who have chosen to keep working have been forced to sleep on the street, or in tents or under flyovers covered by quilts. An article about documenting such stories of delivery drivers in Shenzhen was censored from Weibo. 
In addition, the closure of facilities such as 24-hour internet cafés means that other forms of shelter are no longer available. Some young migrant workers have resorted to sleeping at the district bus station.
The pandemic prevention policies make poor working conditions all the more visible. With no safety net, gig workers are left vulnerable and are most hard hit by pandemic prevention policies. Cities rely on their labour, but these workers are also the first to see their livelihoods severely affected by lockdowns. 
A cluster of infections in Shanghai No. 6 People's Hospital meant that frontline staff had to work with insufficient protection materials. The hospital was sealed to prevent people from leaving, and nurses wearing only a medical mask had to take care of patients who had tested positive. 
A Douyin video leaked on 13 March showed how just one Covid-19 case left untreated meant that medical staff and their families became infected. In the video, a doctor and nurse came to blows. 
A number of nurses and medical staff have died during lockdowns. In March 2020, for example, CLB found 22 instances of medical staff passing away, with about half of them succumbing to Covid-19, with the rest from overwork. According to reports in March 2022, two medical workers have died this month. Reports also revealed that workers conducting PCR tests in Shanghai worked for 36 hours continuously, with staff from neighbouring Zhejiang and Jiangsu provinces arriving in Shanghai's Pudong district and working without meal breaks.  
Pandemic prevention in China also relies on "volunteers," who are untrained, temporary staff often drawn by the promise of "easy work," such as acting as community security to enforce lockdown and testing measures. They receive a salary of 220 yuan per day. This type of cost-cutting and lack of accountability is what caused Covid-19 to spread from Xi'an in December 2021, for example. Despite China's harsh prevention policies, epidemic prevention measures fail at the worker level, as workers are set to work for low salaries, without training or appropriate protection. 
Workers' rights, especially for those on the front lines and in precarious employment, have been neglected under ordinary circumstances, and this has obviously intensified under pandemic conditions. CLB has long called on China's official trade union, the All-China Federation of Trade Unions, to pay careful attention to workers' rights and interests. Yet during the pandemic, the authorities have instead dispatched trade union staff to serve as "volunteers" in anti-epidemic work, leaving workers without any hope of representation during the times that they need it the most.