More than 200 striking workers at Taiwanese-owned QLT Golf Supplies in Shenzhen (奇利田高尔夫用品 (深圳) 有限公司) went back to work today after negotiations with management on 22 July.
Workers said the meeting with management had been fruitful and that both parties had been willing to compromise. In addition, management agreed to have monthly meetings with the workers' committee (which had been democratically elected the previous month) to discuss unresolved issues.
The workers had a wide ranging list of long-standing demands related to the payment of social insurance and housing fund contributions, excessive income taxes, high-temperature subsidies, a living wage during low production season, the abolition of unfair regulations, and factory trade union elections.
Many of these issues were successfully resolved in Tuesday's bargaining session however, workers said, the two parties still need to draw up a detailed timetable for the payment of social insurance and housing fund contributions and discuss the factory trade union re-election process. The factory has nearly 2,000 employees and the worker representatives acknowledged that organizing the election could take time.
The strike and subsequent bargaining shows what can be achieved when workers and management are willing to sit down face-to-face and work out problems together rather than adopt a hard-line attitude and refuse to compromise.
QLT, which produces golf clubs and golf balls for Nike, Callaway, Bridgestone, Ping, Cobra and Titleist etc., initially refused to negotiate and threatened workers when they first went on strike on Monday 21 July. The company posted notices ordering employees back to work on Tuesday morning. However, the workers stood firm and, following local government intervention, managers agreed to sit down with the workers representatives and discuss their grievances. The head of the workers' committee, Ji Jiansheng, said:
We have the right to strike and we have the right to have our lawful grievances addressed. Our actions are within the law and it is a good sign that management agreed to come to the negotiating table.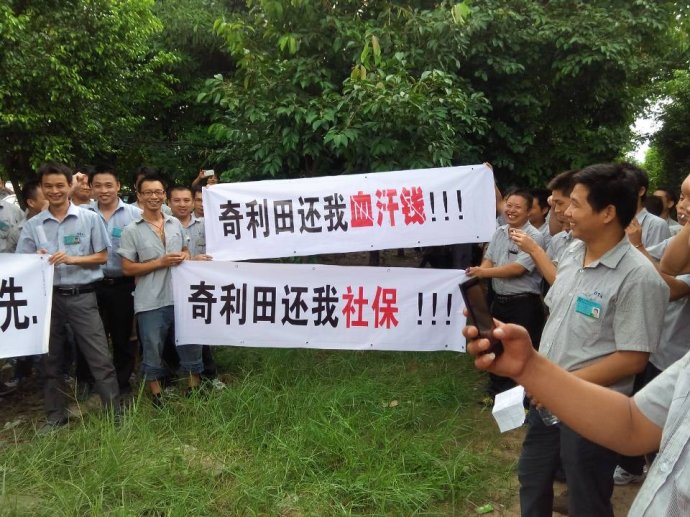 QLT workers on strike: 21 July 2014
The dispute erupted when the workers in Shenzhen discovered that the company had set up a new production line in the neighbouring province of Jiangxi, was cutting orders in Shenzhen and was relocating machinery and other assets. Ji Jiansheng, explained:
Many employees are concerned that the company will leave Guangdong altogether. We found out online that QLT's parent company in Taiwan had tried the same trick back in 2000.
The parent company, O-TA Precision Industry Co., Ltd, reportedly pulled investment out of its Shantou factory six months after the Shenzhen factory began mass production.