CLB investigates how the Covid-19 pandemic and economic contraction has affected the world's two largest workforces in China and India.
In mid-September, more than a dozen drivers for China's largest food delivery company, Meituan, staged a protest in the southern city of Zhangjiajie over arbitrary reductions in delivery rates and other penalties that resulted in a substantial loss of income for workers.
At the same time, drivers for India's largest food delivery company, Swiggy, in the southern city of Hyderabad went out on strike over arbitrary reductions in delivery rates. The strike, supported by the Indian Federation of App-based Transport Workers lasted more than a week and gained national media attention.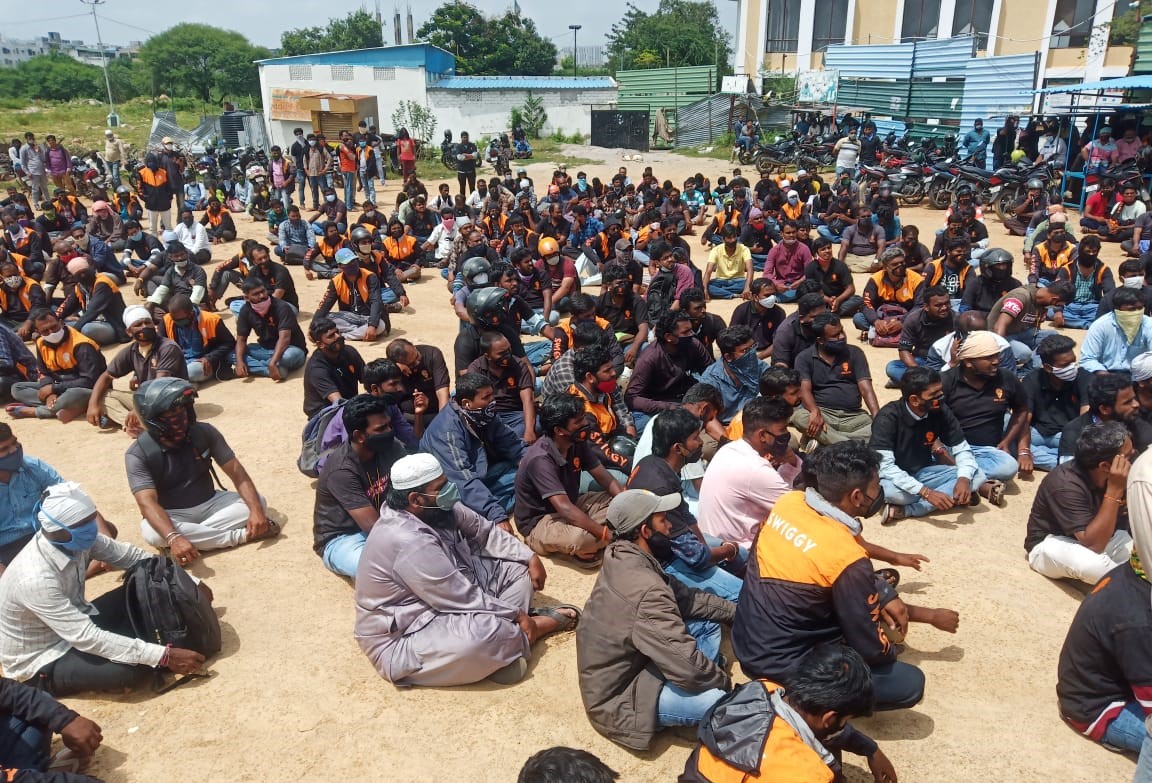 Photograph courtesy of the Indian Federation of App-based Transport Workers
It is highly unlikely that these two sets of drivers were aware of each other's collective actions, and they may not have even heard of their respective platforms, but the similarities in their grievances are undeniable. Neither were their responses unusual. There have been numerous and vociferous protests in Indian cities this year, and China Labour Bulletin's Strike Map has recorded close to 50 collective protests by food delivery workers over the last two years.
Working conditions in the food delivery industry in both India and China have been thrown into even sharper focus during the Covid-19 pandemic. Demand for delivery services has increased significantly, but competition between platforms has placed huge stress on drivers, both in terms of earning a living and protecting themselves from infection.
Both the Chinese and Indian governments have unveiled their own series of relief measures to combat the economic impact of the pandemic. However, none of these measures has done much to help workers on the ground. In fact, many of the measures introduced so far represent a serious threat to the interests of the working class. 
In May, as part of its Self-Reliant India campaign (AatmaNirbhar Bharat Abhiyan), India's central government announced an economic package of US$265 billion in five tranches. But a look behind these large numbers shows that the measures actually repackage some existing programs and place no real burden on the state exchequer. The economic package has been unable to ameliorate the distress of rural migrant workers who have been forced to return to the cities because they are unable to earn a living in their home villages.
China, likewise, revealed a US$559 billion relief package during its delayed National People's Congress in May. About half of the package was in the form of tax breaks, exemptions from social insurance contributions, lower interest rates, and loan repayment holidays, etc., for businesses, with only a tiny proportion going to laid-off workers in the form of extended unemployment benefits. Prime Minister Li Keqiang made it clear that the policy was designed to protect existing jobs rather than create new or better employment opportunities for workers.
In India, several state governments have used the pandemic and lockdowns to push for the relaxation or complete suspension of various labour laws. In states like Uttar Pradesh and Madhya Pradesh, for example, exemptions have been granted related to working hours, mandatory labour inspections, workplace ventilation and temperatures, first-aid health facilities, washrooms, canteens, childcare facilities, and first-aid measures. In addition, the already weak penalty provisions regarding layoffs and business closures have been further watered down. Several legal experts have deemed these changes to be unconstitutional.
These measures are, in fact, an intensification of attempts by the Narendra Modi government to weaken labour protection by amalgamating the current 44 labour laws into four codes covering wages, occupational safety and health, social security, and industrial relations. The first code went into effect last year, and bills on the other three codes have received assent from both houses of the Indian parliament. The proposed Industrial Regulations Code is particularly worrying for labour, promising greater flexibility for employers in hiring and firing of workers, and rendering protest actions like strikes extremely difficult. 
The new codes do nothing for workers in informal employment, who have borne the brunt of the lockdown and who are most in need of legal protection. Moreover, the judiciary, which should ideally keep a check on the adverse actions of the government, has been largely indifferent to workers' rights and interests. 
It seems that India under the Narendra Modi government is following China's lead in privileging capital over labour in national employment policy. The broad canon of labour law established in China in the 1990s and 2000s, and in particular the 2008 Labour Contract Law, have long been a target of the business lobby and influential Party leaders such as former Finance Minister Lou Jiwei.  Although the laws have remained on the books so far, in many cases they have simply not been enforced by local governments, which are more interested in attracting investment and boosting tax revenue than protecting workers' rights.
The pandemic has opened the door to even greater relaxation of enforcement, and enterprises have been granted widespread exemptions to their social insurance obligations. And, as in India, there is little indication that China's authorities will voluntarily restore labour rights eroded during the pandemic. It will be up to workers themselves and trade unions to defend workers' rights and interests. It is here that the situations in India and China start to diverge.
Several trade unions in India have sought to adapt to the rapidly changing global labour environment and take determined measures to protect workers' rights. New unions have been created to counter the threats posed by the gig economy and the rise of app-based transport systems. The globalisation of the garment industry, too, has required a new and innovative approach to organizing that can adapt to the rapidly changing export needs of the industry. These new unions differ in their strategies and political affiliations, but they all share a common belief and determination to build their membership, create solidarity, and meet new challenges head on. However, their capacity for organizing remains limited, and it will take time before they can develop into effective nationwide organizations.
The All-China Federation of Trade Unions (ACFTU), as its name suggests, does cover the whole of the country. The ACFTU has tremendous resources, but has so far failed to respond to the urgent challenges facing China's workers. It has prioritized organizing "eight key sectors" primarily in new transport and service industries; however, its approach to organizing remains mired in the past. Further, trade union officials, entrenched in their comfortable offices, seem incapable of adapting or responding to the new needs of workers.
When delivery workers in the eastern province of Shandong approached the union for help last year, for example, they were either told that they did not qualify as a part of the eight major sectors initiative, or - if the union did actually set up a new branch - it was largely ineffective in organizing a dispersed network of drivers.
During the Covid-19 pandemic in China, union officials did nothing to protect workers from layoffs or wage arrears, or ensure that they were properly protected from the risk of infection at work. Instead, union officials were redeployed by the local government to assist community officers in checking temperatures and registering the movements of local residents. 
Workers in the Global South need a strong and determined collective response to deal with threats from the gig economy that have been amplified by the pandemic and attendant economic contraction. Workers in China and India are taking action, but trade unions in both countries and internationally need to do much more to organize and support this 1.5 billion-strong workforce.
For more information on labour organizing in India during the pandemic, please see the three case studies written by P.K. Anand on the Indian Federation of App-based Transport Workers, the All-India Gig Workers Union, and the Karnataka Garment Workers Union, Bengaluru. 
This article is part of an occasional series designed to examine the influence of Chinese capital around the world and foster worker solidarity in the Global South.