When workers at an artificial diamond plant in Guangdong started to fall ill in the mid-2000s with the deadly lung disease pneumoconiosis, the response of the company was to get rid of them as quickly as possible. It paid the legally mandated compensation to the seriously ill workers but then used regular medical check-ups in the following years to assess the health of other workers and weed out those who had light shadowing on their lungs (the first sign of pneumoconiosis) so that it would not be faced with a larger compensation claim in the future.
Tang Feng was one of those workers disposed of after x-rays revealed his medical condition. However, he and several colleagues refused the insultingly low compensation offered by the company and staged a series of protests and legal actions, including filing a criminal prosecution against his former boss, to get the compensation they were entitled to. In June 2011, Tang talked to China Labour Bulletin Director Han Dongfang about life on the production line, his occupational illness, and his struggle, with his discarded co-workers, for justice.
Working in a cloud of white dust
Tang joined Haoxin Hardware Jewellery Co. Ltd. in Foshan in 1999, aged just 20 years-old. For the first six years he worked as a driller using glass and silicon pestles in a dusty, smoky environment as a member of a small team on the assembly line.
The dust concentration was very high; there was a lot of machinery packed in there. When a shift went on, their hair and nostrils got white with dust. We used to joke about it. Your hair had turned white like an old man when you left work, and when you washed it, it was all white.
Tang worked for ten hours a day in these conditions, putting in some extra time before and after the official shifts, and only getting away from the dusty line during toilet breaks. Until 2005, no protective masks or any other equipment were provided for the workers. Medical checks were carried out rarely, and results were withheld from the employees.
In 2005, some of the workers began to feel unwell. They had health checks done at their own expense and a dozen of them found out that they had contracted pneumoconiosis. In protest, the workers went out on strike, blocking an expressway and approach roads until the Foshan city government dispatched more than 1,000 police to break up the protest.
After the protest, management started testing staff regularly, and soon discovered that over 70 workers were already at or beyond Stage 1 Pneumoconiosis, while many more had lung shadowing - the initial signs of the disease. Tang himself had at that point showed some markings on his lungs, but no shadowing.
The more than 70 workers diagnosed with pneumoconiosis were hospitalized and awarded compensation in line with state regulations, around 300,000 yuan each, paid in two equal instalments. However, all of them were then dismissed and lost their social insurance coverage:
They may have negotiated some kind of settlement with the management, but the way this was done may not have been all that legal, because they have lost social insurance cover... Now they are regretting it.
The screening process 
The company then started to test its workers regularly and by 2008 found that up to 100 employees were at Stage 1, some were at Stage Zero plus (just before Stage 1) and some 200-300 showed slight shadowing. Soon afterwards lung-damaged workers started to vanish from their posts. "People left the plant for various reasons," Tang said. "But the suspicion was that anybody who had anything more than slight shadowing was effectively terminated."
In 2007, Tang himself was diagnosed with slight shadowing. The following year, along with several others showing these symptoms, Tang was laid off without compensation. The company only agreed to give the workers an annual check-up, and said that only when their condition reached a certain point would they talk about compensation.
Eventually, the company established a compensation policy, approved by the local civil courts, under which seriously ill workers got between 80,000 yuan or 130,000 yuan in compensation, while those with slight shadowing were paid much smaller sums based on the year they left the company; 5,000 yuan for those who left in 2005, 6,000 yuan for those who left in 2006, and so on up to 2008, when the pay-out was 8,000 yuan.
Tang should have been eligible to 8,000 yuan under this agreement, but he and his colleagues refused to sign, rightly calculating that they would not be able to claim additional compensation if their condition worsened in the future. Instead, they petitioned the local and provincial governments for help:
The local government sent some people to the factory; there was a work team including people from the labour supervisory authorities and a few policemen. Last year they met with the workers every Tuesday, Monday and Wednesday.
The workers hoped that the government officials would take an intermediary role and serve as a kind of platform for negotiation between themselves and management. However Tang said, "It gradually became clear that the government and the management were working hand-in-hand."
Tang and his colleagues staged more protests, occupying the expressway and setting up barricades. Some workers were detained by the police but eventually the petitioning office sent out a representative to meet them and talk things over. But, Tang said "this led nowhere."
In 2010, events took a dramatic turn. Management closed the Foshan plant and moved production to another factory in Guangdong. Workers feared this would prevent them from pursuing their compensation claims:
They probably do not have the same legal representative as in Foshan. We feared that after termination, workers who had reached Stage 1 would not be able to press their claims against the company after the relocation, or hold them accountable.
Going to court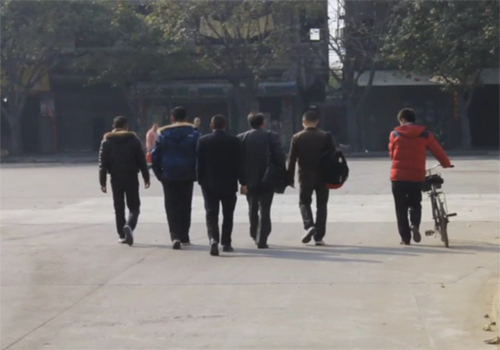 Tang and his colleagues meet up with their lawyer near the factory in Foshan
With the help of CLB, Tang and his colleagues hired a lawyer and filed an arbitration case to challenge the laying off of workers with slight shadowing of the lungs and demand the restoration of their jobs. But the arbitration committee told the workers that they had exceeded the 60-day time limit for filing such cases and refused to accept the case.
Their lawyer then suggested a different approach – filing a criminal case against the factory managers for failure to meet their legal responsibilities protect the workers against a known risks of dust and thereby causing large numbers of workers at the plant to get sick. Tang explained:
When a large number of people are involved in such cases it becomes a 'major incident' and a matter of criminal liability under the Law on Prevention and Treatment of Occupational Diseases.
Although it proved difficult to get all the workers who had left the plant and gone back home to sign the application, eventually in July, a few weeks after Tang talked to Han, the lawsuit was presented the Chancheng District Police in Foshan. Several domestic media outlets in China picked up on the story, including the Southern Metropolis Daily, which on 25 July published an article entitled "Pneumoconiosis sufferers file China's first ever criminal prosecution against factory" (尘肺病人以刑事罪告厂方 为国内首例).
In September, the Foshan factory was sold for a reported 100 million yuan and the site was formally closed down two months later.  In December, the workers and their lawyer held talks with the city government, police and legislators who told them that Haoxin had about 20 million yuan deposited with the local government in order to deal with the workers' claims. Officials promised a written reply to the workers' concerns within 60 working days. As of now, no reply has been forthcoming.
Meanwhile, Tang has been working as a day labourer because employers refuse to sign long-term contracts with workers who are chronically ill. He earns between 1,000 yuan and 2,000 yuan a month to support his parents, his wife and pay for his child's schooling.
We are not begging. We don't want sympathy. For the management, the money is just numbers. But for us, with our damaged lungs, it could make a huge difference. At the very least, it could be some kind of palliative.
---------------------------------------------------------------------------
Han Dongfang's interview with Tang Feng was first broadcast in six episodes in July 2011. To read the full Chinese transcript or listen to the audio file of the broadcast please go to the workers' voices section of our Chinese language website and follow the links.