Newly-recruited workers protest against the same poor work conditions at Apple supplier that led thousands to flee the factory last month. Adequately responding to frontline workers' needs is in the financial and reputational interest of all stakeholders.
After thousands of workers last month fled the unsafe pandemic conditions at the Foxconn plant in Zhengzhou, Henan province, Apple's largest iPhone supplier sees ongoing worker protests that again disrupt production at the expense of worker health and safety. 

The workers' flight and recent protests, both occurring during peak production season, have been a losing proposition for all stakeholders: workers, Foxconn, Apple, and China's authorities. After the first wave of workers fled in October, Apple announced that production of the iPhone 14 would be delayed, and the local Henan government joined with Foxconn to launch a recruitment effort in November to make up for the labour shortage. 
The newly-recruited workers were offered bonuses, but their expectations at the factory were not met. On 23 November, they began protesting over both wages and health and safety under the closed-loop production system as Covid-19 cases rose within the factory and the city of Zhengzhou.
On 24 November, Foxconn issued a statement blaming the pay problem on a "technical error." The same day, Foxconn ended up offering newly-recruited workers severance packages of 10,000 yuan each to leave, rather than risk escalating protests.
The labour-capital conflict at Foxconn was poorly managed, and the result has been an ongoing disaster for all. The illogical labour cycle misses the fundamental solutions to peaceful labour-management relationships and supply chain issues: listening to worker voices, negotiating with workers for reasonable and responsible labour solutions, and ameliorating working conditions to the satisfaction of all parties. 
In reality, the stakeholders are all on the same page, with workers wanting to perform labour and get paid, Foxconn needing to meet production targets, the government wanting a stable economy, and Apple being able to deliver to its consumers around the world. Consumers also increasingly expect that their products will be made under humane conditions and for decent wages. 
The developing situation also reveals that no matter what wages and subsidies are offered, workers have a bottom line for safe and decent working conditions. Rather than addressing the testing and isolation problems in the closed-loop management system after the first round of workers fled, new workers joined and faced similarly inadequate pandemic prevention systems. 
The absence of China's official trade union in worker struggles can also not be ignored. The All-China Federation of Trade Unions is responsible, particularly under the recently-amended Work Safety Law, to organise frontline workers to identify and raise health and safety hazards before accidents arise. 
On 27 October, China Labour Bulletin called the relevant local unions in Zhengzhou and found that they were off in the community checking residents' health codes, rather than organising Foxconn workers to negotiate for safer working conditions. This is an abdication of their mandate, and the union should be held accountable.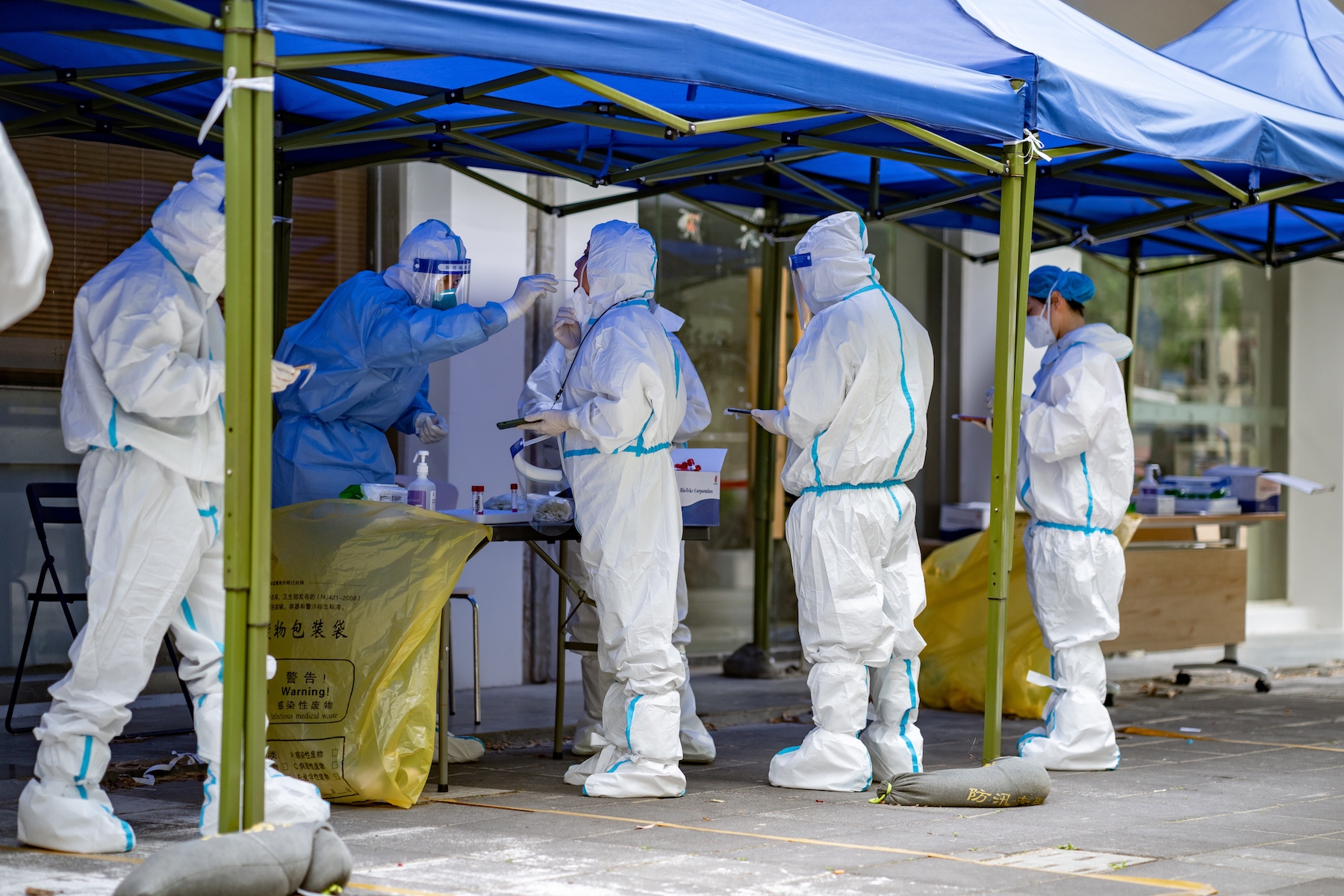 Photograph: Graeme Kennedy / Shutterstock.com
The status quo is that China's workers are not afforded the collective power to negotiate with management to solve such problems, and workplace management cannot be expected to act against its financial interest and alert corporations and brands to help solve the problems. Only workers on the frontlines of production know what kind of working environment and treatment they expect, and without a trade union to understand and represent their interests, their voices will continue to be side-lined in favour of capital. 
However, if the government and trade unions take initiative to solve fundamental problems at the source, future conflicts - which are bound to occur - could be resolved early through collective negotiations. 

Further CLB Reading: