The number of work-related accidents and deaths in China fell by 20.3 percent and 18.5 percent respectively in the first nine months of this year compared with the same period last year, the Ministry of Emergency Management (MEM) announced this month.
The MEM did not provide concrete figures for the first nine months but the official totals for the whole of 2018 were 49,000 accidents and 34,600 work-related deaths. This equates to about 4.5 deaths per 100,000 full-time employees. By contrast, there were 5,147 work-related deaths in the United States in 2017, equal to 3.5 deaths per 100,000 full-time employees.
While the trend is encouraging, there is still a long way to go in improving work safety in China. Accidents and deaths are still commonplace, and the government still seems more focused on managing disasters than tackling more mundane health and safety issues.
In the last few days, for example, there were three separate work accidents in southwest and western China that led to at least 22 deaths.
Six miners died and another was injured on 26 October when the roof collapsed at a coal mine in Luzhou, run by the South Sichuan Coal Industry Guxu Coal and Power Co. The following day, an explosion at an oil production plant testing facility in Yanchang county in Shaanxi led to eight deaths and five injuries. And on 28 October, a construction site collapse at a car park in Guiyang resulted in another eight construction worker deaths, with two workers suffering serious injuries.
The construction sector, which employs up to 50 million workers, is still by far the most dangerous industry in China. Of the 507 incidents recorded on CLB's Work Accident Map so far this year, 34 percent were in the construction industry, with the vast majority of them involving some kind of structural collapse or mechanical failure.
Another eight percent of accidents involved repair and maintenance work, typically where workers were under-prepared, unfamiliar with the work environment, or not properly trained or protected for the task in hand.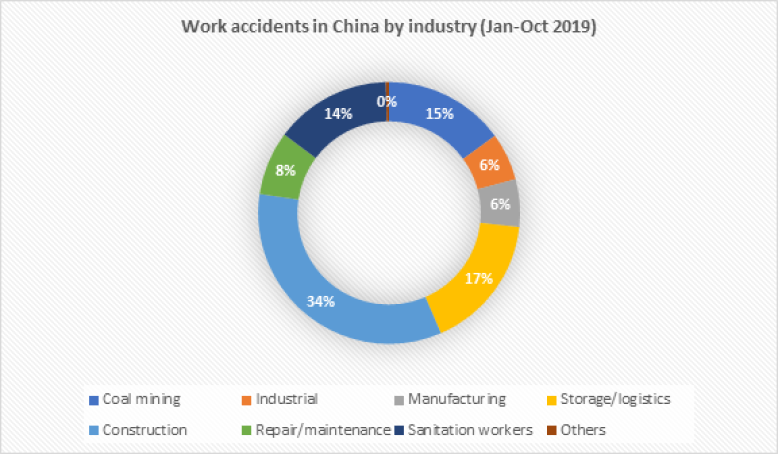 Traffic accidents are another major contributor to work-related deaths and injuries in China, and numbers have been rising as the country urbanises at an increasingly fast pace. Among the 83 accidents in the storage and logistics sector, there were 60 traffic accidents involving food delivery workers. Likewise, there were 67 cases of sanitation workers being hit by motor vehicles whilst working on the city streets.
Coal mine safety in China has improved considerably over the last two decades, and death rates reached a new low of 333 in 2018, the first year China recorded fewer than 0.1 deaths per million tons of coal produced. There has only been one accident this year involving more than ten deaths. However, relatively minor accidents still occur on a regular basis, mostly away from the larger, better regulated mines of Shanxi and Inner Mongolia.   
The MEM however continues to focus on the prevention of major accidents and disasters rather than improving day-to-day work safety and ensuring that workers are properly protected. In its 12 October statement, the Ministry stressed that China faced increased disaster risks during the coming winter season and that: "We must do our utmost to curb major accidents and ensure all tasks are completed by the end of the year. Top of the list is the prevention and control of major accidents."
The MEM also called for increased inspections in at risk industries however the ministry has little real enforcement power, and it has been demonstrated on numerous occasions that inspections and rectification orders can be blatantly ignored by business owners and managers who continue to implement unsafe work practices regardless.