Management at a Guangzhou shoe factory got a nasty shock when their representatives sat down with three worker representatives on Tuesday to discuss the factory's closure plan. Management's lawyers claimed the company could only pay the workers after first selling off the factory's assets. The response from the worker's chief representative, Qin Qingmei, was uncompromising:
"This is bullshit! Sell or buy as you please, it has nothing to do with settling this labour dispute," Qin said before making a counter-offer and walking out of the bargaining session with her two colleagues and two consultants from nearby labour organizations. See photograph below. The three women workers were greeted as heroes by their more than one hundred co-workers outside.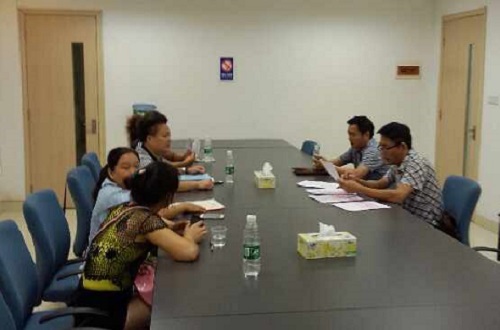 Qin, a veteran worker from the neighbouring province of Hunan in her 40s, said management initially did not want to pay them at all before closing the factory and relocating the business. Instead, management forced employees to take unpaid leave and reduced their salaries to just 260 yuan a month in a bid to make them quit.
"During the last two months, we have been trying to engage management in collective bargaining but they kept ignoring our requests and tried to secretly remove production lines and valuable assets," said Yang Liyan, one of the workers' democratically-elected negotiators.

The workers decided to go out on strike last month on 16 September and their representatives sought help from the Guangzhou Municipal Federation of Trade Unions and the local government, which agreed to mediate the talks between workers and management. The factory is not unionized.
 
Chen Huihai, a consultant from the Laowei Law Firm in Shenzhen remarked: "I am very impressed with the power of the women workers here. Over 60 percent of this group of 116 workers are women and the most relentless bargaining representatives are all women."