After 13 years of producing shoes for dozens of international brands, the Xing Ang Shoe Factory in Dongguan will close its doors for good next week on 10 February.
Xing Ang is just one of thousands of factories in the Pearl River Delta that have closed down over the last few years; what makes it noteworthy however is the fact that there was no mass protest or demonstration by workers demanding wage arrears and severance pay.
According to a labour activist with contacts at the factory, the vast majority of the factory's 2,000 workers were happy with the lay-off deal offered by management and left the factory well before the official closure date without a fuss. Most employees understood that times were tough and that sooner or later the factory would close. As long as they got what they were owed, it seems that they were prepared to accept redundancy and move on.
The only lingering disputes involved those employees who had been injured at work and wanted to get more work-related injury compensation than was being offered. In most cases however these disagreements involved a few thousand yuan in each case at most, the activist said.
The relatively incident-free closure was the result of Xing Ang's Taiwanese owner Stella International's diligence in ensuring that all employees got their legally mandated severance pay, full overtime and social insurance payments and other benefits. On 11 January, a month before the closure date, management posted a notice at the factory gate in which it pledged to strictly adhere to legal procedure during the closure process. See photo below.
Just to be safe, the notice also warned employees not to do anything themselves that might jeopardise the closure operation:
We hope that all employees will take into account the company's plight and adopt purely legal means to protect their rights otherwise the resulting conflicts could lead to the city government and police getting involved. If this does happen, it is the employees who will be the author of their own misfortune.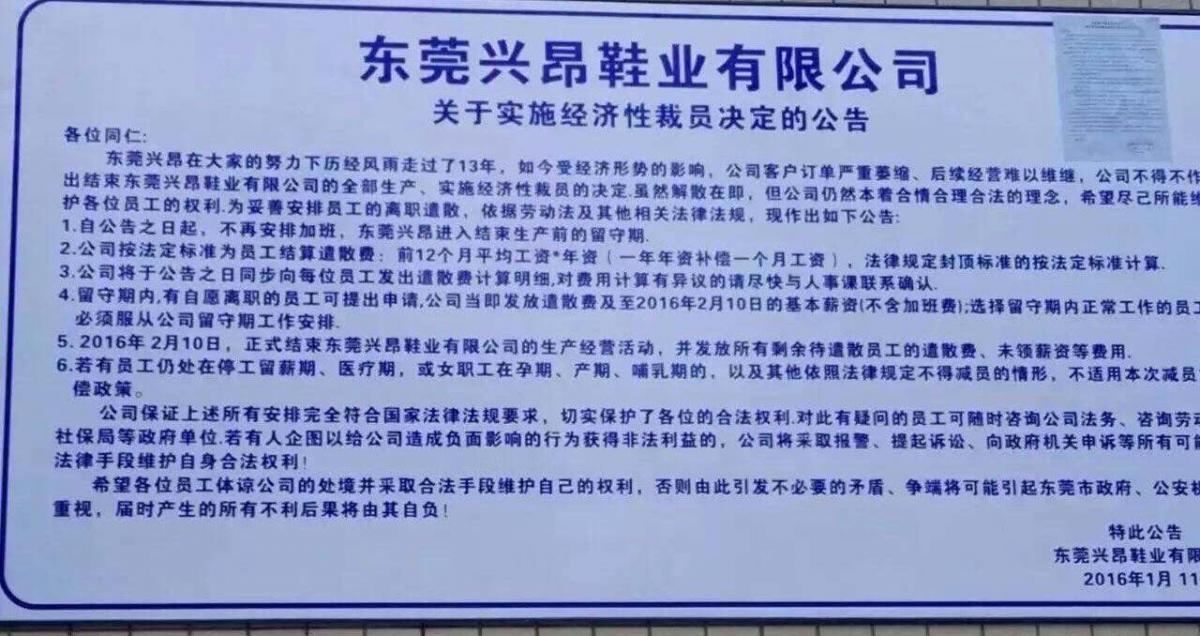 Notice posted outside Stella's Xing Ang factory in Dongguan on 11 January 2016
In the end, the veiled threat was unnecessary. Simply by obeying the law and paying the employees what they were owed, Stella was able to do what hundreds of other business owners in the Pearl River Delta region had failed to do; closedown a well-established factory with minimal fuss.
The Xing Ang closure shows that it is not China's economic slowdown per se that gives rise to worker protests, rather it is the response of employers to that slowdown and the way they treat their employees in difficult times that largely determines worker actions.
Nearly all the recent strikes and protests in Guangdong that were related to factory closures, mergers and relocations were caused by management's blatant violation of employees' labour rights, such as non-payment of wages, and its refusal to discuss employees' legitimate grievances.
These employers were able to get away with breaking the law because local government officials had no interest in enforcing the law. For decades, many local governments sought to create a business-friendly environment and allowed employers to disregard labour laws and regulations almost at will. It has only been when workers themselves have taken collective action to protect their legal rights and economic interests that employers have been forced to listen and adhere to the law.
In this regard, it is important to note that the Stella shoe factory workers have a long history of standing up to management and demanding fair treatment, most recently in a strike over their housing fund payments in March last year.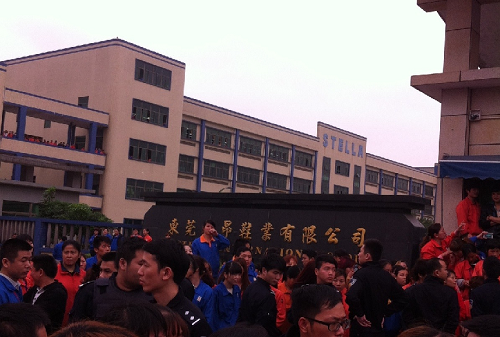 Xing Ang Shoe Factory workers on strike in Dongguan, 9 March 2015
The protests that set the tone for labour relations at Stella however date all the way back to April 2004 when several thousand employees at the company's Xing Xiong and Xing Ang factories went out on strike over excessive working hours, low pay, frequent wage arrears and the poor quality of food provided at the factories' canteens. Workers said that in some months, even after working 11 hours a day, six days a week, they still earned just 450 yuan, 400 yuan of which went on food and rent. By the time the factory closed this year by contrast, workers were earning around 3,000 yuan per month.
In the 2004 dispute, several of the striking workers were arrested, prosecuted and sentenced to three years in prison for alleged "intentional destruction of property." However, with the help of renowned rights' lawyer Gao Zhisheng, their sentences were reduced to nine months, or time served, on appeal at the end of December 2004.
The Stella shoe factory workers have demonstrated on numerous occasions that they can't be pushed around or intimidated by management, even if their representatives are sent to jail. Management was undoubtedly aware of the potential backlash if it tried to cheat its employees out of their redundancy pay, pensions and other benefits and took the sensible decision to do everything by the book.