At the end of last year, around three thousand agency employees (劳务派遣工) working at Sino-German car giant, FAW-Volkswagen, in Changchun were finally offered formal employment contracts at the company after working there for the best part of a decade.
However, it was a hollow victory. The workers were given just 24 hours to study and sign the contracts, which included clauses that prevented them from pursuing any further legal action against the company over a long-standing pay dispute. Moreover, Fu Tianbo, the worker activist who had led the struggle for equal pay, remained in detention awaiting trial.
The workers who did sign the new contracts with FAW-Volkswagen soon discovered however that their pay was still lower than their colleagues who had always been directly employed by the car manufacturer.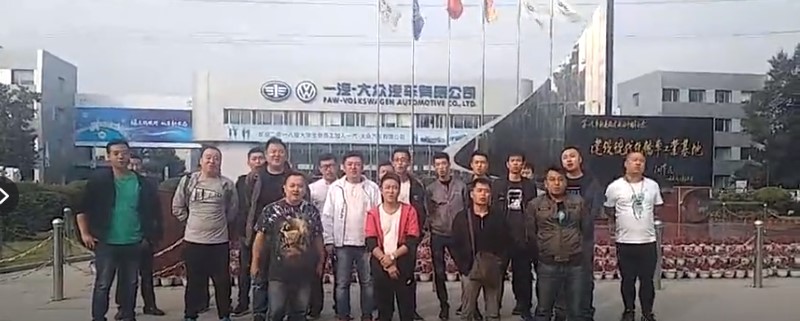 Protesting workers outside FAW-Volkswagen in September 2018
The "new" employees discovered that their basic salary of 1,762 yuan a month was just about the minimum wage in Changchun, while other workers in the same position, who had always been formal employees, had a basic wage of between 2,600 yuan and 2,700 yuan a month. This also meant that the "new" employees would get lower pension contributions and reduced benefits.
The workers who refused to sign new contracts were recategorized as contractors (外包工), an even more tenuous position than agency worker. Some workers are demanding to made formal employees, while some of the older workers have already been laid off with apparently limited compensation.
The workers staged a new round of protests in September and October, taking their complaints to the municipal government, the procuracy and the discipline inspection committee. The workers have also approached both the enterprise and local trade unions but, so far, they received little positive feedback.
It will be an interesting test to see how the union responds to this new wave of collective action by FAW-Volkswagen workers. Normally, we would expect officials to go by the book and say there is nothing they can do because the workers signed a legally-binding contract with their employer. However, the former agency workers clearly have a justified grievance about being paid less than others in the same position, and any union that really cares about fairness and workers' rights should seek to address the problem.
Meanwhile, the legal case against Fu Tianbo for "gathering a crowd to disrupt public order" is apparently still ongoing. The Changchun Automotive Economic and Technology Development Zone District Court opened proceedings on 9 May this year but it has so far failed to reach a definitive, or at least a publicly declared, verdict. The case dates back to protests led by Fu and his two fellow worker representatives, Wang Shuai and Ai Zhenyu, in May last year. Wang and Ai were subsequently released but it is unclear if Fu is still in detention or under some kind of domestic supervision.