As we reported last September, Vietnam's new Labour Code will, for the first time, allow the creation of worker organizations not affiliated to the official trade union. Michael Tatarski reports from Ho Chi Minh City on the initiative's faltering start.
On a late Friday afternoon, thousands of workers are streaming out of the Tan Thuan Export Processing Zone, a dense industrial area crammed inside a tight bend in the Saigon River. Several stop at a row of ATMs on their way out to withdraw money for the weekend.
"I haven't heard anything about worker representative organisations or any new labour laws," says Ha*, a young woman who works for a home appliance manufacturing company.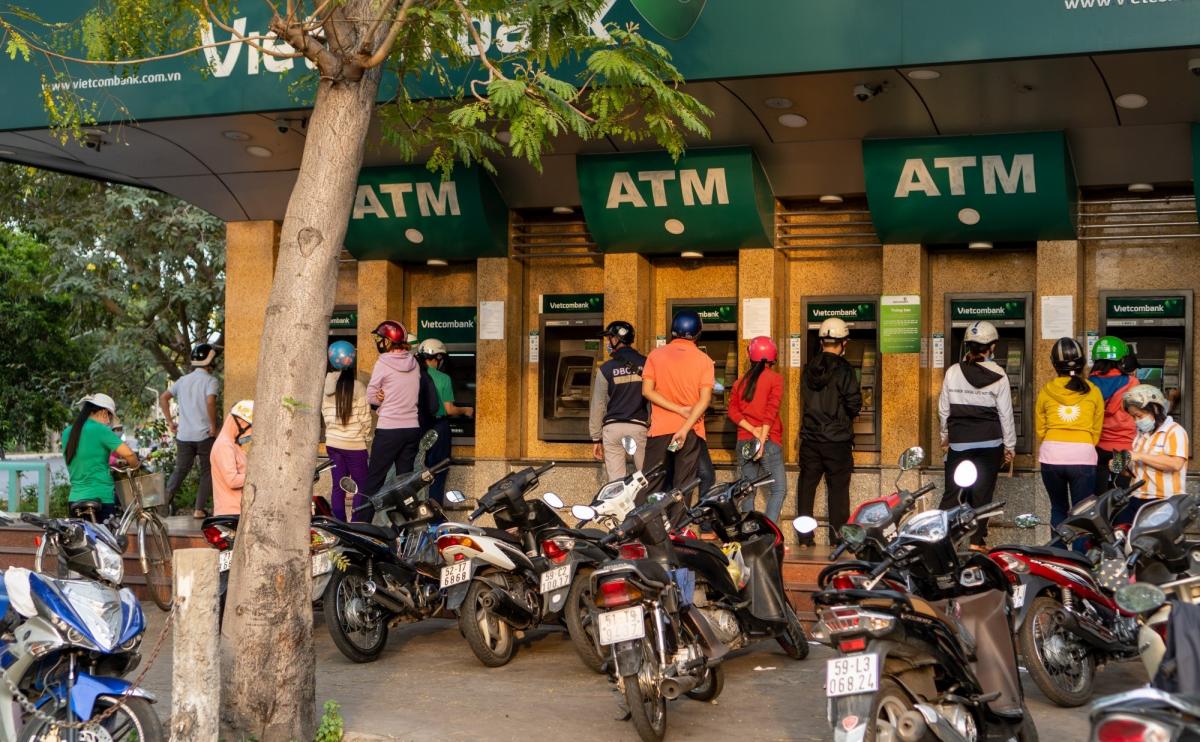 Workers withdraw money from a row of ATMs in Ho Chi Minh City's Tan Thuan Export Processing Zone at the end of their shift. Photograph by Michael Tatarski.
Vietnam's new Labour Code, which went into effect on 1 January 2021, has been hailed as an important step towards compliance with ILO Convention 87 on Freedom of Association and Protection of the Right to Organise, in particular the Code's provisions allowing for the creation of worker representative organisations (WROs) independent of the Vietnam General Confederation of Labour (VGCL).
Although both the EU-Vietnam Free Trade Agreement (EVFTA), signed last year, and the Comprehensive and Progressive Agreement for Trans-Pacific Partnership (CPTPP) require the Vietnamese government to ratify ILO Convention 87, little effort has been made so far to publicise the new Labour Code or the advantages of WROs.
The Vietnamese government has not issued any decrees on procedures to establish a WRO, and none of the Tan Thuan workers interviewed by China Labour Bulletin had garnered any reliable information about what WROs were or how they could operate.
The lack of any meaningful effort to promote the new Labour Code or WROs has raised concerns that the new law could simply be used by the authorities as window dressing.
This assessment is shared by Vietnam Independent Union (VIU), a non-profit organisation that aims to improve workers' rights. For real change to occur, VIU President Bui Thien Tri said, "it is necessary to explain to workers the benefits of WROs compared to the VGCL. WRO leaders would ideally be selected by the labourers that they represent via a transparent election. Only they could stand independently and fight for the true interests of ordinary workers."
Bui Thien Tri added that it is difficult for the state-run union to be independent when mediating between workers and their company because it is partially funded by employers and is also susceptible to political intervention. WROs, on the other hand, would necessarily be independently funded and governed. 
"WROs must be sponsored by the membership fee and other sources of financial support under good governance to ensure the principles of independence, accountability and transparency," Bui Thien Tri said.
Moreover, VIU argues, it is important that WRO staff should be trained in trade union skills and collective bargaining.
The workers interviewed in the Tan Thuan Export Processing Zone shared their experiences of the official union and to what extent it represented its more than ten million members. Some expressed satisfaction, others were unhappy with its lack of initiative or accountability, but, crucially, none were aware of any viable alternative.
"I don't know anything about WROs; the VGCL provides support when we need it at work," said Dat, who works for an apparel manufacturer.
A few blocks away, a stall selling sugarcane juice and fresh spring rolls draws workers coming off their shifts at one of the nearly 200 companies based in Tan Thuan.
"I haven't heard anything about the new labour law," shared Nhi, a woman from the Central Highlands who has lived in Ho Chi Minh City for seven years. She works for a catering company that provides food to factory canteens in the processing zone.
"Usually when there is news, companies call everyone together to explain what is going on, or they post it on the announcement board that everyone can see, and that hasn't happened about the new law," she added.
Before driving off with her sugarcane juice, she also shared that she is happy with the support provided by the VGCL. "I just had a vacation to Vung Tau [a popular beach town], and I think I'll be getting a Tet bonus."
Tet, as the Lunar New Year is known in Vietnam, is the biggest holiday of the year, and everyone from factory labourers to white-collar office workers anticipate their Tet bonus. The workers who spoke to CLB all expected to receive one, though some worried that it would be less than last year due to the economic impact of the Covid-19 pandemic.
These Tet bonuses are decided upon by companies without the involvement of the VGCL, however, and it is not uncommon for workers to quit their job immediately after Tet and use their bonus for financial support until they find new work.
Trang, a pregnant woman who works for a motorbike parts manufacturer in Tan Thuan explained that she is not at all happy with the VGCL.
"My Tet bonus this year will be lower, and in the past our year-end gift was money, while this year it was just a case of beer and a case of soft drinks," she said. "I also got a gift for Vietnamese Women's Day, Mid-Autumn Festival and my birthday, but they were all worth under VND100,000 (US$5), much less than before."
She and her colleagues have raised concerns about this and other issues with the union in her company, but nothing has changed.
"In fact, the more demands people make, the more the company tries to fire them," she said. "They will work to find the smallest mistakes and use them as a reason to fire somebody."
She had heard about the new labour law, but only in general terms from reading the newspaper.
"I haven't heard anything about it from my company, but even if there was a WRO, I wouldn't join it because they would fire anybody who did join," she said. "The company would work to make sure the WRO was ineffective, and even if there was a WRO outside of my work, I wouldn't join because I just want a peaceful life, even though I don't like the VGCL."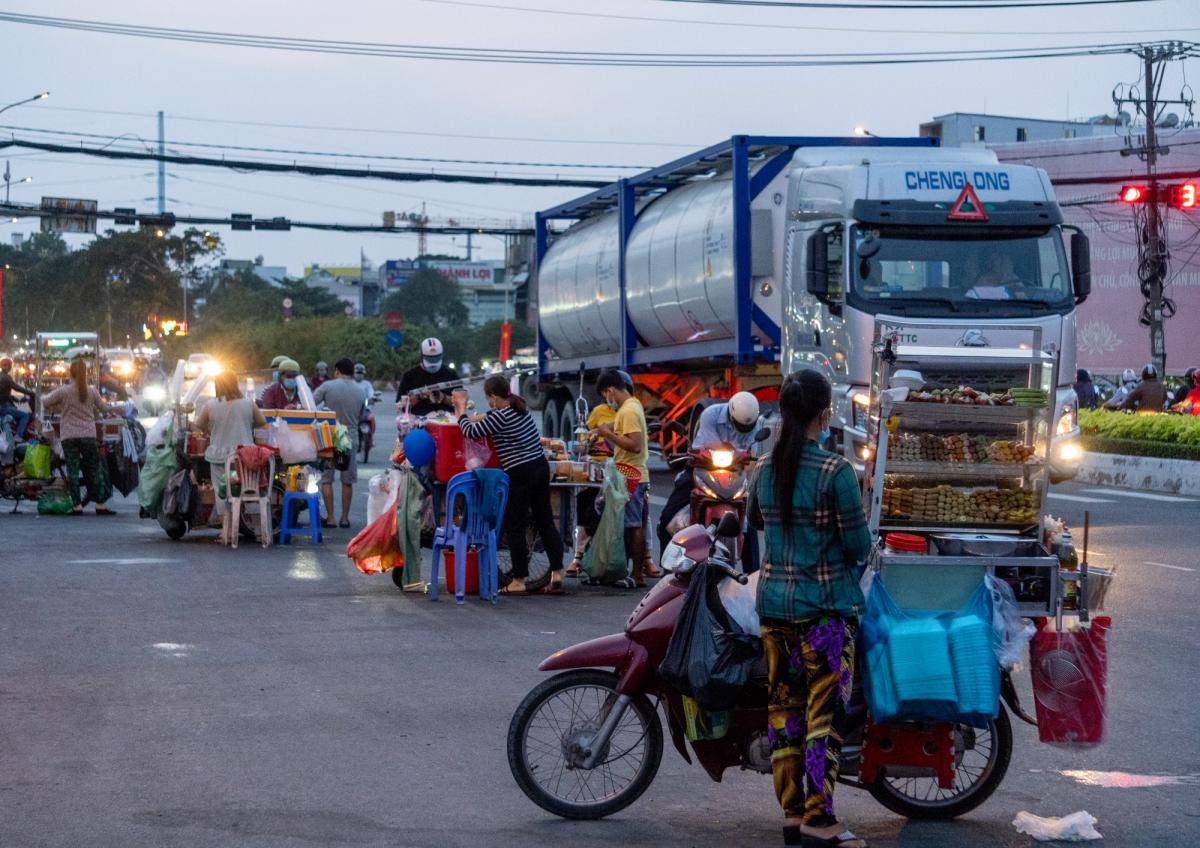 Vendors at the entrance to the industrial zone wait for workers to buy snacks and drinks as trucks rumble by to Tan Thuan's port.  Photograph by Michael Tatarski.
Phuong scrolls through her phone as she sits near the entrance to Tan Thuan in the fading daylight. Vendors hawk snacks from their motorbikes to workers coming in for the evening shift as container trucks rumble by to the port inside the processing zone.
"I've been here for two months as a temporary worker at a company that makes electrical parts for appliances," she said. Originally from Ca Mau, Vietnam's southernmost province, Phuong plans to return to her hometown for Tet and then move to Binh Duong, a heavily industrialized province that neighbours Ho Chi Minh City.
"Since I'm not on a contract, I get no support from the union," she said. "For example, if I get sick, I have to pay for treatment."
Despite this fact, she would not join a WRO even if one existed. "I don't know what to do in one, or anything about them."  
It is clear that, so far, the potential of WROs remains untapped. If the other signatories to the EVFTA and CPTPP are serious about Vietnam ratifying the ILO Convention 87 on Freedom of Association, they need to put pressure on the Vietnamese government to make sure that workers are fully aware of the new Labour Code and understand the benefits of joining an independent worker representative organization as opposed to a VGCL-affiliated union. This, in turn, might also put pressure on the official union to better represent workers and ensure that those who demand better pay and conditions are adequately protected.
* Pseudonyms are used for the workers throughout this article at the request of the interviewees.
Michael Tatarski is a freelance journalist based in Ho Chi Minh City.
This article is part of an occasional series commissioned by CLB designed to examine the influence of Chinese capital around the world and foster worker solidarity in the Global South.